Inappropriate: TikTok Influencer shows natural river she baths to maintain her beauty and glowing skin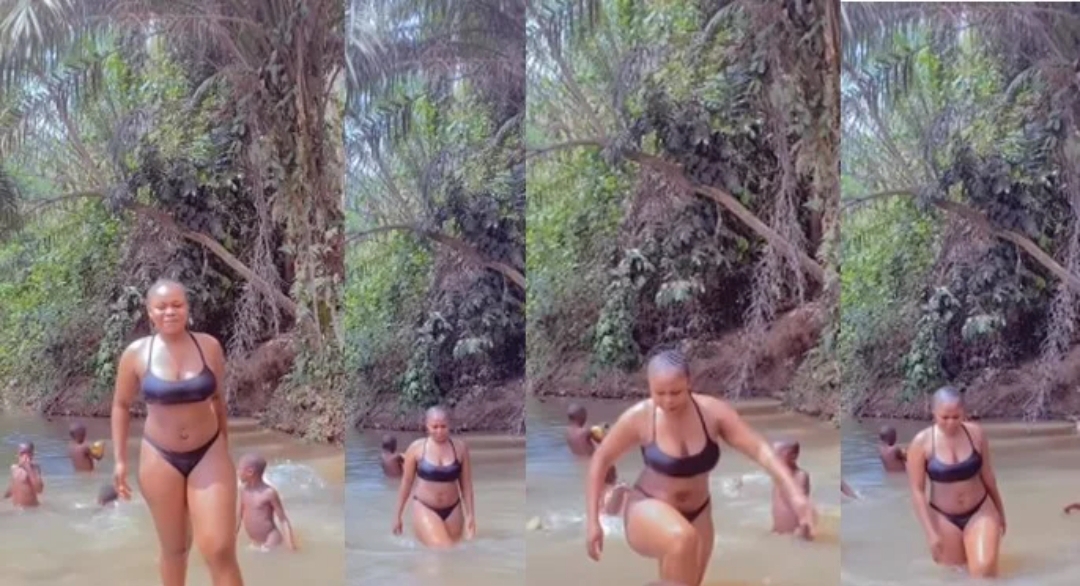 A Nigerian TikTok model has set the internet abuzz with a video of her revealing her natural skincare routine.

She went for a swim in a river in a rural community and made it known to her fans that she takes her bath there regularly and it helps her to maintain her clear skin and beauty.


The young lady could be seen swimming in the river with some children and this caused netizens to criticise her.

In the video, the Influencer could be seen stepping out in slow motion which her curves and bikini body in full glare of the kids.
vitamin_barb commented; This is nonsens£ 😏 infront of kids🤦🏽‍♀️

laughpillscomedy; Wow village sweet

chizziberry; But kids are always in normal pools too and even beach 🏖 so?
iamkingdinero1; Those kids behind tho , don't know sha oo if na the kids no try or na the Adult wan sample yansh for them or maybe it's just skit what do I even know sef ?

spenolamilekan; This child abuse look Una no go talk now

samede__; So hanty as you big reach na children you Dey open body for?

theafobaje; Hypocrisy at it's peak 😂 because the video captures kids looking, ya'll be like "in front of kids" so you think your Neigbour's kids ain't looking when you dress in a certain way preaching "Do what makes you happy" "Body Positivity". Kids are always and will always be around.

dasot___________p; So inappropriate around the kids. She's messing them up mentally and sexually.