She Carried A Dead Baby In Her Womb For Weeks, But There is more to it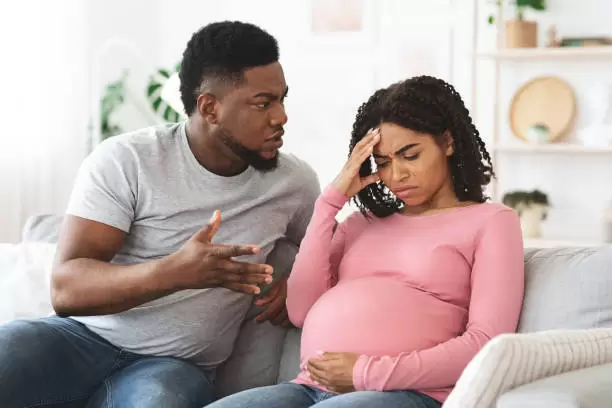 The day I visited my wife's village, I had the hope of resolving our marital issues. However, it turned out to be a futile effort. My wife's elder brother and two aunties were present, and I presented my grievances to them. I told them that my wife had accused me of wanting to kill her after fourteen years of marriage. I could not understand why she would think that after all the love and care I had shown her, even putting her through secondary school to College of Education.
The second issue I wanted to address was her claim that our three children were hers. She had warned me not to take her children out as if they were not mine. I wanted her to tell me if the children were mine or if she was hiding something about their paternity. Her family looked outraged as I spoke, murmuring and complaining about her attitude.
However, despite their initial outrage, they eventually told me that they had heard everything and would call a family meeting. They promised that my wife would be present at the meeting so that we could get to the bottom of the issue. Unfortunately, six months passed, and no meeting was called. I was pained that after all we had been through as a couple, our marriage had been reduced to insults and accusations. I couldn't wrap my mind around how everything started.
It all started with my wife's obsession with giving me a male child. Despite having three lovely girls, she believed that her place in our marriage was not secure until she brought forth a son. She had gone off her five-year birth control and started working hard at getting pregnant. Unfortunately, we lost the baby due to some unfortunate circumstances, and my wife grieved more than I did. I tried to comfort her as best as I could.
When she felt ready, we started trying for another baby, and the second pregnancy also happened in no time. However, she told me she did not feel pregnant, and we went to the hospital to confirm. Sadly, the foetus was confirmed dead, and my wife was devastated. The doctor told us we had to come back in a week's time to remove the foetus. But my wife did not trust the doctor's assessment and decided to visit a prayer camp instead.
My wife is a woman of faith who prays about everything, while I am a realist who approaches practical problems with practical solutions. She prefers to pray at home until her sickness worsens, and I have no choice but to take her to the hospital. However, she refused to go to the hospital to remove the dead foetus, opting instead to jump from one prayer camp to another.
I was worried about her but my concern was a nuisance to her. One night, she started tossing and turning and clutching her abdomen in pain. I tried to take her to the hospital, but she refused and asked me to pray for her instead. I did as she asked, but the next night, the same thing happened again, and she asked me to pray for her. On the third night, I refused, telling her that I would not take part in her madness.
Despite all this, I loved my wife and tried to understand her. I had hoped that visiting her family would help us sort out our issues, but it seemed that her family had already taken her side. I was left with no choice but to continue to love and support my wife, hoping that we could find a way to overcome our differences and make our marriage work.
        There are several lessons we can learn from this story:
Communication is crucial in any relationship: The lack of communication between the husband and wife seems to have played a significant role in the escalation of their marital issues. It is important to openly discuss concerns and grievances with your partner and work together to resolve them.
Different perspectives and beliefs: The husband and wife in this story have different beliefs and perspectives when it comes to faith and medical treatment. It is essential to respect each other's beliefs and find a way to reach a compromise that works for both parties.
Insecurity in relationships: The wife's insecurity about not having a male child and feeling like her place in the marriage was not secure until she did, is an example of how insecurities can affect relationships. It is important to address and resolve insecurities in a relationship as they can cause unnecessary tension and conflict.
Family involvement in marital issues: In this story, the husband went to his wife's family to present his grievances, but they seemed to have already heard a biased version of events. Family involvement can be helpful, but it is important to ensure that they are not biased and that both parties are given a fair chance to present their side of the story.
Importance of seeking professional help: In this story, the wife refused to seek medical help and instead relied solely on prayer. It is essential to seek professional help when it comes to medical issues as it can be dangerous to rely solely on faith or home remedies. Seeking help from a professional therapist or counselor can also be helpful in resolving marital issues.