"I didn't see him": Nigerian mum cries in video after visiting husband in prison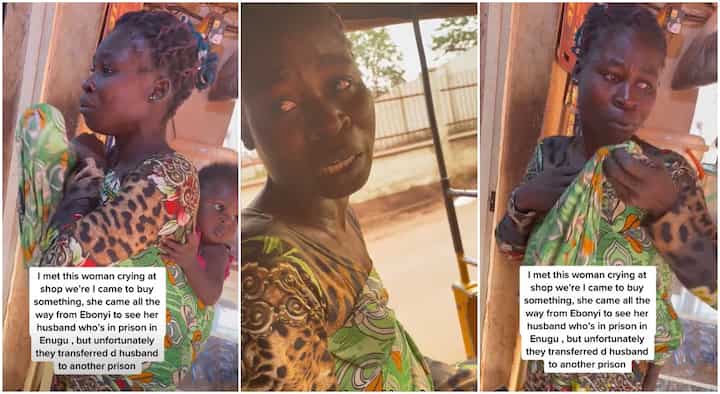 A video has shown a Nigerian lady who visited her husband in prison but failed to find him there As revealed in the TikTok video.
the lady's husband had been transferred to another prison before she visited Her video has generated emotional reactions on TikTok as Nigerians ask that they want to help her
A Nigerian nursing mother who visited her husband in an Enugu prison failed to find him. Disappointed and heartbroken, the lady cried hot tears in a TikTok video posted by @sophy_cindy.
Sophy said she ran into the woman at a shop where she had gone to buy something and she was there crying
Nigerian woman cries hot tears after visiting husband in Enugu prison Her tears touched Sophy and she enquired to know what was making her to cry very bitterly.
She said she had brought food for her husband hoping to see him but he had been transferred from Enugu to another prison.
Sophy took her to a Point of Sale, PoS operator where she withdrew some money and gave to the woman. She was so grateful as she thanked Sophy profusely. Many Nigerians on TikTok are asking about her and are willing to do more for her.
Watch the video below: