"N10,000 for N4,000": POS Operator in Tears as Angry Residents Destroy Her Stand over Excessive Charges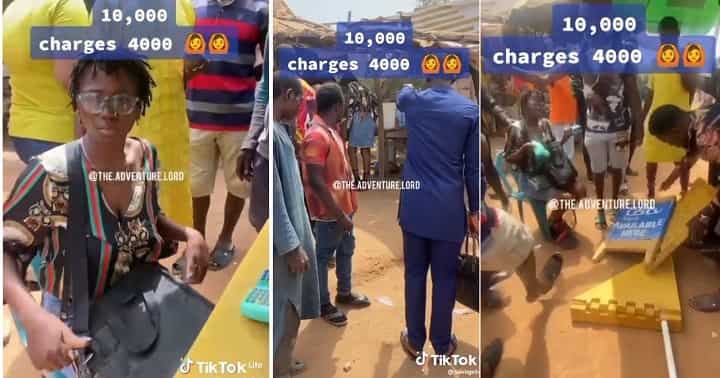 A video of some angry residents destroying the POS stand of a young Nigerian lady has gone viral on TikTok
The POS operator was charging a whopping sum of N4000 as charges to withdraw N10,000
Many people around expressed their frustration due to the exploitation, and they tackled her immediately
It is no news that Nigeria has experienced some unprecedented increase in hardship due to the scarcity of the new naira notes.
Many have however taken advantage of the situation to exploit the poor masses.
Those in the POS business claim that they had to buy the new notes from unknown sources, and that is why they charge exuberant rates for the withdrawal of money.
A female operator however met her waterloo when she charged residents a whopping sum of N4,000 to withdraw N10,000.
Before the new naira policy was implemented, POS operators charged N100 for every withdrawal below N10,000.
Unfortunately, one of the men in the video started berating the POS operator for charging such an amount and later proceeded to destroy the POS stand.
"How can you be collecting N4000 for N10,000? This is Wickedness. Are you a criminal? We will not allow you stay here today", the residents screamed.
The operator was forced to leave the market area while the residents moved on to find other POS operators who charge such high rates.
Social media reactions
@nohpheesat wrote:
"It is gradually starting. Until we start challenging each other for our bad characters in Nigeria, the country will not move forward."
@djhybeat commented:
"Fela no experience this one that year, imagine if he enter studio now. Keep resting Legend."
@fisayoful commented: