How Middle School Principal Calls Student and Lets Him Shave His Head in Front of the Whole School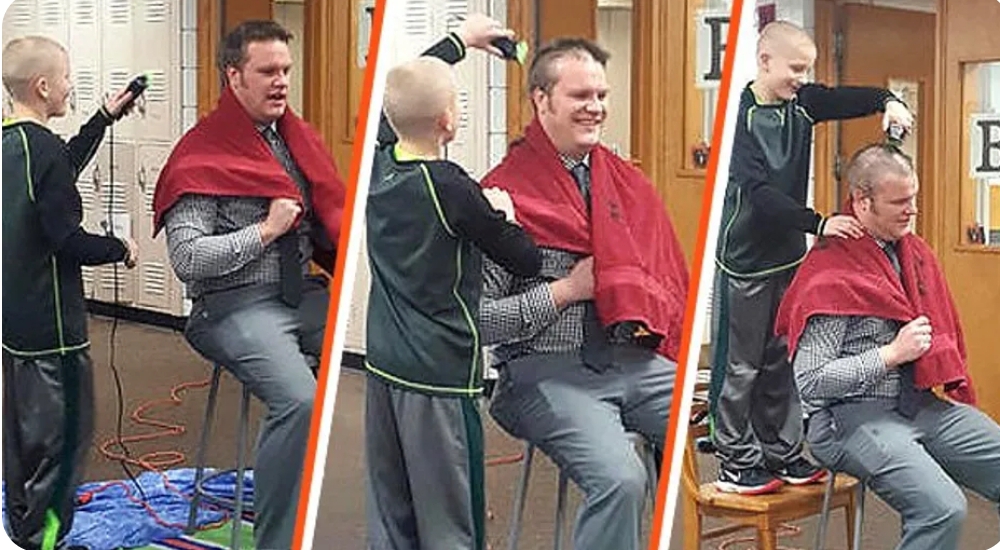 When a principal discovered one of his students was being bullied for a noble act, he stepped up to show his support. The gesture made the student's day and taught the kids a valuable life lesson.
Showing support to family and friends during the challenging times in their life is essential. Even the smallest gestures mean the world to loved ones, especially when they are at their lowest point.
An 11-year-old boy did something brave to show his grandfather that he stood by his side—and when classmates ridiculed him for it, his principal did something similar for him in 2017.
Youngster shaves his principal's head and the duo teach his peers a lesson. | Source: facebook.com/paula.pollock.7
THE BOY LOVED HIS GRANDFATHER
Iowa resident Jackson Johnston always had a close bond with his grandfather, who he affectionately called "Papa Rick." Jackson was heartbroken when their family's patriarch was diagnosed with Mantle cell lymphoma cancer.
Papa Rick was his role model, idol, and best friend. The youngster's mom, Amber Johnston, shared that the pair often watched football together, and Papa Rick even taught Jackson the finer points of golf.
Jackson expressed:
"I've always wanted to be like him. Knowing that I made him feel good when he didn't feel that well meant a lot to me."
HIS GRANDFATHER WAS NERVOUS ABOUT CHEMO
Papa Rick wasn't looking forward to chemotherapy because he believed it would be an outward indication and confirmation of his cancer. He didn't want people to pity him.
The grandfather also took pride in his hair, and he was sad about losing it. Amber shared:
"[Jackson] knew that Papa Rick was kind of down in the dumps about losing his hair. He is always styling his hair and has it looking really nice so he knew that Papa was really bothered by that."
BUZZING HIS HAIR FOR HIS GRANDFATHER
Jackson, who had shaggy blonde hair and bangs, also loved his full head of hair. However, he knew what he wanted to do when he learned about his grandfather's insecurities.
He wanted to stand in solidarity with his role model, so he asked his mother to give him a buzzcut. They kept the decision a surprise, and Jackson couldn't wait to show Papa Rick.
HIS GRANDFATHER'S REACTION
When the family visited Papa Rick, Jackson quickly took off his winter hat to reveal his bald head. His grandfather was filled with emotions of joy and wonder.
Amber stated:
"Jackson shaving his head for Papa was letting him know that, 'I can't do much to help you, Papa, I am only 11, but you won't be alone.'"
BULLIES DIDN'T UNDERSTAND HIS NOBLE CAUSE
The haircut meant the world to Papa Rick, but Jackson's schoolmates reacted differently. Instead of showing him sympathy, his peers taunted him with inconsiderate nicknames such as "baldy."
Jackson's pride and excitement turned to sadness, and he explained: "There were many people who came up and said rude comments."
He added:
"I was going to my first class and I had someone come up to me and say, 'well you look like you have cancer.' I said actually I'm not the one who has cancer. I did this because my grandpa has cancer."
REACTION
Amber was devastated when she learned of her son's bullying and reached out to the school principal, Tim Hadley. He oversaw Packwood, Iowa's Pekin Middle School and was dedicated to his students.
Hadley said:
"I felt bad because here was a student who was trying to do something good, only to see it turn out negatively."
THE PRINCIPAL DECIDED TO SHAVE HIS HEAD
Hadley thought long and hard about how he wanted to handle the bullying. There was a guide for disciplinary processes, but he thought outside the box because he wanted to make a difference. He decided to shave his head as well!
Hadley hoped the course of action would teach the kids a powerful lesson. He expressed:
"I hoped it would send a message that it is more powerful if we stand together for one another than it is if we are divisive."
THE PRINCIPAL'S MOTIVATIONS
Hadley also resonated with the boy's pain on a deeper level. He was no stranger to cancer because two of his loved ones had battled it. He revealed that his mom fought thyroid cancer when he was in high school.
He had struggled to watch her suffer and was grateful that she survived. Sadly, his mother-in-law was diagnosed with uterine cancer, and he also had a grandfather who lost his battle with the illness.
TEACHING THE KIDS AN IMPORTANT LESSON
Hadley let Jackson shave his head in front of their school assembly, and it was a big moment for everyone. The youngster's peers were stunned as they clapped and cheered him on.
The actions struck a chord with the middle schoolers, and Jackson shared that students offered him apologies and support. Many started to speak openly about their home struggles, showing how the principal's display affected them.
Jackson also sang Hadley's praises. He said:
"He's probably the number one principal ever."
HE CHANGED THEIR MINDS
By educating the students and showing them how to be kind, Hadley affected their way of thinking. Many former bullies were inspired to do better, and Jackson felt encouraged.
The youngster's support for his grandfather was commendable, and his actions set an example for his peers. Jackson and Principal Hadley's message of compassion is important and urges us to think before acting.
Hadley noted:
"I hope that people will realize that we all battle something. We owe it to ourselves to check our hearts before making that quick comment … None of us can make it in this world alone. We need one another."
Click here for another story about a ten-year-old girl who responded to her bullies with an inspirational video. Her actions encourage us to spread kindness and fight hate with love.