How 2 Kids Disappear without a Trace — Grieving Dad Sees Them on His Doorstep 3 Years Later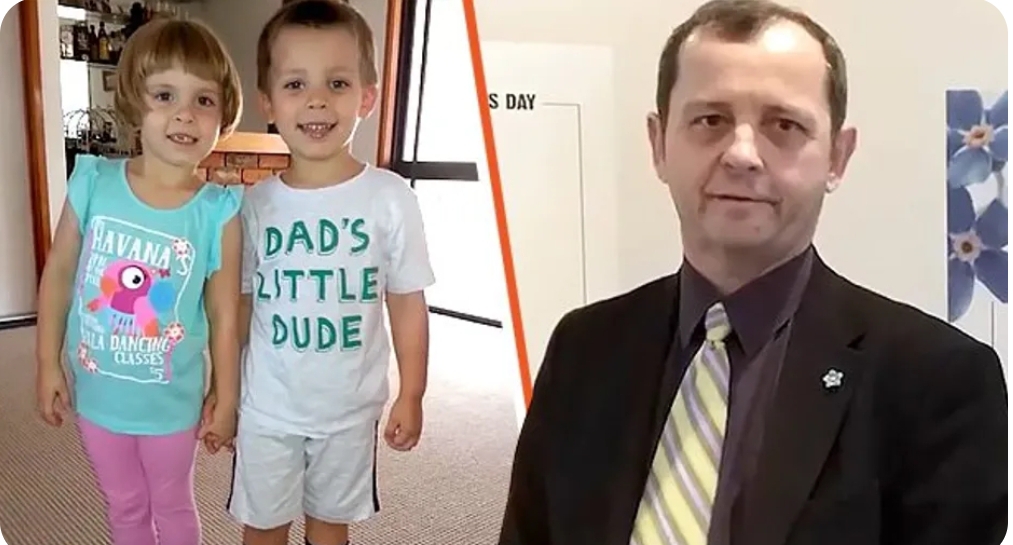 A man whose two kids disappeared from school without a trace one day was shocked and delighted to be reunited with them after three years. The doting father had never given up hope, even though false sightings often hampered the search.
Christmas is a blissful period for many, especially kids who know that they will soon open their stockings to find what Santa left them. That discovery is usually followed with delight, and that is precisely how a Brisbane father, Harry Speath, felt when he discovered his gifts waiting for him on his doorstep.
No, it was not candy; it was his kids, who had vanished without a trace three years earlier so that no amount of searching revealed them to him or the police. Keep reading to find out what truly happened.
THEY VANISHED INTO THIN AIR
In December 2014, Harry Speath was a single dad caring for his two kids, Serena and Thomas Speath. He had been a proud father who loved his kids dearly and catered to them just as passionately.
One day, he went to pick the pair up at their school only to discover that they had disappeared. He had waited a long time for them by the school gate; however, it soon became apparent that the pair would not join him.
When he inquired about them, he was told they had not been in school for the past three days. That was the beginning of the harrowing search and a long-lasting nightmare that went on for years.
ADVERTISEMENT
The last time the doting father had set eyes on the two kids, they had been with their mom, who used to be his wife. This made him scared as he feared the woman, who had dual citizenship in Europe, had fled there with the kids.
His life swiftly turned upside down, and he started channeling all his resources into finding his two kids. He hired professionals, opened a Facebook page where he solicited help, and also flew all over the country in hopes of finding a trail that would lead to them. However, all he met were dead ends.
Serena and Thomas had not been checked into new schools, and their medicare cards had not been used. It was a difficult period in his life, but Harry never gave up even though it seemed like his two kids had vanished into thin air.
DISAPPEARANCE
As time passed, Harry started losing hope; his search had turned up nothing, and he did not have unlimited resources to keep searching, not to mention his life slowly lost all color as he tried to track down his kids.
Christmas held no cheer, and his birthday left him feeling like a failure because of his inability to find Serena and Thomas. Nevertheless, each year on the International Missing Children's day, Harry would light candles for his two children with the hope that they would find their way back to him one day.
Before he realized it, three years had passed without any change. His hope dwindled even more. In May 2017, U.S. experts developed a photo manipulation that reflected the change that must have happened physically to Serena and Thomas in the three years they had been gone.
The images were broadcasted on national TV. It renewed efforts to track down the two kids. Then, on the anniversary of their disappearance, Harry took to Facebook with an emotional tribute he wrote for his kids.
In it, he boldly asserted that the kids had been abducted and revealed that it had been three years since he last saw or heard from them. He also wrote:
"It's been three sets of birthdays (both theirs and mine), Christmases, Easters, Father's Days, three years' worth of holidays…"
He ended the heart-wrenching tribute by declaring his love for them and writing:
"In the meantime. I love you both very, very much. I'm sending you guys many, many, many hugs & kisses across the miles between us, no matter how far."
HE NEVER STOPPED HOPING
As more time passed, Harry started to fear that he would never get to meet his kids again, and he grew increasingly concerned about their health and wellbeing.
He had even begun to resign himself to the fact that he would have to spend yet another Christmas without them when he heard a knock on the door.
Read Also
While Harry caught up with his kids, their mother, Ms. Adare, was arrested and taken to court to stand trial before the Federal Circuit Court of Australia in Brisbane.
But, as far as the devoted father was concerned, it was the best Christmas gift he had ever received, and suddenly, his life was great again.
His story is clear proof that it is important never to give up, especially when fighting for the people you love. Share the story if you believe that a father's love is capable of everything.