Young man heads out to party lavishly after winning N1.6m sports bet with 50k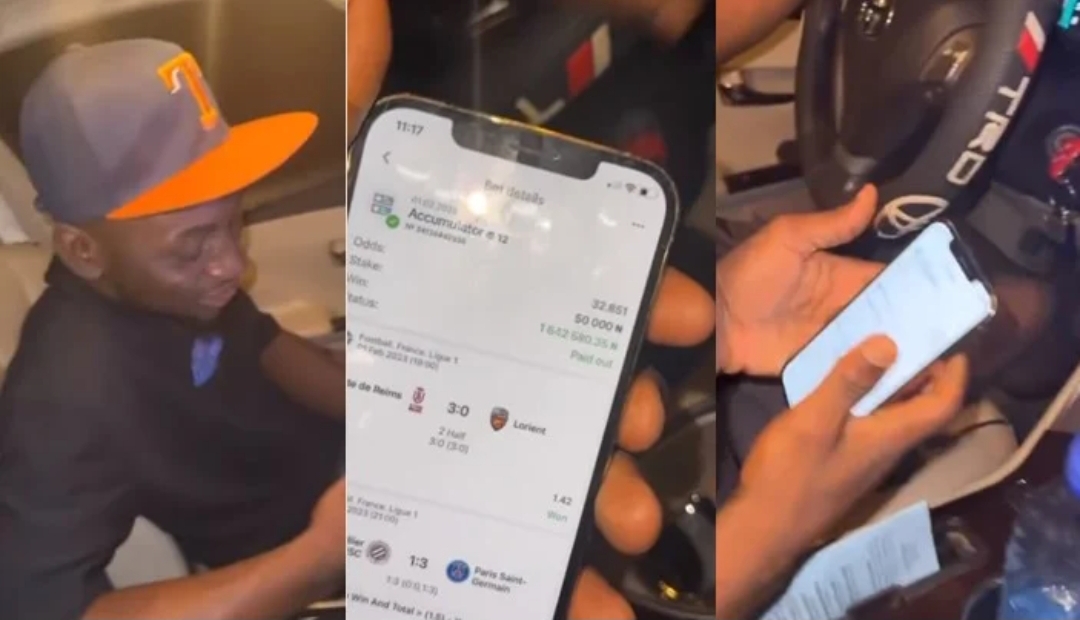 A young Nigerian man has been captured on tape celebrating after placing a bet with N50,000 and winning N1.6 million.

His friend recorded the moment the lucky winner was inside a car and showed off his winnings on the virtual platform.

The millionaire declared happily that the sports betting platform finally paid and he was ready to go out and celebrate with his guys.

See the clip:
Reacting, listentobeo said; When him Dey lose them no post oh??

isabella_ikhide; I know someone that won 25m with N125. He is here on instagram, Would tagged him but can't for security reasons. This happened in 2021

_y.o.u.n.g.y; Make anyone no start betting o. If you never start am, just thank your God. Na so I lost 300k today over Man U. Lost 250k Over Chelsea the other day. Omo, no be person tell me to delete the 1XBET app. God forbid!!

Meanwhile, a honest Nigerian man passed off on a chance to be over one million naira richer after money was mistakenly credited to his account.
The guy known as @KingOpeOfAbj on Twitter said 1,900 BUSD equivalent to N1.4 million was deposited into his Bitcoin wallet and he had the thought of using the money to celebrate this December.

He said he thought of booking flight to Lago immediately and commence steady 'balling' with the money.

However, he had a change of heart because he later realised that it was not miracle money.

He wrote; Earlier today someone mistakenly deposited 1900 busd to my Wallet, that's like N1.4m, lots of thoughts came in like Abi na December miracle money ni, make I rush book my Lagos flight go do 2weeks balling back to back with 1.4m
but then I knew… It was NO miracle money, this is definitely someone's hard earn money and it's December, what if it was my money?

I mean it could someone's whole year savings so i decided to leave it while waiting to be contacted by the owner or customer service which happened this evening. It was fully refunded. Well… guess I won't be oppressing nobody in Lagos this December ?