My Classmates Gazed at My Huge Baby Bump While Our Teacher Shamed Me, But The Unexpected Happened – Story of the Day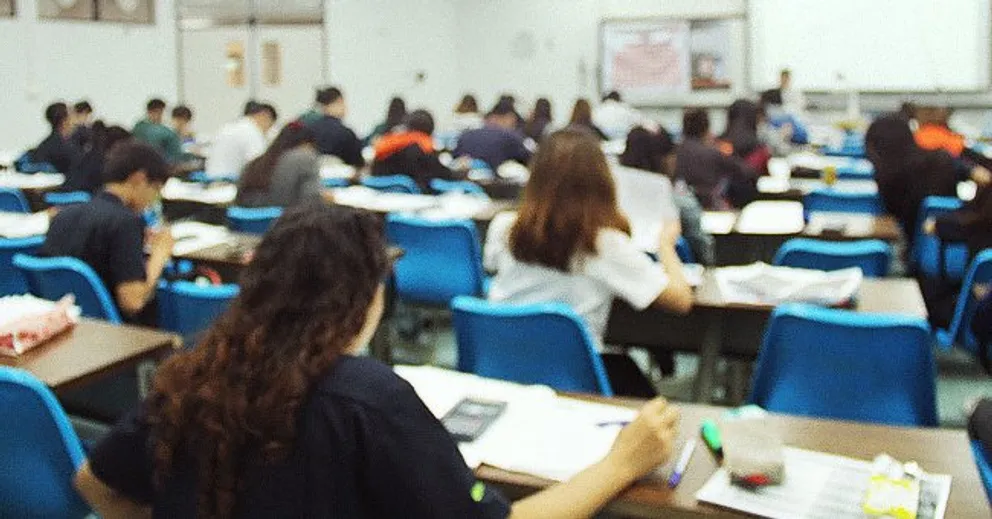 My teacher shamed me when I requested her to let me leave the exam hall. I had thought at least my classmates would support me, but all they did was stare at my huge baby bump.
I will never forget the day my son Kevin was born. I was at the exam hall taking an exam when I felt the urge to use the washroom. "I don't feel well, Mrs. Rose. Can I please use the restroom?" I asked my teacher.
Mrs. Rose gave me a stern glance. "Don't use your pregnancy as a cover! You fooled my son into becoming a father at 17, but you can't fool me! Just go back and finish the test. You can't leave before that!" she told me.
Yes, you read that right. My child's father was none other than Mrs. Rose's son, Edward. He and I were head over heels in love, and we were planning on getting married soon after graduation. But before that, I found out I was pregnant, and things quickly spiraled out of control.
Mrs. Rose sent Edward to study in another country when she found out I was pregnant with his child. He kept telling her that he wanted to stay back and look after his child and me, but she turned a deaf ear to him.
However, despite moving to another country, Edward never failed to call me and ask how the baby and I were doing. He had also promised that he would get a job soon and things would get better.
I missed Edward terribly during my pregnancy, and I wished he would be back soon. But today, I felt a stronger desire for him to be by my side. I had obeyed Mrs. Rose's command and returned to my seat, but the pain I was experiencing was becoming increasingly severe.
Half an hour into the exam, I almost felt like I would faint. I couldn't take the pain any longer, so I reached out to Mrs. Rose again. "Please let me leave, Mrs. Rose. I'm not lying. I really don't feel well," I told her.
Once again, she didn't listen to me. "Stop creating a cheap spectacle here!" she yelled at me. "Otherwise, I'll kick you and your janitor mom out of the school."
I looked around the class, hoping that someone would offer a helping hand and support me, but all of them just gave me a pitying glance. I even looked at my best friend, Samantha, but the moment my needy eyes met hers, she averted her gaze.
After all, Mrs. Rose was quite close to the principal, and no one would dare to go against her.
"You're still standing shamelessly?" Mrs. Rose spoke up again. "Can't you understand you can't leave until the test is done?"
"I'm sorry, Mrs. Rose, but I can't take this anymore," I finally gathered the courage to speak. "I'm leaving!"
I sobbed as I exited the classroom. I walked to the washroom and was about to wash my face, but darkness spread in front of my eyes, and I passed out. Thankfully, my mother caught me at that moment and called an ambulance.
Ten minutes later, the ambulance arrived, and I was rushed to the hospital. The entire school saw me as I lay unconscious on the stretcher. Some of them even felt bad for me, but Mrs. Rose had only harsh words for me even at the time.
"I hope your daughter loses that child," she told my mother. "At least my son won't have to waste his life with uneducated beggars like you!" My mother didn't utter a word. She simply wiped her tears away and sat in the ambulance beside me.
When we reached the hospital, I went into premature labor and gave birth to a baby boy. But unfortunately, Kevin was admitted to the NICU shortly after delivery due to complications
For a month, that poor child was struggling between life and death. Thankfully, Edward was very supportive during this challenging time, calling me every day to reassure me that our baby will be fine shortly
One day, he even told me he got a job and would join us soon. I was over the moon. Now, I just wished our son would get better so that we could live happily as a family. But sadly, Kevin's condition didn't improve.
I was devastated, and I didn't know what to do. I remember sitting beside my mom and crying for hours, thinking that something terrible would happen to my child.
But mom was continually assuring me that things would get better. She even quit her job to work as a janitor at the hospital so that she could stay with her grandson and me. Every day, I saw her praying for us, and one day, her prayers were answered.
That day, Mrs. Rose visited me at the hospital. "I hope you're doing well, Catherine," she told me as she handed me a flower bouquet. "It's been a while since I saw you.
I was taken aback when I saw her in the hospital. "I'm actually surprised to see your Mrs. Rose," I told her. "I didn't expect you'd come."
"Well, I needed a favor from you," she continued. "Remember that day when I didn't let you leave the exam room? Well, several students recorded it, and now the principal is threatening to fire me! Can you please tell him you've forgiven me? After all, we're practically related!"
"Oh, that's the problem, I see," I answered quietly.
I couldn't believe Mrs. Rose hadn't changed a bit. She was still this self-centered lady who just cared about herself. I wanted to flatly refuse her and tell her that I wouldn't help her, but before I could say anything, a nurse came running to me.
"Your son, ma'am. Please come with me…" she said in a tense voice. I dashed over to Kevin's room, and what I saw left me in tears. Kevin was breathing without an oxygen mask after months. What's more, the doctor told me he was no longer in danger, and he could lead a normal life.
Six years later, I was on my way to the sports club. It was Kevin's first karate match. I arrived first, and mom and Edward joined me a little later. At the end of the game, my little champion won the first prize.
Oh wait, let me share some life updates with you! Well, thanks to mom's cleaning skills and Edward's work experience, we now own a huge chain of cleaning houses. Mom doesn't work anymore and spends the majority of her time looking after Kevin.
Mrs. Rose's life, though, had become more miserable. She was sacked from school when that video of her refusing to allow me to exit the test hall went viral. It turned out that other schools also refused to hire her after they learned why she lost her previous job. So she now works as a janitor at a hospital.
What can we learn from this story?
Life's a circle. What goes around comes around.

Mrs. Rose humiliated Catherine because her mother worked as a janitor, and she wasn't as wealthy as her. A few years later, karma reached out to Mrs. Rose, and she began working as a janitor.
Good people always get goodness in return.

Catherine's life is a perfect example of that.