Man Heard Girlfriend Scream in the Bathroom, He Rushed in & Saw Her with a Newborn Baby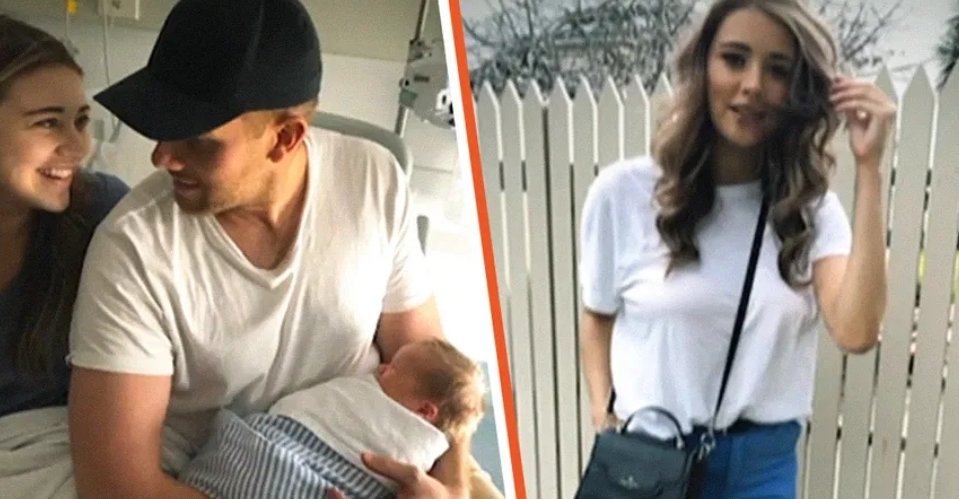 A man was shocked when he heard his partner screaming in the bathroom. But when he reached her, what he found melted his heart and left him stunned because neither of them had any idea they were having a baby.
Parenthood is usually a decision made by two people who have decided to take their relationship to the next level. However, couples are often thrust into the experience unprepared even though they took active steps to do their family planning.
An Australian couple went viral in 2019 when the woman, a model, welcomed a healthy baby girl even though there had been no signs of pregnancy whatsoever. The Melbourne woman had been clueless, but she gave birth to a very healthy baby they named Isla.
The mother was a woman named Erin Langmaid, and she welcomed the child with her boyfriend, Dan Carty, but it had not been an intentional act.
She had constantly been taking contraceptive injections to help prevent having a child. Still, the baby she birthed survived and arrived in a dramatic fashion that left her parents stunned.
WHERE IT ALL BEGAN
Isla's birth shocked both her parents for many reasons. Erin experienced no morning sickness, mood swings, or cravings associated with carrying a baby, and she had also been working full time. She said:
"I wasn't showing, obviously, because I fit into everything."
According to Erin, she had woken up feeling unwell, so she had taken to the bathroom. She somehow found herself on the bathroom floor when the contractions began. A few moments later, they got so painful that she bellowed out in pain, getting her partner's attention, who moved into action immediately.
However, by the time he arrived in the bathroom, the baby was already born in what Erin called "dramatic fashion." The delivery had taken all of ten minutes, and by the time her boyfriend walked in, he caught sight of his woman and then saw the baby, who weighed in at 7 pounds and 7 ounces. He told 7News:
"I saw the little one and I thought, 'Hang on, there's two.'"
Dan was shocked, but that quickly transformed into full-blown panic when he realized that the miracle baby was not breathing following her stunning arrival.
As soon as he realized what was happening, Dan reined in his frazzled emotions and dialed 000, Australia's version of the 911. While they waited for help to come, the operator started walking him through the steps he needed to take to get little Isla breathing again.
In the audio, he could be heard replying to the operator who had asked how many weeks pregnant his lover had been by revealing that they had both been in the dark about the whole affair. This meant he could not say how long the pregnancy term had lasted.
It was his first time administering first aid to a baby, but Dan did it well; a phone call recording revealed how the operator helped him save the baby's life.
Shortly after, he stabilized the child, and his girlfriend and the newborn were on their way to the hospital, where doctors told them that Erin had experienced a cryptic pregnancy.
WHAT IS A CRYPTIC PREGNANCY?
A cryptic pregnancy is a rare phenomenon where a pregnant woman is unaware that she is carrying a child. This basically means that nothing triggers the usual chain of events that leads to the discovery of the baby growing within.
According to Healthline, a pregnancy test may come back negative even if the woman misses her period, and early signs may often be confused with common illnesses like the flu.
A few conditions associated with cryptic pregnancy include Polycystic Ovarian Syndrome, Perimenopause, and constant intake of contraceptives and intrauterine devices.
Some evidence has revealed that such a pregnancy may take longer to mature than the normal ones, which may be related to low hormone levels at the beginning. However, it is also possible for poor diet and lifestyle decisions made by a woman experiencing a cryptic pregnancy to lead to premature delivery.
While cryptic pregnancies often come as a shock to all involved, some would call it a blessing that the woman did not have to go through the stressful rigors of a normal pregnancy.
Ultimately, it is up to the parents to decide how they see it, but one thing is for sure — Erin and her lover will love their miracle child with all they have.