'Icarly' Season 2 Officially Confirmed With The Release Date, Cast & All That You Must Know!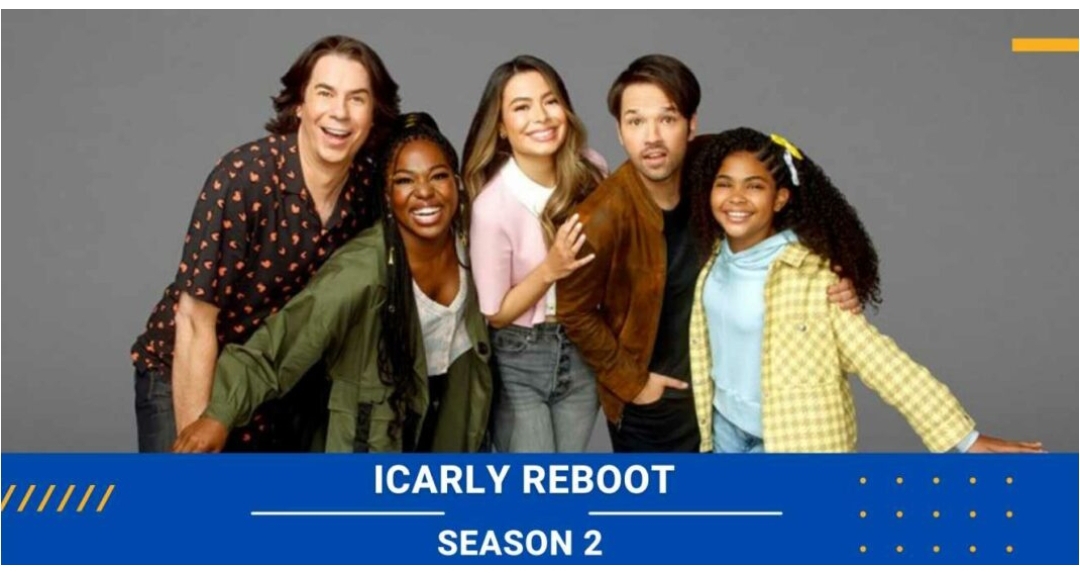 'Icarly' Season 2 Officially Confirmed With The Release Date, Cast & All That You Must Know!
The year 2021 was marked by a slew of reboots and redos. Gossip Girl, Saved by the Bell, and The Baby-Sitters Club were all brought back to life for us. iCarly's comeback was another throwback that brought back fond memories.
When Carly Shay's (Miranda Cosgroveweb ) programme "iCarly" becomes a tremendous smash, she becomes an overnight internet sensation. With the help of Spencer (Jerry Trainor), Sam (Jennette McCurdy) and Freddie (Nathan Kress), Carly manages to keep her life in balance. This Nickelodeon series was produced by Dan Schneider and ran from 2007 to 2012.
By the end of December 2020, a revival has been ordered by Paramount+. The tale picks up nine years after the events of the last season, with Carly and Freddie now adults trying to restart the web show while dealing with maturity. Miranda Cosgrove, Nathan Kress, and Jerry Trainor reprise their roles in the revival. In 2021, the iCarly revival launched and was renewed for a second season on Paramount+ on June 12, 2021, to great popular and critical acclaim. Here's everything we know about iCarly Season 2, from a new cast member to the release date.
Official Released Date of "Icarly" Reboot Season 2 on Paramount+
Season 2 debuted on April 8, 2022. There will be a two-episode season debut, and fresh episodes will be released on Fridays each week after that. The Season 2 writer's room was opened on August 16, 2021, and filming in Los Angeles officially began in early October of the same year. Filming was officially completed on February 2, 2022, according to the production schedule.
iCan't wait for Season 2! @iCarly returns on April 8, only on #ParamountPlus. https://t.co/C9nZeudvXM pic.twitter.com/plmuWjxgMr

— Paramount+ (@paramountplus) March 2, 2022
This season is produced by Nickelodeon Studios and executive produced by Ali Schouten, Jonathan Fener, and Miranda Cosgrove, with Schouten and Fener also acting as showrunners. Ali Schouten, Jonathan Fener, and Miranda Cosgrove are also executive producers for this season. Producers Jerry Trainor, Nathan Kress, and Alissa Vradenburg are on hand to help. In the United States, Canada, Latin America, Australia, and the Nordics, it will be accessible exclusively on the Paramount+ streaming service.
What Is iCarly Season 2 About And Recall of Season 1?
The official iCarly Season 2 summary is as follows:
"The second season picks up right after the first season ended, with Carly refocusing her attention on friends and family following her romantic complications, all while working to boost her revived web channel. Spencer and Harper must also navigate new personal and career developments, while Freddie balances raising Millicent with a new app and a new girlfriend."
Carly Shay has returned to Seattle nine years after the events of the last series and is now living with her old roommate Harper in a new apartment. Spencer, Carly's elder brother, is now a well-known artist because of a sculpture he made by mistake. Freddie Benson and his adopted 11-year-old stepdaughter Millicent have returned to live with their mother following two divorces and a failed computer start-up. Bushwell Plaza, where the original programme was situated, is home to all of the show's principal characters. Freddie and Spencer assist Carly to relaunch her iCarly web series after she makes the decision to do so.
There was a cliffhanger at the end of the first season. Conor Husting and Carly's current boyfriend Wes were in a love triangle. Beau (Carly's ex-boyfriend) was the third party (Josh Plasse). Harper, Carly's roommate, was also involved in a romantic relationship. Harper and her employer Double Dutch kissed as the season came to a close (Poppy Liu). All of Freddie's team members are now working on new software that his daughter helped him pitch, so this season is going to be an exciting one for everyone.
Cast And Character:
Miranda Cosgrove as Carly Shay
Jerry Trainor as Spencer Shay
Nathan Kress as Freddie Benson
Laci Mosley as Harper Bettencourt
Jaidyn Triplett as Millicent Mitchell
Guest Cast:
Nora Dershlit, played by Danielle Morrow, is an obsessed iCarly super-fan who has abducted the iCarly group several times. Morrow reprises her role from the first season of the show.
Willow, played by Josie Totah, is an influencer who arrives at Spencer's show.
Spencer's display features Alex Wassabi as an ASMR influencer.
Reed Alexander reprises his role as Nevel Papperman, a former online reviewer and Carly's antagonist from the previous series.
Tim Russ reprises his role from the previous series as Ted Franklin, Carly and Freddie's former Ridgeway principal.
Doug Brochu reprises his role from the original series as Duke Lubberman, a former student wrestler from Ridgeway.
Harmony is played by Amanda Cerny.
In the Sunshine Girls, Skye Townsend plays Kiki, Millicent's scout leader.
Argenthina is played by Christine Taylor.
Gwen, Millicent's mother and Freddie's second ex-wife, is played by Carmela Zumbado.
Drew Roy reprises his role as Griffin, Carly's ex-boyfriend, from the first series.
Brooke, Carly's and Harper's friend, is played by Esther Povitsky.
Lewbert, the doorman of Bushwell Plaza, is played by Jeremy Rowley. Rowley reprises his role from the first season of the show.
Ryan Ochoa reprises his role as Chuck Chambers, Spencer's former kid rival from the first series.
Ethan Munck reprises his role as Guppy, Gibby's younger brother, from the first series. Munck is Noah's (Gibby's) real-life brother.
Paul, Carly's manager, is played by Josh Peck.
iCarly Season 2 Trailer: