I Told Him You Have Been Looking At Me, Do You Want To Be My Boyfriend His Response Stunned Me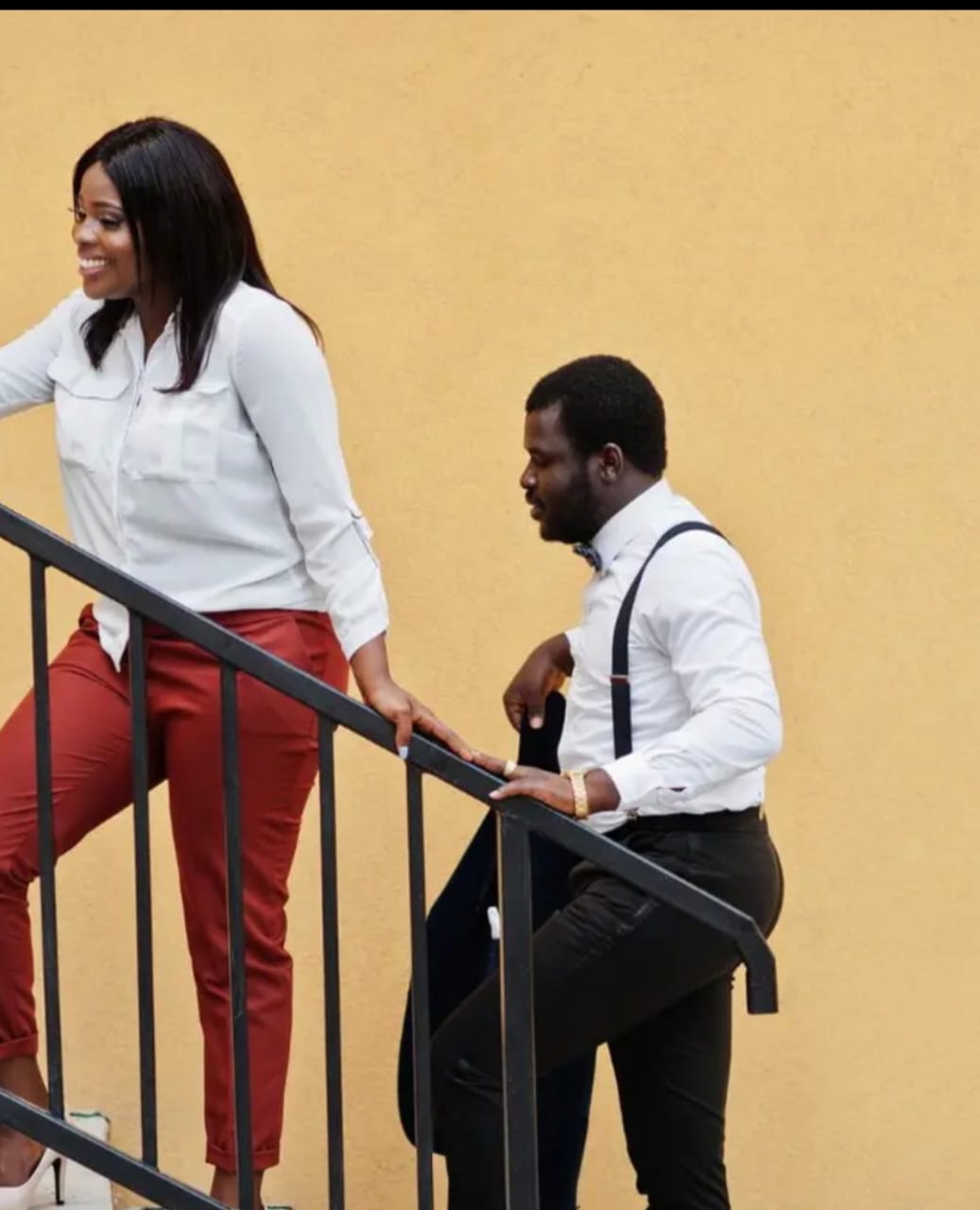 I didn't want to stay home after my national service so a month before national service ends, I started sending CVs around looking for a job. I will wake up in the morning, and move from office to office carrying nothing but a file full of CVs to distribute. Some offices gave me a good reception and later said no to me.
Others said no even before I told them what I was looking for. It didn't discourage me, I went ahead sharing and praying something come out of it. One day, I saw a poster on the wall advertising a job. It said, "Workers wanted. Salary between Ghc200 to Ghc500. That was in 2013, GHC500 wasn't much but my curiosity was piqued.
I took the number and decided to call them on Monday. I told a friend about it and she laughed at me. "Are you that desperate that you'll pick numbers from posters on the wall for a job? You just completed service. Take your time and apply for better jobs with prestigious companies. You're a university graduate and not an SHS leaver. Those jobs are mostly scams and you'll end up giving them your own money.
Don't waste your time." I lost interest and forgot about the number. I kept seeing the posters around but I didn't bother again. I kept moving from office to office. I added online jobs to it and later went through Daily Graphic looking for jobs that matched my qualification.
When you're in school, you think your course is the best thing that happened to humanity and as such, you will get a job right after you come out of the walls of the university. It's when you complete school and starts reading vacancies that you realize you went to school to play. Every job vacancy you read would be looking for someone who's not you.
They ask for qualifications you will only have in your next life and ask for credentials only God can give you. I knew I didn't qualify for most of the jobs I saw but I applied anyway. None of them called to even ask about my name. I was getting desperate. There was pressure at home, some of my friends had been employed. A year later, I was still in the house going from the hall to the kitchen looking for food that wasn't available.
One day I was at the mall to meet a friend who promised to help me get a job. When I was entering the mall, a lady stopped me and put a flyer in my hand. I looked at it briefly and folded it. I was about to throw it away but the lady was looking at me so I put it in my handbag to be thrown away later. I met my friend, talked about the job issue and he promised to help. He took my CV and I left.
When I was leaving the mall, I met the lady who gave me the flier. She was going to give me another one when I told her I already have one. She said, "Please read it and give us feedback. I smiled and kept walking. A week later, I was going through my bag when I saw the flyer. I read through and it was another company looking for different people with different levels of expertise to work with. They didn't mention any specific job. All they said was "Looking for employment? Call this line."
I called and a lady picked up. After answering a few questions she scheduled me for an interview with the boss. I was there early Monday morning, even before the office opened. I hung around the vicinity until it was time for the interview. I needed a job and I was ready to cross the sea at dawn for a job that will pay just enough for me to survive. Immediately I entered the office, I smelled the newness of the place.
It was like something that started not too long ago, a new phone from the box and the nice fragrance that comes with it. It was supposed to be an interview but it turned into a discussion. The boss told me about where it started and where it's going and why they need people like me on board. The whole thing sounded like I was going to do a sacrificial job than going to work for payment. We didn't discuss salary or anything. In the end, he asked me, "So when can you start?" I answered, "I'm ready. If I get my appointment letter I will start."
It was a Monday. On Tuesday he called. On Wednesday he called. On Thursday he called. On Friday I was in his office again, discussing the way forward. He said, "As you can see, this started not too long ago and I don't want to make promises I can't keep. Work with us, I'll pay allowances to cover the basics. Things will pick up soon and you'll be placed on a full salary." I told him I was going to think about it so he should give me a week.
A day later he called. When I didn't pick up his call he texted. He was so eager to have me around. I remember waking up one dawn and pouring my heart into a text message to him. "I want to work with you. I want to do a job that pays back in a form I'll see progress in my own life. There's pressure in the house.
I want to leave home. I want to rent my own place. I want to be able to take care of myself and also take care of my suffering parents. I can't achieve all that while working for allowances. I wish there was another way around things but the way I see it, it won't benefit me in any way. I will have to say no today but if in future you can pay me something and I'm still available, I will be glad to work with you."
He woke up the following morning and responded, "I can understand you perfectly and I'm happy you've been honest with me. I'll work things out until we get to the point where we can afford to pay you. I wish you well in your next endeavour."
This exchange should have marked the end of our talking to each other but it became the beginning of a friendship that sprung from the ashes. He'll check up on me every now and then and ask if I've had a job. When I told him I hadn't gotten anything yet he said, "I have your CV, I'll push it to people I know and see how it goes." Not too long afterwards, I had a call for an interview. The first interview I've had since I started looking for a job vigorously.
He made it possible. It was a call from one of the places he sent my CV to. After the interview, I went to his office to say thank you and it ended up at a lunch close to his office. We spoke like friends who had known each other for a very long time. I saw him differently and understood him at a level I hadn't paid attention to.
I got the job I interviewed for and again I went to his office to say thank you. There was this look in his eyes. He looked way happier for me than I was for myself. He said, "Now you can take care of all the things you dreamt of but remember it's a step at a time. If this job doesn't give you all the things you ever dreamt of, don't be frustrated. Use it as the first step and wait patiently for the next. Soon you'll get there."
From that day our conversations became more personal than they had always been. He'll call and ask how the job is going. I'll call and ask how business is booming. We'll share our struggles. He'll motivate me and I'll also do the same. He'll ask me, "When are you free to meet?" I'll give him a day and we'll meet.
Everything showed he was in love with me but couldn't say it. He was being too careful with me–like I was a feather he was protecting from the wind. One Sunday afternoon I called him and he didn't pick up. He texted back that he was in Church.
I texted back, "After you finish whatever you're doing with God, don't forget to finish whatever you've started doing with me. I'm waiting for you here." The next text from him was full of happy emojis. He asked what I meant and I told him I meant what I meant. He asked, "So I can see you this evening?" I answered, "I'm here waiting for you."
We met. I gave him all the encouragement he needed to strike an already hot iron but he looked away, ignoring the signs and concentrating on a conversation that was going in circles. I asked him, "Do you have a girlfriend?" He answered, "Like I would be here with you? The only girlfriend I have is the business I'm trying to build. I don't even have time to look at women." I told him, "You've been looking at me and I see it.
Do you like what you see? Well, you can be my boyfriend if you're emotionally available. I hate this circle we are moving in. Let's decide what we want." He looked shocked but I didn't mind. He was trying to say something to divert the topic but I was resolute. I told him, "You needed me for your business and I said no. Are you also going to say no? Are you going to pay me back in my own coin?" .
The conversation ended in a burst of loud laughter but the most important thing happened. We departed that night as lovers who were determined to make love work regardless of our history and how we met. The first year was very difficult. I left him twice but I came back. He was so much into his business than he was into me, it seemed.
But each time I left him, he came on his knees promising to make things better. Things didn't get better. He always chose his business over me so I came to accept the fact that builders are like that. They are always in love with what they are building so there's not much time to throw around. I accepted that fact and peace was restored between us.
We got married after dating for two years, just around the time when his business was picking up. He had hired seven people whom he was paying full-time and there were other people who were doing part-time for him.
A year after marriage, I gave birth to our first child. While on maternity leave, he gave me an appointment letter. He asked, "Are you available? Don't worry, I can pay. This time, we are not going to talk about allowances. We are talking about a partnership where we split things through the middle. How many days do you need to think about it?"
We are currently working together as partners, raising a company that was nurtured in his armpit. I'm not going to lie to you that everything is going on smoothly. No. The job is hard. Sometimes we don't even know where the next customer is going to come from but we live under one roof so we put our heads together at night and in the morning, we step out there to get the customers we need.
We are growing. We have a great team. We have a great family and this marriage keeps growing from strength to strength but it all started from a vacancy section, a number I got from a flyer.