Young Woman Says She Offered Money to a Homeless Man and Ended Up as Mom to His 2 Children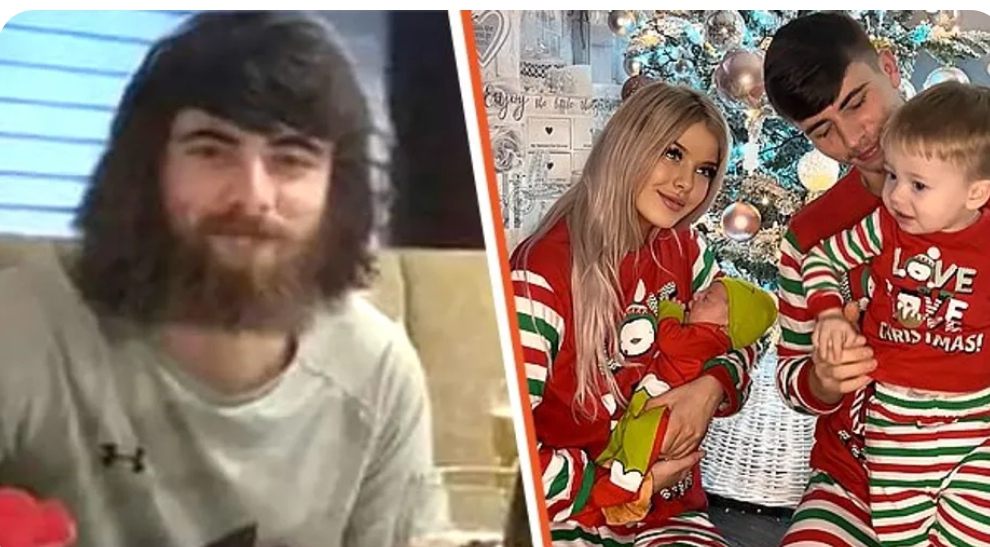 It would be hard to believe that a woman ended up having two kids with a homeless man she once offered money. But that's precisely what Jasmine Grogan said happened to her, and her story has gone viral.
Even though Valentine's Day only comes once a year, love always remains in the air! Jasmine Grogan sniffed it in 2020 when she met a homeless man outside a supermarket one day, and something extraordinary happened.
The gorgeous lady has shared their story via TikTok. It has gone viral, prompting curiosity about what truly transpired between the two, which made her decide to give the homeless man, Macauley Murchie, a chance. Fortunately, the digging has been taken care of, so nobody else has to do it
IT BEGAN WITH A QUICK SUPPLY RUN
Jasmine Grogan recalled she had gone grocery shopping at a supermarket in 2020 when she saw a homeless Murchie seated outside.
She offered him some money, but he turned it down, so she went on to do her shopping. As she shopped, she could not stop thinking about the homeless man who had refused to take her money.
So after shopping, Grogan went outside and once again saw Murchie seated where he had been when she first arrived.
Grogan had gotten so many things. Her hands were filled with heavy shopping bags, but when she saw Murchie seated outside the establishment, she still stopped to ask if he needed her help. Still, he declined.
It was baffling behavior as far as she was concerned, but then Murchie offered to relieve her of her heavy shopping bags, an unlikely knight in cheap clothes. How could she refuse?
He helped her get her shopping bags to a taxi, and they hit it off from that moment, according to one of her Tiktok posts.
A DINNER AND A LONG CONVERSATION
According to Grogan, she went on to have dinner with Murchie that evening, and as they ate, they had a very long conversation about his life. By the time it ended, Grogan was convinced there was something special about the man.
To that end, she got him a cell phone to remain in contact, and the device did what she bought it for — keep them tethered via text messages and perhaps the occasional phone call.
In a clip she shared on TikTok, Grogan shared screenshots of their first conversation, and it saw Murchie express his gratitude and also confirm that she was not the only one feeling their connection. His first text read:
"You've made my day, thank you so much for everything, you are amazing. Can't stop thinking about you xx."
She replied: "You don't have to thank me, I can't get you out of my mind either." After that, she invited him out for lunch.
SHE MADE SEVERAL UPGRADES TO MAKE HIM PRESENTABLE
After lunch, they also had dinner together, after which she offered to take him to her home to help him get better things to wear.
He ended up staying the night, and according to Grogan, they fell instantly in love with one another, and he ended up staying longer than a night.
They started going on more dates as their relationship matured, and he started cleaning up his appearance, shaving his beard, fixing his teeth, and securing a great job.
The two kept falling deeper in love as time passed, and eventually, Murchie popped the big question, and now they have two kids together. Grogan said:
"We are so glad our paths crossed and believe everything happens for a reason, he made my life so much better, and I couldn't imagine doing it without him now."
Grogan and Murchie have become inseparable now, and their love story has garnered the attention of many TikTok fans, who have commented on how inspirational, and romantic their story is.
One fan wrote, "He found a house and a home, this is so cute," while another who was more skeptical about how accurate the story is, asked:
"This was a joke right?"
When less positive comments started to surface, Grogan revealed that it was indeed a trend on TikTok but that it did not mean she loved him any less.
Some refused to take her word for it, but Grogan's emotions seemed quite genuine, and the story was indeed a touching one. True or not, it is an excellent example of how far a gesture of goodwill can go.