Sad! How Mom-Of-4 Is Fired and Evicted from Her Home, Has to Sleep in a Car with Her Kids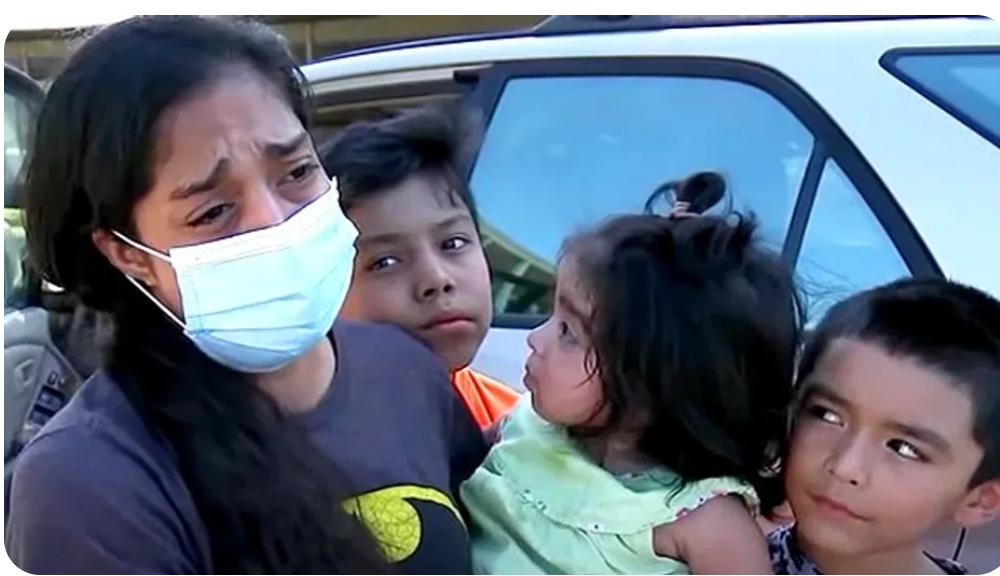 Rock-bottom: a deeply challenging place that many of us find ourselves in at some point. One woman found herself there, unable to stand up. Would someone lend her a hand, or have we all gone blind to those suffering?
Kenia Madrigal from Houston had hit one of the lowest points. She was worried not just about herself but her four young children and what this would mean for them.
The mother was alone in her struggle and on the verge of giving up. She began to feel as though it was all hopeless as her life crumbled before her eyes.
ZERO HOPE LEFT
In 2020, Madrigal was evicted from her home along with her kids, who were then between 1 year old and 11 years old. With tears welling up in her eyes, she said:
"I've had so many breakdowns just this past week because it's so hard to try to hold it together, try to be strong, and to try to show my children there's nothing to worry about. It's really hard."
Madrigal expressed that she wasn't sure she could take another week of this. She explained that she might not be able to send her kids to school, considering how little money she had left.
DESPERATE TIMES CALL FOR DESPERATE MEASURES
But, somewhat lucky, she and her family managed to find a form of shelter until this dark period hopefully passed over. While not perfect, they used a car to sleep in at night. This living situation lasted for months. Madrigal stated:
"I take the car seats out. I put the seats down, and these go all the way back. So, me and my oldest are here while the youngest are in the back. [sic]"
Trying to find shelter in Houston proved difficult because of the high number of individuals who lost their jobs due to the pandemic. This resulting increase in homelessness led to less space and closed public housing. The state also denied her assistance.
NO MERCY FOR A MOTHER IN NEED
This global COVID-19 outbreak was also the reason for Madrigal's job loss and eviction. Because she had no job, she could not pay rent and was kicked out.
But, she didn't know that her ex co-workers were touched by what she was facing. They chose to set up a GoFundMe account to help her raise money for herself and her kids.
IN UTTER AWE
Miraculously, the fundraiser blew up, and as reported in August 2020, the amount had reached over $61,000. Initially, they had only set it to $800. Madrigal expressed:
"I'm still in shock. I still don't believe it. I can't believe there are that many people willing to help me, of all people. I don't believe I'm somebody for them to want to help."
It wasn't only money that was rolling in. Many people were offering employment that could help pay rent, homes, and many other helpful contributions.
BEYOND THE IMAGINATION
Madrigal simply needed the cash for basic needs such as food, school, and shelter. But, because of how much money she received, she could do much more. Madrigal said:
"My goal was to get enough to get into a place, and now I can actually give them a home."
Madrigal emphasized her deep appreciation for all the generosity that came her way. She exclaimed: "Thank you. Thank you. I'm so grateful. I'm very blessed."
A WELL-DESERVED GIFT
Madrigal was in complete disbelief when it came to the kindness of her co-workers. This reaction of hers could be because most of us view our fellow employees as simply professional connections.
But, sometimes we forget that they are also human and have hearts. School janitor Robert Lee Reed discovered his co-workers' kindness in the most touching way.
Reed was a significantly hard worker who went to great lengths to get to the school on time. He would take three buses and walk two miles!
The teachers at the school noticed his travel problems and chose to help him. They gave him a present that brought him to his knees; he was so emotional. Using GoFundMe, the teachers raised $7000 for Reed to buy a truck.
Madrigal now has proper shelter while Reed has the transport he needs. These are both the result of people choosing to notice and take the time to lend a hand instead of turning a blind eye.