Young Football Player Stops To Help Homeless Woman And Had No Idea Cameras Were Rolling (Video)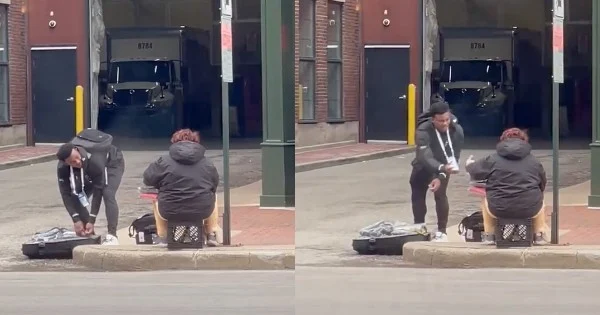 Malik Willis was the quarterback at Liberty University recently, and this football player was captured on video helping out a homeless woman in need.Malik Willis is considered one of the top quarterback prospects in this year's NFL draft. But it wasn't his football skills that caught the attention of people on social media recently.
When Malik was leaving the 2022 NFL scouting combine, he was filmed giving some clothes to a homeless woman outside the Indianapolis Convention Center. His act of kindness caught Twitter user Ryan Lacey's eye, and Ryan ended up taking a video of Malik before sharing it online. Malik had no idea that he was being filmed.
Malik Willis, Quarterback For Liberty, Seen Helping Homeless Woman
"Was having lunch yesterday and saw one of the Combine guys helping out someone on some hard times…@malikwillis being great even when nobody is watching. How can you not be a fan of this guy?" wrote Ryan Lacey on Twitter.
Later, during an NFL Network broadcast, Malik shared his thoughts on his interaction with the woman in need.
"I walked past her on the way to the Nike suite and I chopped it up with them, and I walked out with a suitcase and whatnot. And I felt bad because I saw her son. It was a pregnant lady and she was homeless. And I was just like, 'Shoot, I don't have no money, but I can give you a couple of shirts," he said. "I just felt like I had to do that. I mean, I'm at a position right now where I'm not worried about much of anything except getting better. So, if I can help her out any way, I felt like I had to."
What a great reminder that there are always people out there that we can help out in our own ways. When you can be a blessing to someone, take the opportunity!
WATCH: Quarterback Malik Willis Seen Helping Homeless Woman
https://twitter.com/rlacey23/status/1499432347208400901?s=20&t=Zoi-JAs6rVnDcu4YogXbRg