Woman Monitors Real Estate Agent In Her Home With Camera, Makes Shocking Discovery (Photos)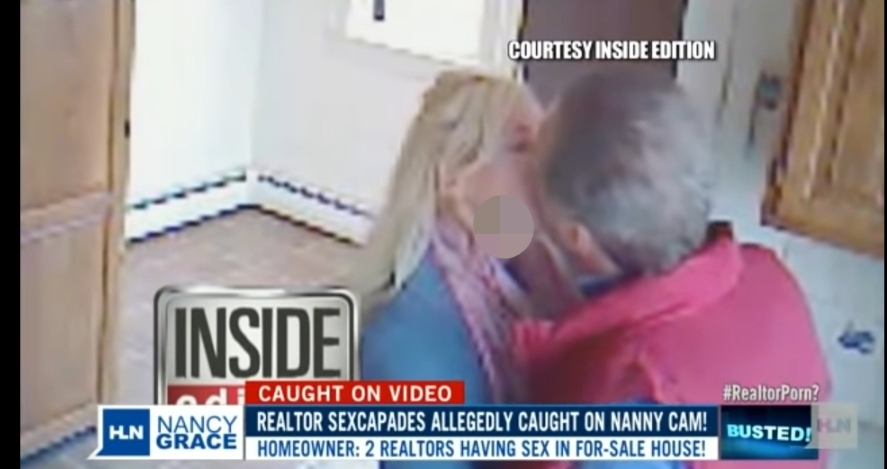 Realtors behaving badly: two New Jersey real estate agents are the plaintiffs in a civil suit alleging that the pair used a family's home as a lovers' meeting place, intentionally pricing the house above market value to guarantee themselves an ongoing love nest.
Home security cameras revealed that Coldwell Banker realtors Robert Lindsay and Jeannemarie Phelan had sex in the home of Richard and Sandra Weiner at least 10 times—including in the homeowners' bed.
At 12:51 p.m., the security cameras show that Phelan entered the Weiners' home, and Phelan and Lindsay kissed and hugged in the kitchen. The security cameras further show that at 1:02 p.m., Lindsay and Phelan entered the master bedroom, undressed and proceeded to have sex on the Weiners' bed," the lawsuit reads.
Additionally, the suit alleges that Lindsay priced the home at $650,000, a sum he knew it woldn't fetch.
"Lindsay intentionally listed the house at above market value so there would be little traffic in the home," the lawsuit said.
In January of 2012, Sandra Weiner wised up to the realtors' "sexual escapades."
"Sandra Weiner happened to be checking the video camera feed at the time and saw strange people in the house with what she thought were flashlights. The house was dark at the time. Weiners called the local police who then went to the house," the suit states. "The police opened the door to the house and found Lindsay pulling up his pants.
The amorous realtors struck back with a $1 million countersuit, claiming the Weiners had blackmailed them with the footage of their tryst.
But Richard Weiner maintains, "We didn't ask them for a cent. We asked them for a meeting."
The angry homeowners, who said they felt "uncomfortable and disgusted" back in their own house, are suing for compensatory damages for invasion of privacy, infliction of emotional distress, breach of contract, trespass of land and other civil counts, according to the Daily Mail.