While her two children were at home, mother checks the surveillance camera and observes them being arrested by police.

Cindy Cordova's morning outing turned into a nightmare when she saw her 14 and 19-year-old children handcuffed by police officers. The children were in their apartment when sheriff's deputies arrived, responding to a domestic violence call. When the deputies let themselves into the apartment, they handcuffed Cordova's daughter, who had tried to explain to them that her mother was not at home. When her son tried to record the incident, he was handcuffed too.
Cordova's daughter asked for the search warrant but was ignored. Cordova's livestreaming camera captured the entire event, and after months of pleading with the Sheriff's department for answers, they decided to post the videos on TikTok.
The videos went viral, with more than 20 million views. The department defended the behavior of their officials, stating that the occupants of the residence were uncooperative at the time. However, the Cordova family disagreed and hired an attorney to help them overcome their trauma and obtain answers. They claimed that the deputies used excessive force and performed a false arrest.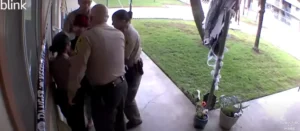 Cordova's children are still traumatized by the incident and are fearful of going outside. The family is planning to move, and Cordova says she is searching for justice and hoping that this kind of behavior will not happen to other families. Many people are supporting their fight for justice, and most comments on the YouTube video of the event are horrified by the actions of the deputies.
There are several lessons we can learn from this incident:
Police should always follow the proper protocols when responding to a call, and they should never use excessive force or false arrests.
Communication is key, and law enforcement officials should always communicate with the residents of a home or property before entering, especially if they do not have a search warrant.
It is essential to have video surveillance in and around our homes, as it can be a powerful tool to help protect our families and property.
Social media can be a useful tool to raise awareness about important issues and bring attention to cases where justice needs to be served.
Trauma can have a lasting impact on children, and it is essential to provide them with the support they need to heal and recover.
It is essential to hold law enforcement officials accountable for their actions, and this includes investigating incidents of misconduct and providing transparency to the public.