My Teenage Daughter Accused Me of Being Too Old to Have a Second Child at 40 — Story of the Day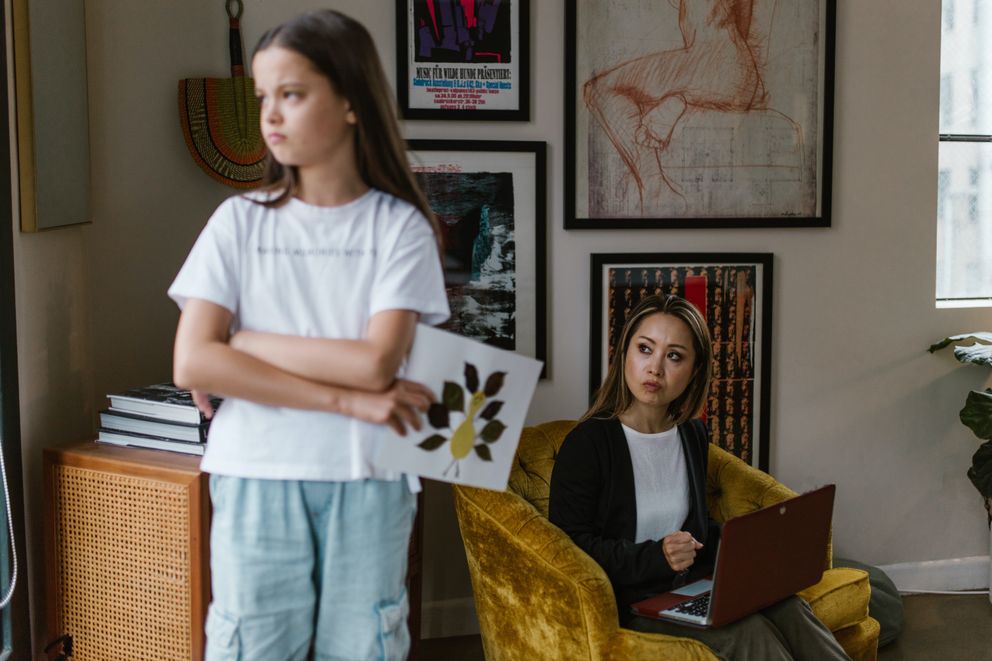 I couldn't believe it when I found out I was pregnant at the age of 40. It was unexpected, but my second husband and I were happy. Sadly though, when we shared the news with our daughter Erica, she responded in a way I hadn't expected…
Unfortunately, it is not always easy for parents to raise children. And I think it's most difficult when their kid is going through the teenage years. Sometimes, they just don't realize they're being too hasty with their decisions and fail to understand some things. Sadly, that's exactly what happened with my 15-year-old daughter Erica…
When I checked my pregnancy test results, I couldn't believe my eyes—it did show two lines. Truth be told, that unexpected news somehow gave me a feeling of impending disaster. Unfortunately, my hunch was right.
Although we had not planned on having a baby again, we were over the moon and decided to share the news with Erica. We thought she'd be equally excited, but she had a huge fight with my husband and me that day. "Are you crazy? You should be ashamed of yourselves! You're too old for all this stuff!" she yelled at me and stormed out of the room.
I tried talking to Erica several times that day, but she locked herself in her room and refused to speak with her stepfather or me. I thought if I gave her some time, things would get better. But sadly, it didn't take long for my hopes to be dashed.
Several months passed by, and throughout my pregnancy, Erica behaved coldly. Sometimes, she'd even express her anger openly. It made me upset, and sometimes I wished I had not got pregnant, but I was lucky enough to have James by my side, which always comforted me. "Darling, she will grow up and understand everything. Don't worry!" he used to say to cheer me up.
However, after giving birth, things didn't get any better. When I asked Erica to help me and look after her little sister, she just snorted in response. "I didn't ask you to give birth. Now deal with it on your own," she would snap at me.
I swallowed my tears. There were plenty of worries, but I couldn't share them with anyone. James was already having a hard time looking after us and our little one. And then there was Erica, who didn't even want to listen to me.
Thankfully though, James was really supportive throughout the difficult period. He always helped me, and despite Erica's rude behavior, he never quarreled with her. Instead, whenever she was angry, he tried to pacify her anger.
Soon, Erica graduated from high school and enrolled in a university in a different city. Summer flew way too fast, and she moved to a hostel.
Later that year, Erica told me she'd be coming home during the Christmas holidays. But when she returned home, I noticed she was acting differently, softer or something. Her younger sister no longer evoked negative emotions in her. In fact, she started taking care of her sister and spent more time with her than I did.
I'll be honest with you. I was really happy to see my daughters getting along so well. Maybe James was right, I thought to myself. After all, as Erica grew up, things did become better.
But one day, I realized that the reason behind Erica's sweet transformation was far from what James or I could have ever imagined
Erica was studying in her second year at that time. When she came back home, she looked really gloomy. What's more, I noticed that her belly had slightly increased.
Soon, everything became clear to me. Even Erica didn't hesitate for a long time and candidly revealed what had happened. "I was afraid to tell you because I didn't know how you'd react. But you should know that I am pregnant," she told me that day.
Mostly, parents panic when they find out their daughter is pregnant at such a young age, but for some reason, I was calm. Maybe that was because I knew I would always be there for my daughter, no matter what. However, there was one thing that terrified me. And that was James's reaction.
I was afraid he would not take it positively. After all, James was a stepdad, and Erica had been too rude to us all this while. But to my surprise, he was very supportive. "You don't need to be scared, sweetie. We will always be there for you," he told her.
When Erica completed her studies, she and her fiancé Dilan got married. Dilan turned out to be a good and responsible guy, and he agreed to take responsibility for the baby.
My husband and I did everything we could to assist Erica. When she gave birth, I took care of my grandson and taught Erica everything she needed to know about being a mother. She never argued with me and listened intently to what I said.
However, my husband saw how tired I was from looking after the child, and he got angry with Erica. "Remember how she behaved after you gave birth! And now you're the one taking care of her child!" he yelled at me.
But please don't misunderstand him. Though he always yelled at me for going above and beyond to help Erica, he supported Dilan and Erica financially for a few months because Dilan didn't have a job. James didn't show it, but he was more concerned about Erica than I was
Then one day, while I was putting my grandson to sleep, Erica came up to me and hugged me. "Forgive me, mom. I was such a fool! I didn't understand what I was doing and saying. There was a fit of stupid jealousy in me that prevented me from caring for my younger sister. But now I understand everything. You were and will be an example for me! "
I hugged Erica tightly and said, "Erica, we all make mistakes. The most important thing is that you have realized everything. Please remember that your stepdad and I will always support you!"
From that day on, Erica and I became closer. We never quarreled and always helped each other.
What can we learn from this story?
Sometimes, we can sort things out with love rather than hatred. When Erica revealed her pregnancy, her parents supported her, which made her realize how wrong she was.
Being a parent necessitates a great deal of commitment. This was quite evident from the difficult experience of Erica's mother and stepfather.
A mother's love for her child is incomparable. Despite Erica's rude behavior, her mother never left her side.