Mom Is In For Delivery Room Shock When Her Baby Is Born With Organs Outside Of Body, But The Unexpected Happened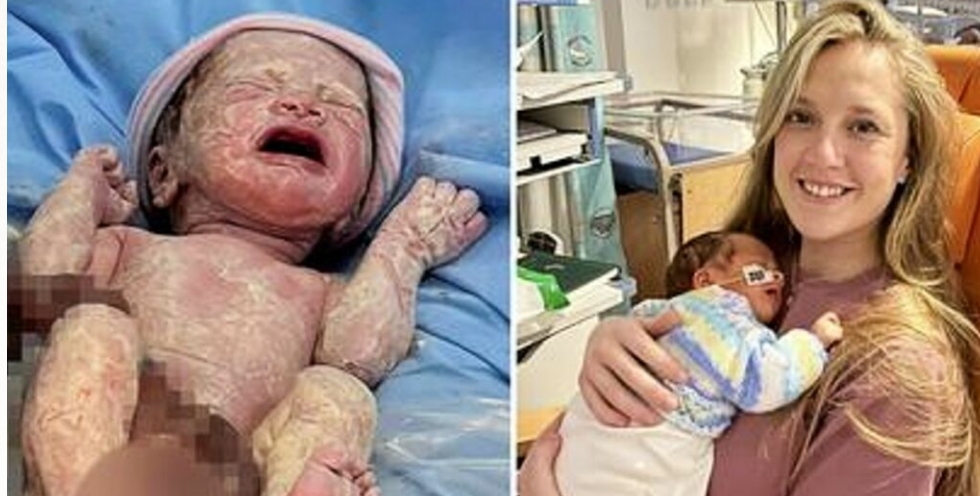 A rare condition meant first-time mom Ashlie Fowler saw her baby born with organs outside his body. But while it may have caused a shock at first, this little miracle stole his mother's heart in an instant
Early into 29-year-old Ashlie Fowler's first pregnancy, her medical team warned her that her baby suffered from gastroschisis.
"At my 12-week scan I found out, so I found out quite early on," she explained.
Gastroschisis is a rare birth defect in which the baby's abdominal wall doesn't entirely form. As a result, the baby is born with organs outside of its body to varying degrees.
The technician may have alerted Ashlie to her unborn son's condition. But that doesn't mean she fully understood what this meant for the day of her son's delivery.
"I was mortified, obviously I didn't know what it was," Ashlie recalled. "The scanner just said that the bowel was on the outside and my heart just dropped. I had no idea what that meant. I'm not at all medically qualified so I didn't know whether it was worse than how it sounded."
Mom Shocked By Baby Born 'Inside Out'
Though Ashlie's doctors hoped for a natural birth, her son, Koa Fowler, was breached and ended up requiring a c-section. And it was still a shock for the first-time mom to see her baby born with organs on the outside of his body. Doctors pretty quickly rushed Koa away he could undergo surgery just four hours after birth.
"I had the c-section, and he was immediately put into an incubator and whisked away," Ashlie explained. "After he was born they put all his organs into a bag because they don't want it to dry up or lose heat, or get infected."
Doctors released Ashlie Fowler from the hospital soon after her delivery. And the heartsick mom had no choice but to leave her baby boy behind in the ICU. Each day she would travel an hour one-way to visit her child.
However, sometimes COVID restrictions kept her from even doing that. And with her partner, Carl, having to return to work, Ashlie spent a lot of her time alone, worrying about her son's future. It's one of those situations where all you can do is pray and wait.
"My mum got a lot of phone calls in tears," she recalled.
But sweet Koa was never alone. God was with him the whole time, helping this little fighter get stronger each day!
Baby Born With Organs Outside Of Body Astounds Doctors
Ashlie says her son, Koa Fowler, received excellent care while at the hospital. But though the medical team certainly put in lots of work, God's plans are the ones that had this little miracle thriving!
Doctors expected this baby born with organs on the outside of his body to remain in the hospital for six weeks. However, the boy's progress amazed the doctors and nurses and he was able to go home early
"He was only in the hospital for about three or four weeks – which they said was incredible as he was expected to be in for around six," Ashlie said.
So many things could have made Koa's situation worse.
"If any more of his organs had come out of his body the risk would have started to increase, his stomach could have come out for example and a section of his bladder had already," Koa's mom explained.
But none of that happened. God clearly had a hand on this tiny fighter! In fact, well before Ashlie and Carl learned of the complications their son would face, they chose the name Koa for him, which in Hawaiin means fighter or warrior
At last, little Koa headed home to his parents, where he is happy and continues to thrive. And his story reminds us that no matter what we face, God will always have the final say!