How 13-Year-Old Risks His Life To Save His 4 Sisters From Fire And Then Family Dog Saves Him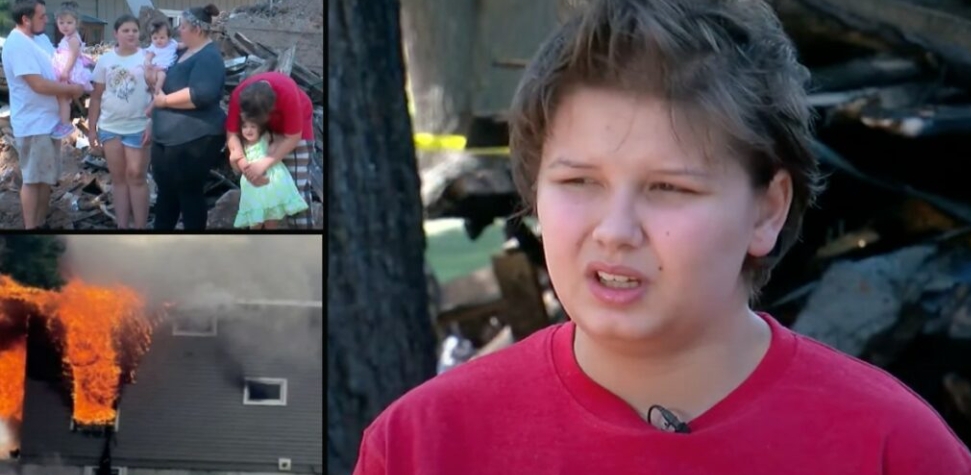 Briar Omar is not only courageous but a hero. This 13-year-old risks his life to save his four sisters from a fire and then the family dog helped save him!
Briar Omar is what legends are made of. Kelly and Jay Omar didn't want to drag Briar and his sisters to the grocery store to get supplies for supper. Instead, they left the kids at home with Briar in charge. It was a quick parenting errand, and they were confident Briar could hold down the fort and look after his sisters for just a few minutes
But the unimaginable happened. While Kelly and Jay were at the grocery store, their home went up in flames while the children were still inside.
13-Year-Old Briar Omar Saves The Day
It happened in minutes. When Briar described what happened, he recalls, "My sister just said it was really smoky and we looked behind us and the playpen was on fire'," His first thought was, "My sisters. That was the first thing I thought of. I knew I had to get them out of the house.
Briar Omar remained calm and focused on getting his sisters outside. With God watching over him, Briar not only rescued all four of his siblings, but he also raced back into the flames with a fire extinguisher to try to save the burning house.
But by then, the house was filled with smoke, making it difficult to breathe or see. That's when God sent a furry Guardian Angel–the family dog.
Family Dog Saves 13-Year-Old Hero
Briar felt something brush against him, and he realized it was his dog! The protective animal first got Briar's attention by rubbing his leg. Then Briar Omar grabbed ahold of his pup, and it thankfully led him to safety!
Sadly, all that remains of their home and belongings are ashes. But that doesn't stop Kelly and Jay from feeling incredibly blessed and grateful.
"We're just so thankful that every single one of them made it out. If it wasn't for my son, I don't know where I'd be," Briar's mom tearfully explained.
It's easy to replace stuff, but the lives of their children are far more precious. Thanks to Briar Omar and God's hand upon him–this family is still intact, alive, and unharmed.