Hardworking Single Mother, Working as a Traffic Officer, Surprised with Life-Changing Gift (Video)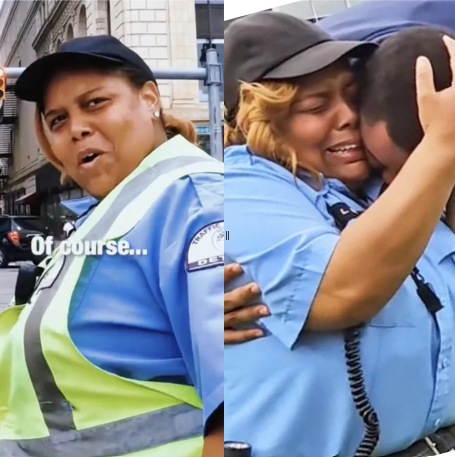 In Detroit, Michigan, there was a single mother named Linita Edge who worked as a traffic controller. She had recently become a single parent and struggled to support her family without a second income. Despite the challenges, she loved her job because she enjoyed helping people. One day, a stranger named Zachery Dereniowski, also known as MDMotivator on social media, decided to do something special for her on Mother's Day in 2023.
Dereniowski approached Edge during her shift and recorded a TikTok video of her directing traffic. Instead of turning him away, Edge kindly agreed to be interviewed when he asked if she wanted to buy a mystery jersey for $1. She happily promised to buy the jersey after her shift. As she continued directing traffic, Edge shared that she had been doing her job for six to seven years and loved it.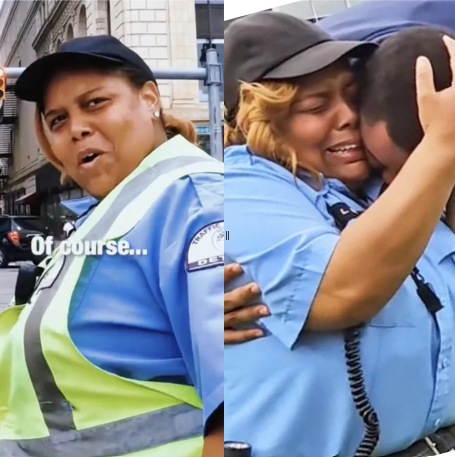 Edge proudly mentioned that she was born and raised in Detroit and when asked if she was a Tigers fan, she replied, "Of course!" Dereniowski then asked her when her shift ended, and she said around 10 or 11 p.m. While directing traffic, Edge warmly wished women a Happy Mother's Day and hoped they had a great day and evening. When asked about the chances of leaving work early that night, Edge said it was unlikely.
However, Dereniowski was determined to make her day special. He spoke to her lieutenant and managed to get her off work between seven and nine. Edge was thrilled when she heard the news. The surprises began when Dereniowski handed her $500 and told her they were going to a Tigers game immediately. She couldn't hold back her tears as he explained that it was Mother's Day weekend, and he wanted to celebrate a mother. Edge had recently told her son that they needed to save money, but she didn't like taking money from her children.
By May 31, 2023, the initial goal of $50,000 had been surpassed. Edge relied on her faith and prayed with her children. Dereniowski mentioned that Edge had not had time for herself since December 2022, and this surprise meant a lot to her. The video showed Edge enjoying herself and smiling at the Tigers game, where Dereniowski had bought tickets. But the surprises didn't end there.
In a follow-up video, Dereniowski gave Edge a dollar to open a mystery envelope during a second visit while she was on duty. Inside the envelope, he told her she had to leave work and go with him because he had another surprise for her. After confirming that she had permission to leave, he asked Edge about her dream for her children. She selflessly expressed that she wanted them to excel in life rather than focusing on material possessions.
When they arrived at the Tigers game on May 16, 2023, Edge was amazed to see a clip of herself playing on the big screen. She was then taken to the stadium field, where it was announced that she was receiving an additional $50,000. Overwhelmed with joy, Edge fell on her knees, thanked God, and embraced her son and the Detroit Tigers catcher, Jake Rogers, who presented her with the check.
Dereniowski had secretly created a GoFundMe account on Mother's Day to support Edge with rental payments, food, and her sons' education.
Within days, people in Detroit and beyond had donated funds, surpassing the initial goal. By May 31, 2023, they had raised $63,210. Even after the account was created, donations continued to pour in, with people leaving heartfelt messages of support for Edge.
In an interview, Dereniowski described the experience as beautiful and like a movie. He felt blessed to witness the love and support Edge received, and he credited the online community for coming together to make it all happen. Edge, a grateful single parent, believed that God had used wonderful people like Dereniowski to bless her. She expressed her deep gratitude towards him and God for their incredible acts of kindness.
The story of Linita Edge and Zachery Dereniowski touched the hearts of many, reminding people of the power of compassion and generosity.
It served as a reminder that even small acts of kindness can make a significant impact on someone's life. The community rallied around Edge, showing support and love for a hardworking mother who dedicated herself to her job and her family.
Edge's story became a symbol of hope and inspiration, not just for single parents or those facing financial difficulties but for anyone who needed a reminder that there are still good-hearted people in the world. It highlighted the importance of helping one another, even in the midst of our own struggles.
As the video of Edge's surprises and her emotional reactions spread on social media, it ignited a wave of positivity and inspired others to perform acts of kindness in their own communities. People were moved by the simple joy and gratitude displayed by Edge, and it reminded them of the profound impact they could have on someone's life by extending a helping hand.
The generosity shown towards Linita Edge served as a testament to the power of unity and the ability to make a difference when individuals come together for a common cause. It demonstrated that a community's collective effort can bring about positive change and bring hope to those who need it the most.
Through the kindness of Zachery Dereniowski and the support of countless strangers, Linita Edge's life took an unexpected turn for the better. Her story continues to inspire others to look out for one another and embrace the opportunity to make a positive impact in their communities.