Eldery Lady Forbids Anyone to Touch Old Trinket Box until Day She Dies And Something Strange Happened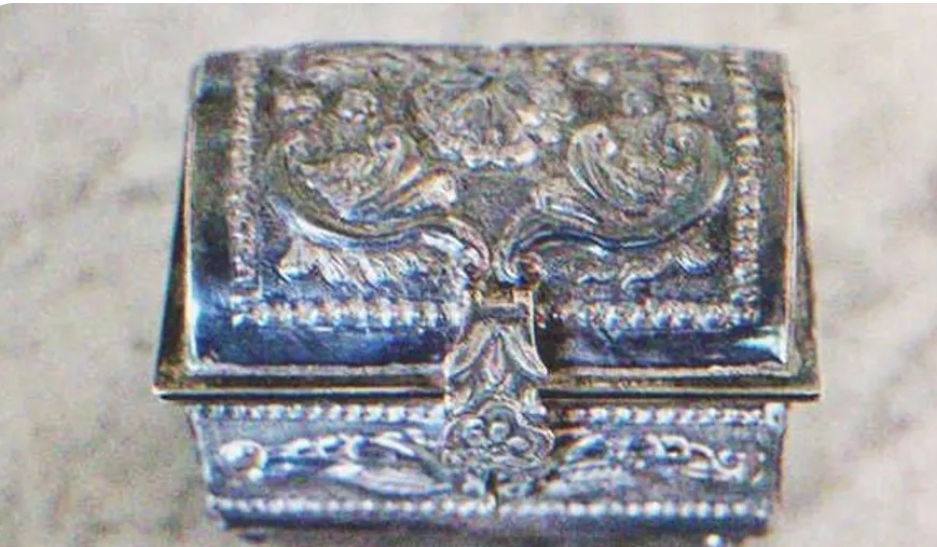 Catherine Davis never let anyone have access to her old trinket box. But when her neighbor Lucy opened it after her death, she was taken aback by what was inside.
Catherine Davis was 90 years old, lonely, and had spent almost her entire life in poverty. Her only helping hands in old age had been her neighbor Lucy, who helped her around the house and looked after her, and Lucy's children, who often referred to her as Grandma and spent time with her.
One day, when Lucy was cleaning Catherine's room, she noticed a beautiful trinket box on a shelf. The woman brought it down and began inspecting it out of curiosity, but Catherine saw her. "Lucy!" she yelled, screaming at the top of her lungs. "Since when did you start touching my things without permission?"
"There's nothing like that, ma'am," Lucy explained. "The box was covered in dust, so I just decided to clean it. By the way, where did you get this from? It's quite pretty."
Catherine stepped forward and snatched the box from her grasp. "That is none of your concern, young lady. Anyway, I believe you have completed your cleaning for the day. You should leave right now."
"But I was just…" Before Lucy could say anything, Catherine cut her off. "Please leave now!"
What does that box even hold? I've never seen her get so possessive over anything, Lucy pondered, looking into Catherine's eyes, which appeared more worried and sad than upset.
"Do I need to repeat myself? Please leave!" Catherine screamed again.
"Oh no, I'm sorry for troubling you," Lucy said as she hurriedly packed all her belongings and left.
That night at home, whenever Lucy tried to sleep, her thoughts kept returning to the old box. It appeared old, but it had a lovely silver shine and an intricate pattern engraved on it. Was it given to Catherine by someone she cared about deeply? But if that's the case, why would she keep it hidden? She's told me everything about her life, hasn't she? she wondered.
The following day, when Lucy visited Catherine, she decided to apologize to her. The woman reasoned that it had to be something personal to Catherine and that she shouldn't have touched it without her permission. But Catherine didn't open the door.
"Are you there, ma'am?" Lucy called out. "It's me, Lucy." No replies came. Worried, Lucy dashed to the backyard to see if Catherine was there, but it was deserted as if no one had ever lived there.
Although Catherine never left her home without informing Lucy, she thought maybe after what happened the day before, Catherine was upset with her and went out alone. But when she called Catherine's phone, the ringing was coming from inside the house. At this point, Lucy was worried, so she called the cops.
As soon as they arrived, they broke down the door, and there was Catherine, unconscious. The cops summoned an ambulance, and she was taken to the hospital.
When Lucy paid a visit to Catherine in the hospital, the elderly lady couldn't stop thanking her. "Thank you so much, Lucy! I wouldn't be alive today if you didn't arrive on time. Sorry for being rude yesterday."
"Oh, no, that's fine," Lucy replied. "You should rest right now. We can talk about all of that later. You look quite weak."
"Ah, honey, I don't think I will make it out of here this time," the old lady moaned. "In case something happens to me, I want you to have everything I own, including the old vintage trinket box. However, please open it after my death. I'm embarrassed by what I've done. The key can be found in the table cabinet. Consider it my final wish."
"You shouldn't say such stuff! You're not going anywhere, understand?" Lucy started crying. But the next day, the old lady's words proved true, and she left for her heavenly abode.
Lucy organized her funeral, and after everyone had gone, the first thing she remembered was the box Catherine had left her. She dashed over to the shelf, grabbed it, and slid onto the bed. When she finally opened it, she was taken aback by what she found inside.
There was a vintage flute, silvery in color and as lovely as the box that housed it. Then there was an old dairy with a photograph of a young couple in it. After a closer look, she recognized the young woman was Catherine Davis. She had been quite happy and pretty in those days, unlike her old age when her face was riddled with dark circles and sunken cheeks.
But who is this young man? Was Catherine married? The woman wondered and began reading the diary. That's when she realized why the old lady never let anyone touch it.
It turns out Catherine had fallen in love with a poor talented musician and wanted to marry him sooner, but the man insisted on marrying only after establishing himself because he wanted a comfortable life for his future family. Meanwhile, Catherine's parents arranged for her to marry a wealthy man.
She was initially hesitant to accept the arranged marriage. But then, she saw the opportunity as retaliation for her lover's refusal to marry her and agreed to the wedding despite the young musician's pleadings.
However, when she received the silver flute as a wedding gift from her love, along with a note about how much he missed her, she fled and returned to him. But then another tragedy struck her, and she learned he'd died in a car accident.
Catherine was heartbroken, and when she returned home, her parents refused to accept her. So she spent some time with her grandparents, and when they died, she worked part-time jobs until her old age, when she had to rely on her savings to survive.
As Lucy turned the last page of the diary, she found a note addressed to her. "Thank you for looking after me, Lucy," it said. "And please accept my apologies if I was impolite. All the while, I kept a diary of my entire life because I couldn't get over my first love, and whenever I read about him, I'm happy that, even though I was late, I chose him over someone else.
"But you know, this diary is quite full of tragic memories, and I didn't want to mention you here because, unlike what I faced in the past, I have been happy since I met you. So I decided to write down my thoughts in this note today. Thank you for loving and caring for me. I'm glad I met you. With love, Catherine Davis."
Lucy's eyes welled up as she finished reading the diary. The older woman's flute was worth thousands of dollars, but she preferred to remain impoverished rather than sell it for a better life because it was a reminder of her ex-lover.
Catherine, I will not let your sacrifice go to waste! Lucy vowed to herself. And the next day, the woman decided to donate the flute to the museum of arts, which now houses the flute and a stone engraved with Catherine's love story.
What can we learn from this story?
Life is entirely unexpected. Catherine's tragic love story is a brilliant example of this.
Learn to be kind and helpful, the way Lucy helped Catherine.
If you enjoyed this story, you might like this one about a little boy who pays for a starving old lady's groceries and asks her to make a wish.