Dog Barked Non-Stop At Biker Until He Followed And Saw A Brown Towel That Was Wriggling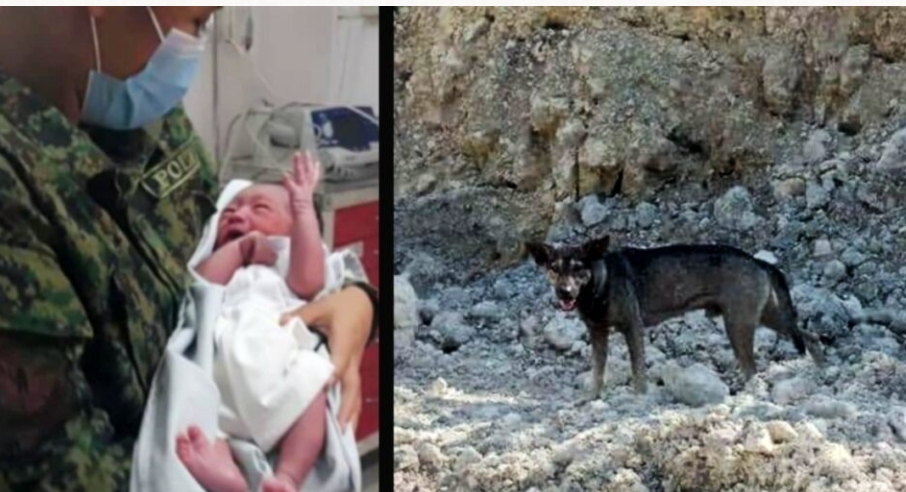 In this positive news story, a heroic dog saves a baby by leading a man to the newborn's location. If not for this fur-angel, things could have had a tragically different outcome!
Junrell Fuentes Revilla of the Philippines was riding his motorcycle when a dog ran up beside him. The pup frantically barked at Junrell but not in an aggressive manner. Junrell could tell something wasn't right — it was like the dog was trying to tell him something.
So, the biker decided to hop off his motorcycle and follow the dog.
Dog Saves A Baby
As Junrell Revilla followed behind, the dog made his way to a dumpsite. He weaved his way through the garbage and led the man right to a tiny, wriggling pile. And as Junrell took a closer look, he couldn't believe what he saw!
There, wrapped in a brown blanket, lay a newborn baby boy.
Suddenly, the frantic barking made sense. The dog was doing everything he could to save this baby. And if not for the furry hero's actions, it's likely no one would have ever found the child.
The location where the baby was found is isolated since it's on the top of the mountain," said Gea Ybarita from Hope For Strays.
The dog saved the baby by finding Junrell. And now, it was time for the biker to do his part in the rescue. He scooped the abandoned infant up and rushed the baby boy to the police department. There, the Department of Social Welfare took over and a medical evaluation confirmed the child was ok.
The hero dog's name is Blacky and his family loves him very much. But what the Hope For Strays staff quickly realized was Blacky's humans could use some help. They struggled to make ends meet, though always made sure to provide for Blacky and his furry siblings.
"No matter how hard life is, even though I'm poor, I feed all of my dogs and take care of them well," Blacky's owner, Kuya Lyndon said.
Hope For Strays teamed up with another local organization, Pawssion Project, and with the help of the community, they showered Blacky's family with support. They received groceries, pet supplies, and other toys and goodies. Because "Good hoomans should be rewarded too!"