Days before Wedding, Bride Finds Package and a Note from Strangers on Her Kitchen Table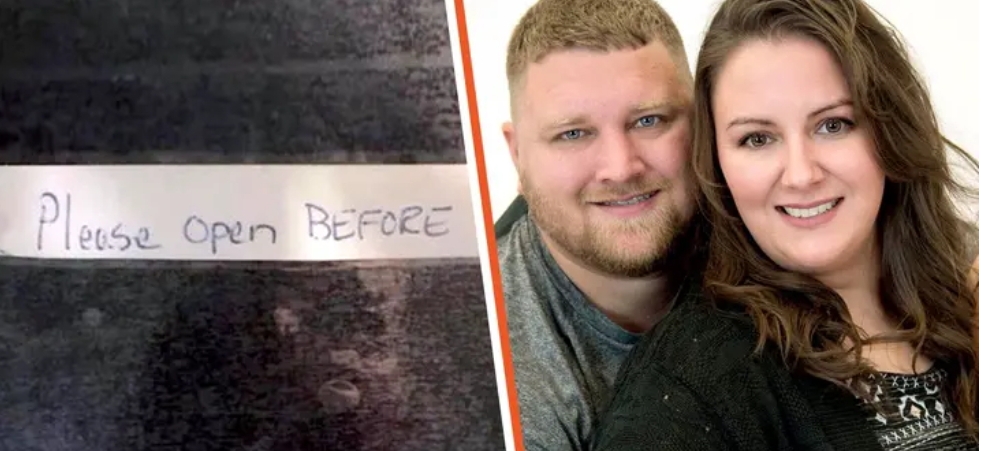 When a woman returned from work one day, a mysterious package on her kitchen table caught her attention. Soon afterward, she was joined by her fiancé, and when the couple opened the box, they were astonished to see what was inside.
When was the last time you received an unexpected gift from someone? Surprises come in all shapes and sizes; however, some surprises might be profoundly heart-touching and genuinely unforgettable.
Often, it's not the monetary value of the gift but its sentimental value which makes it unique and one-of-a-kind. The art of sending and receiving presents will never lose its charm, especially if the gift is packaged and sent with love and heartfelt wishes.
A LOVELY PAIR
Interestingly, a soon-to-be-married couple had an extraordinary experience that warmed their hearts and left a lasting impression on their minds. They received something that multiplied their joy only days before their big day celebrations.
Like most people in love, Chuck Neese and Mary Hall couldn't wait to hold each other's hand for the rest of their lives. They were thoroughly elated about their wedding, which was set to take place on January 20, 2018.
The wedding preparations were in full swing, with Hall and her fiancé working on the final touches for their nuptials. They hoped to have a perfect day, surrounded by their family and friends, with everything going as planned
But when Hall returned home from work just days before her wedding, she said she stumbled upon something that she and her fiancé would treasure forever. Keep reading to discover more about the exciting find and the couple's sentiments.
THE MYSTERY BOX
The bride-to-be was baffled when she noticed a package lying on the kitchen table. Her fiancé looked distracted and was waiting for her to come home, so they could open the box together and see what was inside.
Hall and Neese, who also had a young daughter named Lily, revealed that when she got married, they would send the vintage glasses to another couple by the same name, wherever they were in the world.
The Evansville, Indiana, couple was utterly confused and shocked because the box was labeled with the words: "Please Open BEFORE Wedding Day." Hall shared:
"I got off work and I came home and the package was on the table. Chuck was in the living room, and I asked, what was in the box?"
A TOUCHING LETTER
Inside the package was a handwritten letter from complete strangers congratulating the couple on their wedding. Regarding the letter, Hall recounted:
He started reading that letter, and as he started reading, I just got chills and goosebumps all over. He kept reading… and I was just shocked."
The letter was written by the Felker children, who lived hundreds of miles away in Illinois. The Felker family had sent the package after finding Neese and Hall's wedding registry online through a simple Google search.
SENT WITH LOVE AND BEST WISHES
Interestingly enough, Neese and Hall shared the same first names as the Felker's deceased parents, from La Crosse, Wisconsin. They wanted to share a token of love and a sentimental keepsake with the soon-to-be-married couple. The letter began:
"You do not know us, but we found your names through a Google search. Through a little bridal gift registry 'detective work,' we found an address to send this gift to."
SIX DECADES OF TOGETHERNESS
The letter also described the Felker children's parents' happy and blissful 62 years of marriage. It read:
"Chuck and Mary Felker were pillars of their community and very, very loving people. They most enjoyed dancing together and even taught ballroom dance classes for many years."
But that wasn't all. Inside the package was a pair of vintage champagne glasses engraved: "Let me dance with you forever, Mary & Chuck." It was Felker's unique way of wishing the sweet couple luck and happiness in their union.
THE NEVER-ENDING SURPRISES
As was expected, Neese and Hall were incredibly touched by the Felker family's gesture of kindness and love. The letter continued:
"The champagne glasses had once belonged to the original Chuck and Mary. They were our beloved parents of seven children."
The Evansville couple was still gushing over the heart-touching present when they spotted another surprise — the champagne glasses came packaged in a Converse-labeled shoe box. "I'm like, no way," revealed Hall.
It turned out that Hall and the bridesmaids had long been planning on wearing the comfortable Converse Chuck Taylor shoes under their dresses. Hall told 14 News:
"It was just all very much a bunch of coincidences all together. It's all really cool."
Moreover, the engaged-to-be-married couple also sent a special invitation to the Felkers to join them at the wedding. Hall mentioned that she wanted the family to know she and Neese had received the glasses and they would be a part of their special day.
CONTINUING THE TRADITION
Hall and Neese, who also had a young daughter named Lily, revealed that when she got married, they would send the vintage glasses to another couple by the same name, wherever they were in the world.
Undoubtedly, the Felker family's gesture of love made a massive difference in Neese and Hall's life. Receiving love and warm wishes from our family and friends might not be unusual, but they become even more special when such sentiments come from strangers.
What are your thoughts on this phenomenal story? Have you ever experienced something similar yourself? If you enjoyed reading this story, don't forget to share it with your loved ones