Dad Finds Out Teacher Mocked His Son at School after Finding an Offensive Note on His Test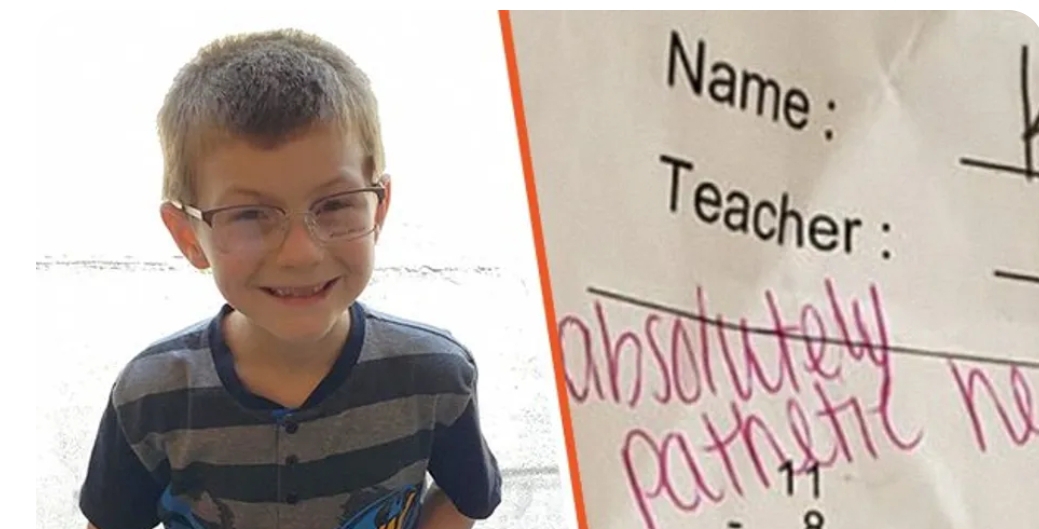 Confidence in teachers and the school system encourages parents to put their wards in schools, hoping to influence them with knowledge and other life-building characteristics.
Sadly, Chris Piland found out that his young son was not having the best learning experience, as a teacher chose to mock the student following a math test.
Teaching elementary school may seem exciting since most kids are bubbly and have a spongy mind to assimilate. However, it comes with its fair share of challenges. But once a teacher can identify that dealing with kids is a serious responsibility, these hurdles are never overwhelming.
An exemplary teacher seeking to have the best time with their students must show empathy, organizational skills, zeal for the profession, be a cheerful person, and have an interpersonal relationship with each pupil.
These qualities translate as being a kind-hearted, supportive, and understanding adult to the kids. Ultimately it secures the bond between teacher and students and facilitates their learning.
Despite many teachers being abreast with the characteristics of an elementary educator, not many are ready to implement it in their relationship with the kids.
Unfortunately, a Pennsylvanian parent, Chris, was a victim of one of such teachers. In 2019, the father discovered that his son's teacher was far from being kind or empathetic.
KAMDYN COMES HOME WITH SHOCKING COMMENT ON HIS MATH TEST
Chris's 2nd-grader, Kamdyn Piland from Valley View Elementary School, had participated in a math-timed quiz, where he was supposed to answer as many questions in three minutes.
When the results came back, the boy who answered thirteen questions in three minutes noticed a sad face emoji, accompanied by a few highlighted words strung together above his sheet that read:
"Absolutely pathetic. He answered 13 in 3 min! sad."
Kamdyn later told a news outlet that his teacher's comment was demeaning. He maintained that "she made me really sad and upset…And it was really mean to do."
Once his dad caught sight of the comment, he reached out to the teacher. The dissatisfied parent asked how such harsh words would help his son.
However, rather than show genuine remorse, the teacher, identified as Alyssa Rupp Bohenek, who had been working in the school since 2013, took the report lightly, answering the dad with:
"I'm sorry you feel this way."
A DISTRAUGHT DAD CRIES OUT & NETIZENS REACT
Chris did not get the response he had hoped for, so the distraught dad took to social media to tender his case. He shared a photo of the test sheet and quipped:
"My son Kamdyn's teacher has been so rude to him and myself all year. He comes home with this and I am beyond frustrated that someone would write this on a child's work. Such great motivation."
Chris's Facebook post attracted reactions from many people who commented on their different views. A few maintained that it was impossible for a teacher to scribble such words.
However, a considerable number of commenters sided with the disgruntled dad. They were shocked that a 2nd-grader would receive such a comment on his sheet. Another faction agreed that Kamdyn should have done better, thereby supporting the teacher's style of criticism.
In the end, many moved the motion to have the teacher sacked, while others who frowned on the poor treatment of the student stated that Bohenek should be punished but not lose her job. One person wrote, "That is abuse. That teacher is there to help that child…This is sad." Another quipped:
"…no way this is true."
A third commenter added: "Maybe instead of taking the time and effort you put into condemning this, you could work with your son…improve his math skills." Another person stated:
"Demand a meeting with the school board…we do not need teachers like this."
Over twenty thousand people signed a petition calling for her to be fired following the comment. While a few individuals maintained by signing another petition that the teacher deserved a lighter punishment.
HOW THE INCIDENT WAS HANDLED IN REAL-LIFE, AWAY FROM THE INTERNET
Chris's Facebook post gained momentum on the internet, and big media names like Fox56 News granted the family interviews.
However, Chris admitted that he was not sure about the effect of his post on the school. He proved that his concern was with his son's education and not publicity. So after the post, he chose to take the 2nd-grader out of the teacher's class.
The Pennsylvanian dad confessed that his focus was to highlight the teacher's poor tactics and deter other educators from taking the same route. He said:
"Maybe it'll be taken seriously now and it'll keep it from happening to other teachers and other students."
The school's superintendent Rose Minniti mentioned that Bohenek was being investigated, and the school's verdict would be based on facts.