Akufo-Addo grants approval for development & possible sale of 92-year Achimota Forest Reserve land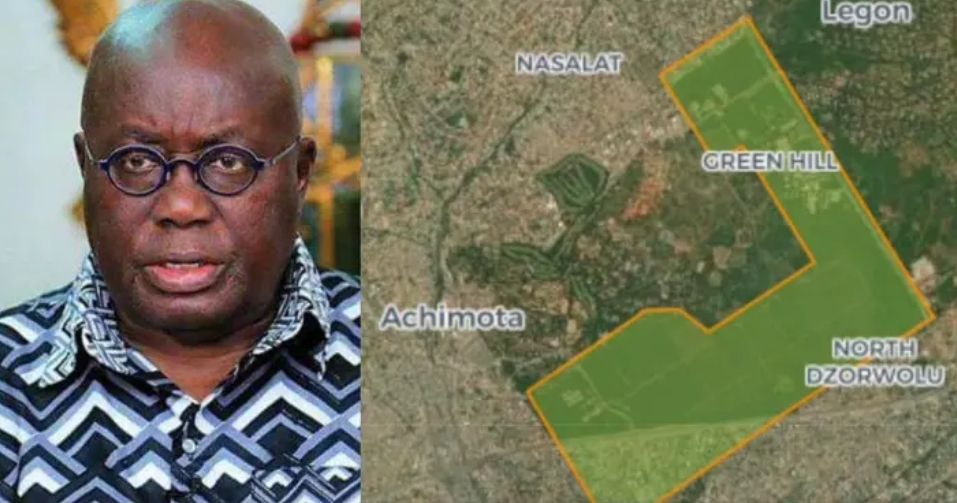 President Akufo-Addo has granted Executive Approval for Achimota Forest Reserve land which has been classified as a protected National Forest Reserve since 1930 to be redeveloped and sold for other purposes.
Currently, the Achimota Forest Reserve boast of approximately 5.23km² of land according to the Digital Observatory for Protected Areas DOPA under the European Union Commission, MyNewsGh.com learnt.
When the Achimota Forest was gazetted in 1930 by Ghana's Colonial authorities as a reserve, it had a total size of 494.95 hectares.
As at 2013, the size of the forest reserve was approximated at 360 hectares.
Section 19 of the Forestry Act 1927 grants the President the right to to de-designate a land classified as a Forest Reserve for any other use he sees fit.
Some persons believe the land would eventually shared by cronies and relatives of the President for themselves.
Acting under Executive Instrument E.I 144, President Akufo-Addo on 31st March 2022 has ordered the Achimota Forest Reserve ceases to be considered a National reserve.
The President has also authorized the creation of a master plan for the redevelopment of the land which is under the Okaikoi North Municipal Assembly.
Acordijg to a 2013 report by Investigative journalist Manasseh Azure Awuni, the main purpose for establishing the Achimota Forest Reserve was to create a green buffer between the Achimota School and the City of Accra. It was also to provide cheap fuel for the School. It was to be partly managed as a nature reserve, recreational park and a nature study facility for students and researchers.
When the Accra Zoo had to make way for the building of the Presidential Palace, the Achimota Forest Reserve was where most of the animals at the Zoo were taken. The forest is currently managed as an arboretum and Wildlife Rescue Centre. There are hyenas, pythons, a camel, ostriches, monkeys and many more wild animals in the Achimota Forest while parts of the forest has served as a prayer camp for Christian faithfuls.
The forest is under a serious pressure from private developers and state agencies.