When A Mom Saw What This Doctor Was Doing With Her Kids, She Captured His Actions On Camera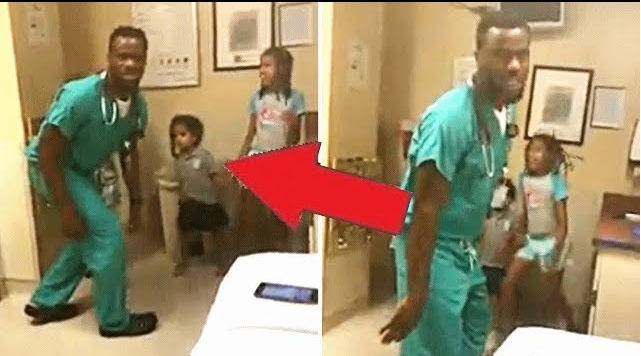 When a mom and her three daughters ended up at the local Children's Hospital, they never expected to be given special treatment on this particular occasion. However, that's exactly what they got. In fact, one doctor gave the three girls a hospital experience they would never forget.
It's rarely fun when you have to go to the hospital, especially if you're not just a kid. Hospitals can be pretty scary places after all, and most people would avoid them if given the choice. Sometimes, though, it's an unavoidable part of life.
In August 2017, for instance, a mom took her daughter Autumn to an emergency room in Jacksonville, Florida. They arrived at Wolfson Children's Hospital, and Autumn was soon checked over. It turned out that she had strep throat. Despite the unfortunate circumstance, Autumn was lucky when it came to her doctor.
Dr. Chimey Matthew, a medic with a difference, noticed that the girls were a little downbeat about being in the hospital. Without even realizing that the mom was filming, he did something unexpected. He got up, turned on some music, and started dancing. Autumn and her sisters, Winter and Crystallin, followed his lead, turning their hospital visit into a positive experience filled with laughter.
The mom posted the video on social media, and it quickly went viral. Ellen DeGeneres, the feel-good talk-show host, spotted the video and shared it with her millions of followers. The caption read, "Their sister was sick, so this doctor cheered them up with a dance." The video gained widespread praise for Dr. Matthew's cheerful attitude.
Local news station Action News Jax loved the video so much that they sent a reporter to the hospital to meet Dr. Matthew along with the three sisters. In a news report, the doctor, wearing scrubs, was seen in a hospital room singing with the girls. The reporter described Dr. Matthew as providing medicine in the form of laughter, especially for children.
Despite the joyful moments, Dr. Matthew shared that each patient's visit is not as cheerful as Autumn's. He had the traumatic experience of losing some of his young patients. However, this doesn't stop him from coming back to work. He emphasized the importance of having his heart in medicine.
Medical professionals like Dr. Matthew make patients feel at ease, providing comfort and laughter, especially for children in need of cheering up. Another example is Dr. Michael Darden from Maryland, whose viral video showcased his playful approach to treating a young patient.
While all doctors are there to help us, it's arguably the ones who go the extra mile, bringing joy and laughter into challenging situations, that deserve the most praise.