The moment a gang of Teenage Girls beat a Mother who tried to Stop Them Fighting Her Daughter (Video)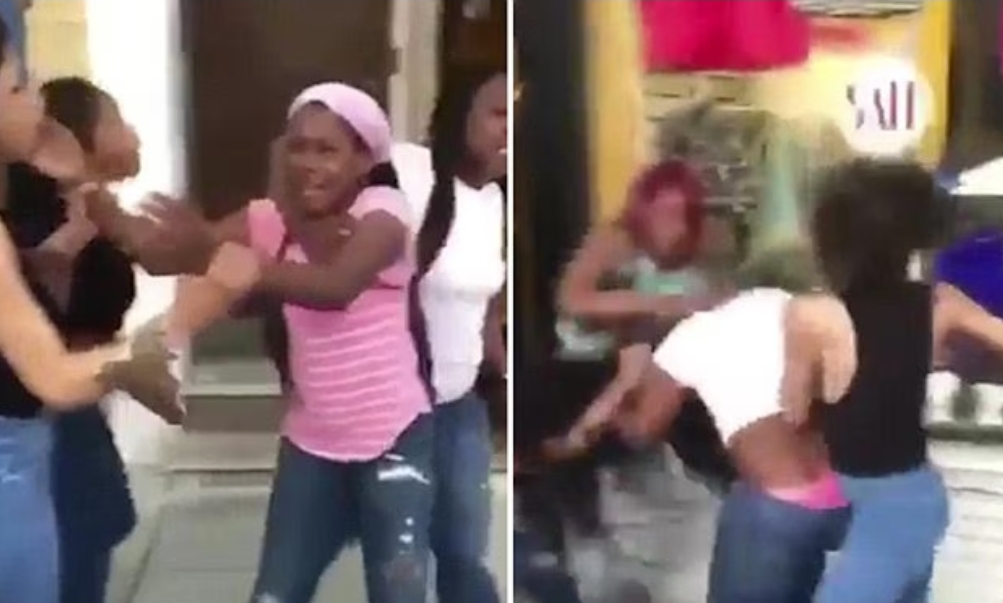 This is the shocking moment a pack of teenage girls set upon a mother who was trying to rescue her daughter.
The short clip posted on Instagram shows the mother, wearing a white shirt, trying to reason with the girls before pulling her daughter away.
The daughter, wearing a pink top, is clearly terrified and starts crying as the four girls surround her and her mother.
Then one of the attackers shouts: 'I'm about to hit her and I don't give a f*** who she's with.'
She continues to shout as she shoves the mother, who then appeals to the half dozen men nearby to intervene in the fight.
None of them offer to help though so the mother turns to confront the main bully.
She lands a few blows but is quickly surrounded and viciously beaten by the gang of teenage girls.
They rip her shirt and force her to retreat into a shop – where the owner is filming the entire encounter.
All the while the daughter can be heard screaming, 'I want to go home!'
The video has been viewed more than 3.5 million times online and has attracted widespread condemnation.
Kelly Rockett commented: 'So those men just sat there recording. Letting that woman get jumped. Terrible.'
MiMi Morris posted: 'I've never wanted to hop through a screen so bad in my life!'
Watch Video below: