Husband Gets Home from Work Earlier and Hears Strange Noises Coming from the Bedroom – Story of the Day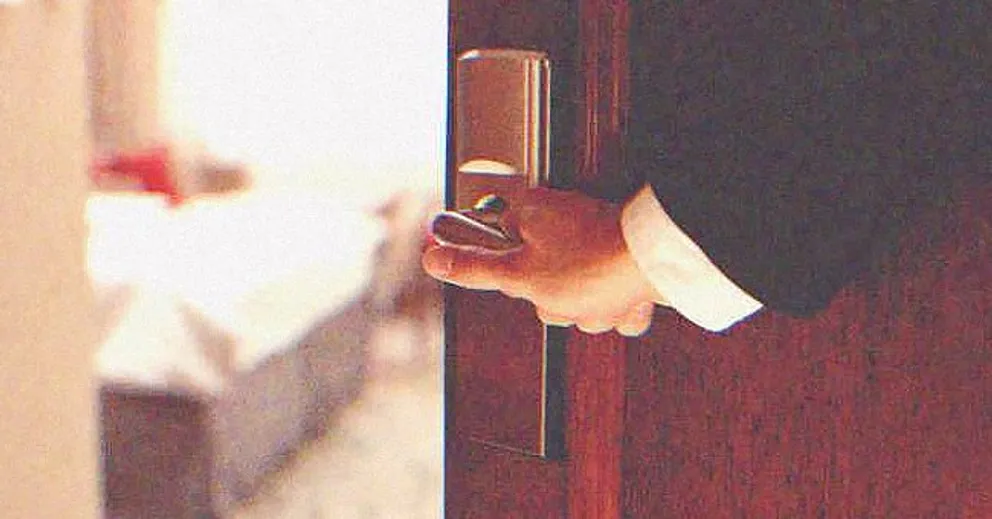 Ryan loved his wife very much and decided to surprise her after work. But when he arrived home, he heard some weird noises coming from her bedroom and he was sure of what she was doing.
One day, Ryan got home from work much earlier than usual. He wanted to surprise his wife Brittany. She wouldn't expect her workaholic hubby to be back so early. Ryan is one of those guys who is the first to arrive at the office and the last one to leave.
As Ryan stepped into the house and kicked off his shoes he was stunned by some strange noises coming from the bedroom.
Honey?" Before going upstairs, the man looked in other rooms to see if Brittany was in the kitchen or living room. Maybe this noise was coming from the TV, he thought.
Brittany was nowhere to be found. "Maybe she's taking a shower," he said to himself as he walked towards the stairs. But as Ryan approached the stairs, the noise he initially heard got louder.
At first, he couldn't believe his ears. He heard his wife moaning and it really sounded like his wife was cheating on him. "Brittany?" He called her once more, but there wasn't an answer. Again.
At first, he was shocked, but then he found himself getting angry. How dare she treat me in this manner? The noises were getting louder and louder then Ryan heard his wife screaming.
"This can't be true… Is she really doing this?" His mind was racing. Ryan stopped in the middle of the stairs.
"Ahhhh," Brittany continued. At this point, Ryan was blinded by jealousy. He couldn't think of what to do or say next. He went on a trip to imagine how his wife could be cheating on him. Who is that son of a gun? Is that Matthew? How long has she been doing this?
Matthew was a good friend of his and Brittany was affectionate towards him. But to Ryan, that was a bit weird. I bet it's Matthew, he thought. The man started to think of ways to punish them and make Brittany regret what she'd done.
Ryan stopped before the bedroom. It was unbearable to hear those sounds. He definitely had to teach this woman a lesson she would never forget.
So the jealous husband went to the basement and started to turn on all the taps there in fury. He wanted to flood the house with his unfaithful wife in it.
Ryan just got crazy. "I was so devoted to her… How could she do that to me? I bought this damn mansion because of her, I worked so hard so she could get her dream car…"
While he was turning on the taps, he continued his ranting, "Imagine if we had the three kids we wanted? Oh my God… She was the only woman I loved. Why is life so unfair?"
The man left all the doors open and walked out of the house. Now there was no turning back. That's what Britanny deserved, he thought.
He left the house and began wandering around. "What do I do now"? he thought. He decided to wait for a cab and go to the next bar a few blocks away from his house. All that's left was to get drunk to drown all his sorrows.
But before he could get one, a few emergency vehicles popped up at the corner of the street and they were all driving towards Ryan's home
At first, Ryan thought they were driving to his neighbors. Right across his place lived a couple of elderly, who were in around their eighties. "That must be for the Conrads," he said to himself.
It turned out that the cars parked in front of Ryan's house. "What's going on?" Ryan's mind was blown away.
Ryan decided to abandon the idea of going to the bar and went back to his house and check what the heck was going on. "Excuse me, sir. Who are you?" a man asked him when he approached it. "I'm Ryan Turner, I live here.
What's going on here?" Ryan asked the doctor. "Is Brittany Turner your wife?"
"Yes."
"We got an emergency call from her, sir. Apparently, Mrs. Turner felt a strong pain in her chest and called emergency. The symptoms were of a heart attack."
Medical workers broke into the house and rushed upstairs and Ryan followed them. "Honey, are you OK?" Brittany could just nod her head. The doctor checked her pulse and took her to the ambulance.
Ryan followed the ambulance in his car. A few hours later, when Brittany recovered, Ryan asked her how she was able to seek help. "I started feeling this unbearable pain in my chest and I called emergency right away. Ryan, I'm so happy you're here," Brittany uttered quivering.
The man couldn't say a word, he felt so guilty. He decided to tell Brittany everything and naturally, she became angry with him and they had a fight. Then she asked him to leave
When Brittany returned home from the hospital, she wanted to get divorced from Ryan. She couldn't believe he suspected her of cheating and put her life at risk when he attempted to flood their house. But she was still in love with Ryan and forgave her foolish husband in the end.
What can we learn from this story?
When you're angry, don't act on it.

Ryan couldn't see straight, and he acted out of anger. He put his wife's life at risk because of that.
Don't assume anything. Ryan assumed that his wife was cheating on him without even checking what was going on.