How Pregnant Bride Dies Before Walking Down Aisle on Wedding Day And Doctors Race to Save Baby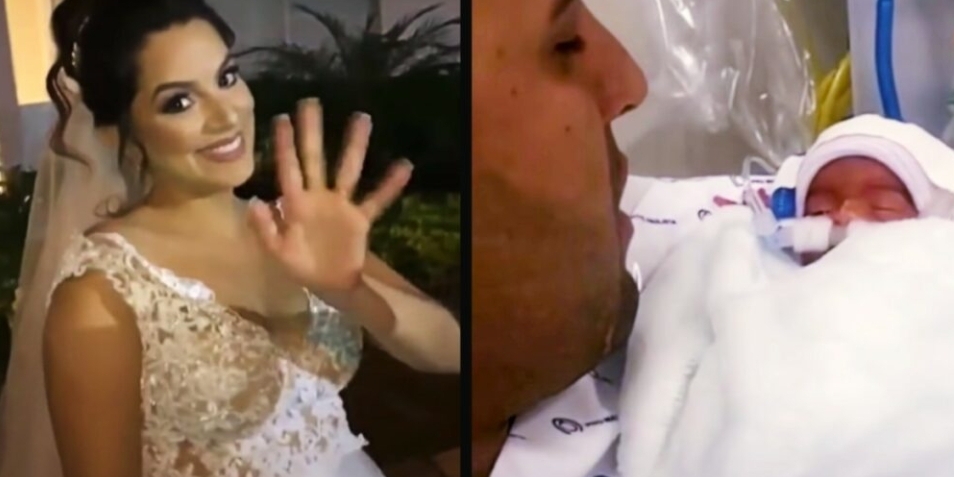 In an unthinkable tragedy, 30-year-old bride Jessica Guedes dies on her wedding day at 6 months pregnant. But God made sure her little miracle survived. And this sweet child is a special blessing to her grieving father.
On the day 30-year-old Jessica Guedes of Brazil set out to wed 31-year-old Flavio Goncalvez, the unimaginable happened.
As Flavio waited by the altar, his bride failed to appear.
"I was worried because I was waiting for her at the altar and she was taking ages to come in," the groom later recalled.
And he soon discovered the terrible reason — something was very wrong.
Jessica Guedes passed out in the limo on her way to the church after feeling dizzy and unwell. This wasn't wedding day jitters but something far more serious.
"I opened the car door and she was lying down but regained consciousness to talk to me," Flavio recounted. "I said to her, 'Baby, I'm here.' She replied that everything was fine, but that she had a severe pain in the back of her neck."
Flavio, a lieutenant at the fire department, instantly recognized the danger to the love of his life. They rushed Jessica to the hospital where doctors discovered the cause of her shocking symptoms.
Jessica Guedes suffered a stroke brought on by pre-eclampsia. And while doctors succeeded in saving her unborn baby girl, it was too late for Jessica.
Though Sophia's mother and Flavio's bride died on her wedding day, her legacy lives on through the loved ones she left behind.
"Jessica was a really cheerful person who loved life, an enlightened and strong being of light," Flavio said. "I was so looking forward to becoming her husband and becoming a father. I will be strong and I will not weaken in the face of adversity."
Now, Flavio seeks to show Sophia just how much her mother loved her.
"The love of my life taught me how to respect and treat a woman well so that I could learn how to take care of our daughter," he said.
And though the pain of losing Jessica will never fully cease, little Sophia is a special blessing bringing joy to her father, even in the face of such tragedy