Blind man who hawks to make a living receives cash donation from good Samaritan (Video)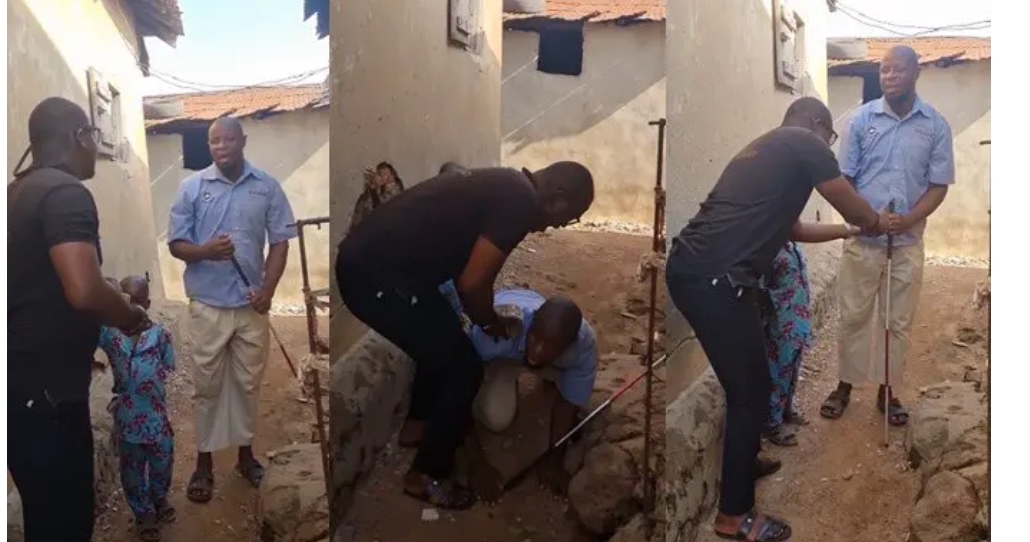 A visually impaired man who showed that there is ability in disability has inspired a non-governmental organisation, which offered him assistance.
He got a surprise visit from the founder of Givers Supportive Foundation, GSF, who first spotted him at the market hawking liquid soap alongside his child.
GSF boss followed the man to where he lives and gave him N50,000 cash to support his business.
Sharing a video of the moment the man was visited at his house, GSF wrote;
"Today I saw an hard working blind man hawking liquid soap 🧼 with his little boy helping him at owode Market.
I was Touched to see a blind man 👨‍🦯 hawking liquid soap to feed himself and his family 👪.
I told him to take me to his house 🏠, to see his family, I saw his wife, and she said her husband have been an hardworking man even with his condition, he still try all his best to support the family as the head of the house.
I was able to give him NGN50,000.00 to add up as a support for his business.
The man was so happy because such help is coming in an unexpected way him.
——-
Alot of people are passing through serious challenges but we thank God I was able to render my support, and I'm still going to do more to help the family 👪.
Lets keep doing our best, Givers Never Lack."
Watch video below