Black Boy Grabs Hand of Crying White Classmate, Shows It 'Doesn't Matter What Color Kindness Is'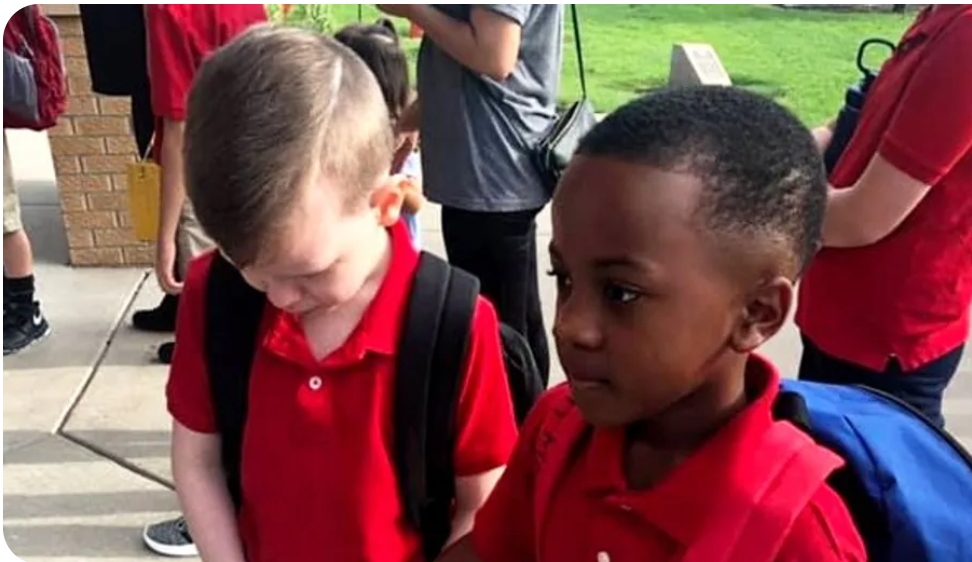 On hisnoticed a white class fellow standing in the corner, crying. Something tugged at his heart, and he decided to console the boy. Unbeknownst to the kids, the incident triggered something incredibly heartwarming.
We never forget our "firsts," and neither do our loved ones. For children especially, saying the first word and taking the first step hold monumental significance. Something similar can be said about a kid's first day of school.
Many children are excited to walk into the school experience, make new friends, and meet their teachers. Others might find it a little overwhelming and hold back from interacting with anyone.
THE OVERWHELMED SCHOOLBOY
In 2019, the then-8-year-old Connor Crites experienced something similar on his first day at Minneha Core Knowledge Elementary in Kansas. The little boy stood cooped up in a corner with his head bowed down and tears streaming down his face.
Clearly, he was having a hard time, and the surrounding environment only intensified his feelings. But just then, another elementary schoolboy, Christian Moore, walked through the school gates and saw Connor standing alone and scared.
ACTING OUT OF LOVE
Christian grabbed Connor's hands and consoled him the best he could without second thoughts. The momentous occasion was captured by the warm-hearted Wichita boy's mother, Courtney Moore.
Like connor and christian, two miami preschoolers, jia sarnicola and zuri copeland, made headlines in 2017 for the most heart-touching reason.
Courtney explained that she was deeply moved by her little boy's act of kindness and felt fortunate to witness it for herself.
A HEARTWARMING MOMENT
The proud mother also added:
"I saw him on the ground with Connor as Connor was crying in the corner and he was consoling him. He grabs his hand and walks him to the front door. We waited until the bell rang and he walked him inside of the school. The rest is history."
To save the special moment forever in her memory, Courtney shared several photographs of Christian from his first day of school. Interestingly, one of them included the photo where Christian held Connor's hand and comforted him.
GOING VIRAL
The doting mom shared the heartwarming picture on Facebook in August 2019, and shortly afterward, the photo became a viral sensation. The post has racked up 47,000 reactions, 28,000 shares, and more than 8,000 comments. The caption read:
"I'm so proud of my son! He saw a kid balled up into a corner crying, so he went to console him, grabbed his hand and walked him inside of the school! It is an honor to raise such a loving, compassionate child! He's a kid with a Big heart, the first day of school started off right."
Netizens from far and wide were quick to share their encouraging comments for Christian. Many people hailed the youngster for his big heart. One user wrote: "Children can teach all of us lessons of life!"
NETIZENS REACT
Another user appreciated Courtney's fantastic parenting skills in these words:
"It goes to show it doesn't matter what color kindness is love great job mom and Dad Thanks for raising a Great Kid (sic)."
Surprisingly, the viral Facebook post also grabbed the attention of another important person — Connor's mom, April Crites. She told Courtney she was utterly grateful to Christian for being kind to her autistic son.
FORMING A FRIENDSHIP
It was a mere moment in time that brought two boys and their families together, forging a lasting connection. Even though Christian had no idea Connor was autistic, all he did was act out of love and kindness.
Christian himself struggled with speech, and he and Connor were genuinely unique and extraordinary. Perhaps that was what enabled them to form a forever friendship. Regarding his first day of school, Connor recalled:
"He was kind to me. I was in the 1st day of school and I started crying then he helped me and I was happy."
PRACTICALLY INSEPARABLE
Two eight-year-old boys captured millions of hearts and taught everyone a lesson in life and love without saying anything. Connor's mom, April, recollected:
"It doesn't matter color, it doesn't matter gender, it doesn't matter disability, and it doesn't matter anything, just be kind, open your heart… it's what we need in this world."
Following the life-changing incident, Christian and Connor became life-long friends, and according to their moms, their bond was inseparable.
BEST FRIENDS AND TWINS
Like Connor and Christian, two Miami preschoolers, Jia Sarnicola and Zuri Copeland made headlines in 2017 for the most heart-touching reason. The then-four-year-olds were not only best friends but much closer than that.
The little girls believed they were twins. When their moms were asked what the girls thought made a twin, they replied, "Similarities." Jia and Zuri said they were the same age, had birthdays on the same day, and shared similar physical features.
In fact, the little girls wore matching attires whenever possible. While attending a birthday party in 2017, an older kid told the girls they couldn't be twins because they didn't have the same skin color.
"WE SHARE THE SAME SOUL"
Jia broke down initially but gave him the perfect response. She replied:
"You don't know what you're talking about. We're twins because we share the same soul."
In a world stricken with racial discrimination and divisions, Jia and Zuri chose to live a life filled with love, kindness, and empathy. And their mothers, Ashley Sarnicola and Valencia Copeland were proud of their daughters. So are we.
The heartwarming stories of Connor and Christian and Jia and Zuri teach us that acting out of love and kindness never goes unnoticed. Please share these stories with your family and friends.