6-Year-Old Boy Is In Need Of Prayers After Unthinkable Act Puts Him In The Hospital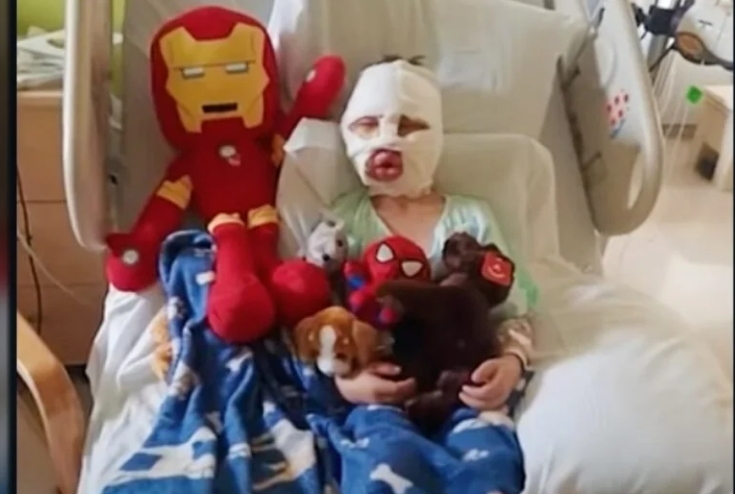 6-year-old Dominick Krankall suffered third-degree burns after a tennis ball soaked in gasoline and set on fire hit him in the face. And sadly, the boy's parents say the incident was no accident but rather a violent act of bullying.
Dominick's family rents an apartment in a multifamily home in Connecticut. And the horrific incident occurred while the 6-year-old and the landlord's 8- and 11-year-old played in the backyard.
At some point, the kids took a gas tank out of a shed on the property. Then, allegedly, the landlord's child soaked a tennis ball in the gas, lit it on fire, and threw it in Dominick's face.
"I heard him screaming, 'Mommy help me, they set me on fire,'" recalled the boy's mother, Maria.
According to the parents of Dominick Krankall, this is just the most recent instance of bullying from the landlord's children.
"My son has been bullied by this child for a year," Maria said. "That day, they purposefully threw a gasoline-saturated ball that they lit on fire at my son's face. They called his name so he would turn around. They threw it at Dominick and left him outside alone to die."
The parents of Dominick Krankall point to an incident one month prior where they allege the landlord's 8-year-old pushed their son.
They can go outside, they'll be playing basketball for 5 or 10 minutes, and everything seems grand. And then maybe 10, 15 minutes goes by and someone gets pushed, someone gets tripped, someone gets hurt," father Aaron Krankall reported. "And this has been going on and on, and I am so sick of it…I will not stop, though, until this kid gets put away because this is not OK. I need justice for my son."
. The landlord denies the accusations of bullying. Police are reviewing security camera footage of the incident and conducting an investigation.
Prayers For Dominick Krankall
Meanwhile, Dominick Krankall suffered third-degree burns to his face, as well as burns to his arms. He will certainly need prayers as he progresses through the long and painful journey toward recovery.
While this is such a truly terrifying incident, God is showing up in many ways. The community is rallying around Dominick and his family and serving them as the hands and feet of Christ