'You Were The Best —- I've Had': Case Of Woman Who Said Chris Brown Drugged And Raped Her Falls Apart After Texts Are Exposed
Cops in Miami have obtained text messages between Chris Brown and the woman who has accused the singer of drugging and raping her on a yacht docked outside Diddy's home in late December 2020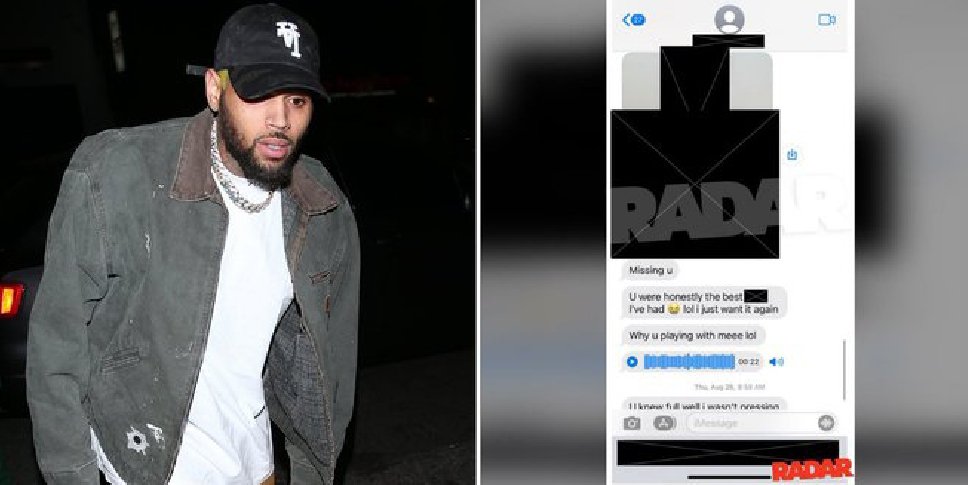 In the messages between Brown and the professional choreographer and dancer, which Radar has exclusively obtained, the woman — known only as Jane Doe — is seen courting Brown in lewd language and bare-naked selfies almost immediately after the alleged rape took place.
Brown then spurned the woman and did not answer two of her texts later that day, beginning at 11:27 AM (PST) and secondly at 4:17 PM (PST).
On Jan. 27, 2022, more than a year after the alleged incident, the woman filed her $20 million claim in Los Angeles Superior Court and said Brown offered her a mixed drink in the kitchen of Diddy's Star Island mansion.
After they discussed her music career, Brown is accused of offering her "tips about starting a career in the music industry" before he allegedly filled Jane Doe's cup again, it's said.
At that point, she became "disoriented, physically unstable, and started to fall in and out of sleep," according to the lawsuit.
Brown then led Jane Doe down a hallway into a bedroom, where he allegedly closed the door and blocked her from leaving the room, the complaint charged.
The lawsuit alleged that Brown, 32, then undressed and raped the woman, ejaculating inside of her and saying "he was 'done.'"
The following day, according to the complaint, Brown allegedly "demanded" that Doe take Plan B.
However, the text message evidence appears to question the drug and assault allegations. For his part, Brown is pursuing legal action against the woman and is cooperating with the investigation in Miami.
Law enforcement have been provided dozens of text messages that also reveal Jane Doe moved to Los Angeles soon after the encounter with Brown, and tried to hook-up with him at least four times in the last year.
Missing u (sic)," she said in a message nearly nine months after the Miami incident. "U [sic] were honestly the best —- I've had (emoji) lol I just want it again. Why are you playing with meee [sic] lol."
The woman also sent unsolicited nude images of herself to Brown, along with messages during which she admitted she was "high AF" and asked Brown if he had "E," an abbreviation for ecstasy, the psychoactive drug.
Lawyers for the woman have yet to respond to a request for comment from Radar. In a past statement, attorney George Vrabeck of Vrabeck Adams & Co. Inc., said he intended "to hold ALL parties accountable so that we might begin to eradicate this behavior from our society. Our client deserves justice. The same justice that all victims of sexual abuse deserve."
Jane Doe is seeking $20 million in damages, as well as punitive damages and attorney's fees, against Brown.
Read There Chat Below: