Video Of Oldest man alive Who Won Guinness World Records (Watch)
Guinness World Records has declared a new holder of the title of world's oldest man living after confirming the age of Emilio Flores Márquez, a retired sugar-cane farmer from the Caribbean island of Puerto Rico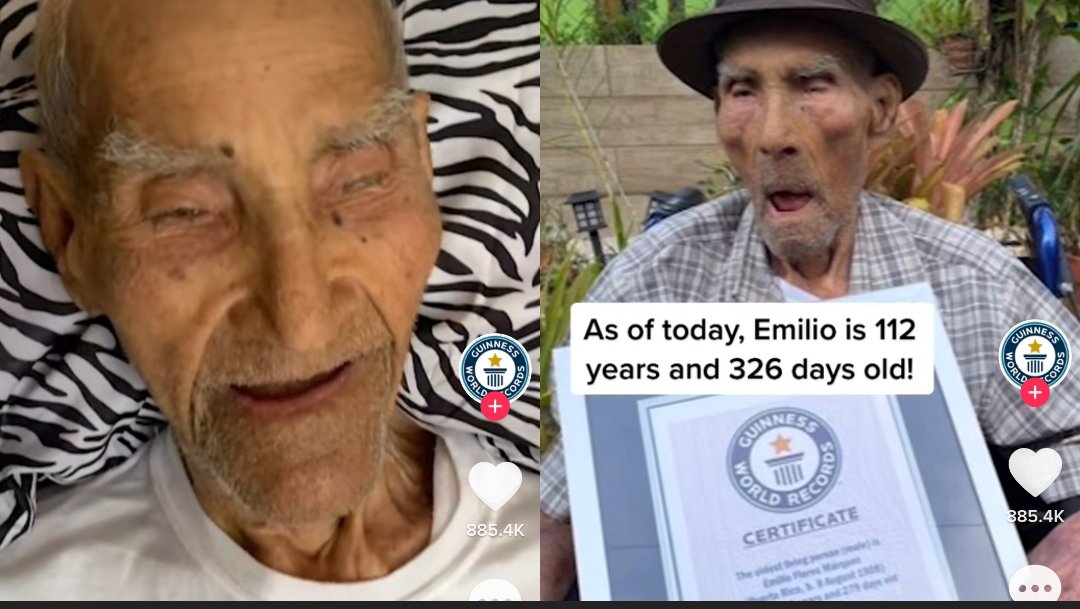 Born on August 8th, 1908, he was 112 years and 326 days old as of June 30th, overtaking the previous record holder. Márquez, who was the second child and first son in a family of 11 children, began working on his family's sugar-cane farm as a boy, watering and loading the cane on to wagons.
He and his wife, Andrea Perez, had four children, two of whom are still alive, and now look after him. He also has five grandchildren and five great-grandchildren; his wife died in 2010, after of 75 years of marriage.
Márquez, who had a pacemaker fitted at the age of 101, attributes his longevity to a life full of love. "My father raised me with love, loving everyone. He always told me and my siblings to do good, to share everything with others."
Craig Glenday, editor-in-chief of Guinness World Records, says: "It's always an honour to celebrate these remarkable human beings, and this year we've processed applications from not one but two contenders for the title of oldest living man. I am thrilled to feature Sr Márquez – born, interestingly, on the eighth day of the eighth month in the eighth year of the 20th century – and bring his fascinating story to the wider public."
Márquez has some way to go before he beats the record of the world's oldest living person, a Japanese woman named Kane Tanaka, who was born on January 2nd, 1903, making her 118 years and 179 days old as of June 30th, 2021.
The oldest person ever to have lived, according to Guinness World Records, is Jeanne Calment, from France, who lived to be 122 years and 164 days old. The oldest man ever is Jiroemon Kimura, from Japan, who was born on April 19th, 1897, and died, the age of 116 years and 54 days, on June 12th, 2013.
Watch Video below:
https://vm.tiktok.com/ZMLArunJ6/