Sing 2 DVD and 4K Blu-ray Release Dates Officially Announced For March 2022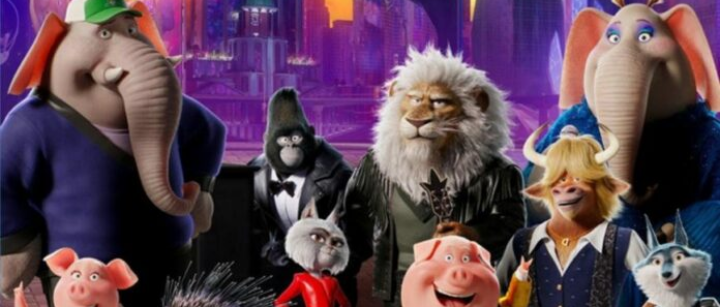 Sing 2 is nearly ready to be added to your DVD and Blu-ray library. As of this writing, pre-orders for the release are available.
The sequel to Sing was a huge hit with kids and parents alike. It was just what we were looking for and more, and you'll be adding it to your DVD collection in no time. Children will want to watch it repeatedly.
Some of the most beloved characters from the original film make a triumphant comeback. On top of that, our chirpy koala has some exciting new additions to the show.
The good news just keeps on coming. Finalized release date. When comparing this release to others from the same company, it was difficult to forecast what to expect.
Sing 2 DVD and Blu-ray release date :
Get March 29 on your calendar. The DVD or Blu-ray will be yours at this point. Pre-orders for Sing 2 on DVD and Blu-ray may be placed right now to ensure the lowest possible price.
Regardless of the pre-order price, the price guarantee ensures that you won't be disappointed. Before the release date, you'll be able to purchase the album for whatever it's currently selling for on sale somewhere else.
Are there plans for a digital edition? Renting the film on Digital is now available; however, purchasing the film isn't. If you'd want to view a movie before committing to buying it on DVD, renting it is an excellent option. However, you won't be able to take it home.
It's not certain when Sing 2 will be released on Digital, but it's expected to be sometime in the near future. The DVD and Blu-ray releases are normally a few weeks ahead of the theatrical release. Hopefully, we'll be able to have it by DVD release time. Because of the bundles, the Digital release must be ready by then.
Sing 2 Plot :
Buster Moon's new theatre is prospering some time after the previous film's events. But Suki, a talent scout, warns him he won't make it in Redshore City. Buster, inspired by Nana Noodleman, gathers the first film's contestants and takes them to the city.
They snuck in for an audition with Jimmy Crystal. To entice Crystal, Gunter proposes a space-themed event with songs by Clay Calloway, a renowned rock artist who hasn't been seen in 15 years. Crystal approves the programme, thinking Calloway would be in it, and tells them to get it up and running in three weeks.
Due to her fear of heights during rehearsal, Rosita is unable to maintain her role and is replaced by Crystal's daughter Porsha, relegated to a small role. Meanwhile, Johnny's part in the play requires him to work with top choreographer Klaus Kickenklober, who dislikes him owing to his incapacity to dance. Johnny meets Nooshy, a street dancer who volunteers to aid him. Mme Meena has been placed in a love scene with M. Darius, a self-absorbed actor. In the end, she marries an ice cream salesman named Alfonso.
Ash and Buster go to Clay Calloway to get him on board. Initially, Ash resists, but Ash relents. Backstage, Buster asks Porsha if she wants to swap parts with Rosita because she can't act. Porsha thinks Buster fired her. Then she locks Buster in a cupboard and threatens to toss him off his building. So Suki frees Buster and advises him to flee before Crystal kills him. Ash comes with the team and Calloway, who warns Buster not to go as he did after losing his wife, Ruby. Buster then has the cast and crew perform the performance behind Crystal's back, while Johnny gets his dad and his group come over to keep Crystal and his thugs out.
During the show, a jealous Klaus replaces Johnny's performance partner, but Johnny beats Klaus with the help of Nooshy, earning Klaus' respect. Porsha performs a high-energy song and dance sequence, winning the crowd's affection despite her father's attempts to halt it. Meena sings a passionate duet with Darius as Alfonso. The concert is interrupted when Crystal drops Buster off the stage, causing Rosita to overcome her phobia of heights and save Buster. Once on stage, Calloway declares he isn't ready. Ash leads the throng in a version of a Calloway song, aided by an apparition of his wife.
Suki has Crystal arrested for his crimes after the programme. Suki interrupts Buster and his pals as they prepare to depart, telling them that a famous theatre wants to stage their act. Buster, happy of his success in Redshore City, watches the cast play from the VIP section.
Voice cast :
Matthew McConaughey plays Buster Moon, a koala who owns the New Moon Theater and is very optimistic about his business.
Reese Witherspoon plays Rosita, a pig who gave up her teenage dreams of becoming a singer to become a housewife and mother of 25 piglets. She now quickly moves back and forth between the two jobs.
In this movie, Scarlett Johansson plays a teenage porcupine punk rock guitarist named Ash, and Taron Egerton plays Johnny, a teenager who left his father's crime gang in order to become a singer and pianist.
During the movie, Bobby Cannavale plays Jimmy Crystal, who is a media mogul and wolf. Crystal Entertainment is run by him and his company.
Tori Kelly plays Meena, a young elephant with a beautiful voice who overcame stage fright in the past.
It has Nick Kroll as Gunter, who is very excited about dancing, as well as Pharrell Williams as Alfonso, an elephant who also sells frozen yoghurt. Meena falls in love with him.
Halsey played Porsha Crystal, a she-wolf and the spoiled but talented daughter of Jimmy Crysta, who was killed in the movie.
A dog assistant and talent scout named Suki Lane played by Chelsea Peretti in the movie.
In the movie, Nooshy is played by Letitia Wright. She is a streetwise lynx who helps Johnny regain his confidence as he learns how to dance.
In the play, Eric André plays Darius, a selfish yak who is paired with Meena in a romantic duet and has a crush on her.
Adam Buxton plays Klaus Kickenklober, a monkey with a proboscis who is also a dance teacher. Johnny learns how to dance from Klaus. Buxton also voices Stan, a gorilla who is part of Big Daddy's gang and is played by Buxton, as well.
Garth Jennings plays Miss Crawly, an old iguana with a glass eye who works as Buster's secretary.
As Big Daddy, Peter Serafinowicz played Johnny's father, a gorilla who worked for the mob and was on work release. He came to Redshore City to help Johnny and his friends after the events of the first movie.
Jennifer Saunders plays Nana Noodleman, a sheep who is also a famous singer. She tells Buster to go after his dreams, and he does.
In this movie, Nick Offerman is playing a pig named Norman, and Bono is playing Rosita's workaholic husband Bono. Clay Calloway, the white-maned, old lion, was once a rock star legend until his wife died.
It's Julia Davis who plays Linda Le Bon. She's an animal and the host of a talk show, and Jimmy talks to her about Buster and what he's done.
Spike Jonze plays Jerry, a cat who is Jimmy's personal assistant but isn't named in the movie. It's Vida Alves McConaughey, the daughter of Matthew McConaughey, who voices a piglet that gets chocolate all over itself. Edgar Wright voices a dog cop and a pig chauffeur in the movie, just like in the first one. Wes Anderson and Edgar Wright both have cameos in the movie