She Entered a Bus, When We Called, We Heard Her Struggling With A Man, She Was Kidnapped- Man Narrate How His sister Got Missing
The family of a 21-year-old tailor, Bamise Ayanwole, has raised the alarm over her alleged abduction by a driver of the Lagos Bus Services Limited.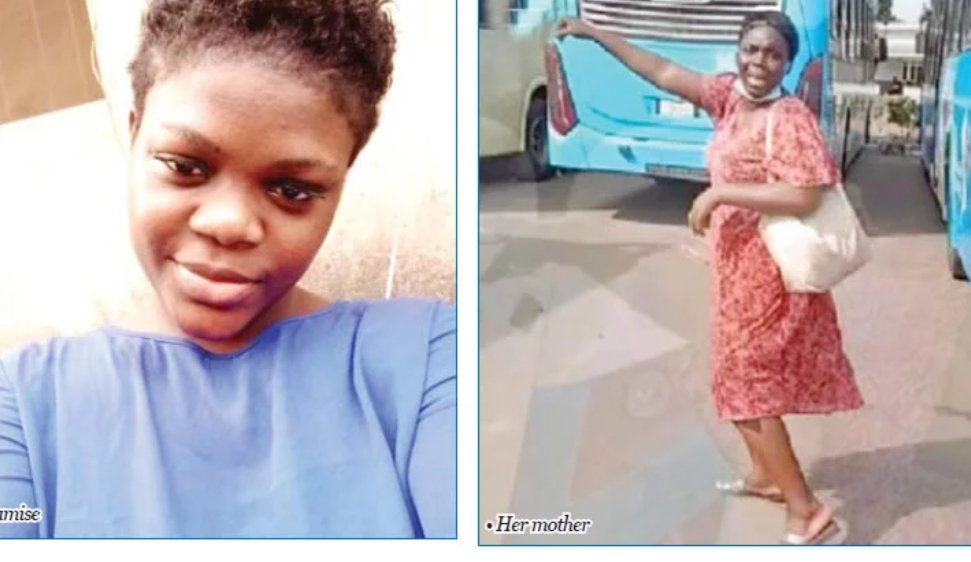 The said Bamise's whereabouts had been unknown since she boarded an LBSL bus, popularly known as BRT, at the Chevron area of Lekki en route to Oshodi on February 25, 2022.
City Round gathered that the Ekiti State indigene boarded the bus at 7:30pm and became suspicious when the yet-to-be-identified driver told her to sit at one the back seats.
A source, who did not want to be named, said Bamise, who became uncomfortable, sent out voice notes and a short clip to express her concern to one of her friends.
"On her way home, the driver picked up two men and one woman. This made her calm down a bit. Then she told us she would alight at Oworonshoki. We called her and noticed something was unusual about the way she was talking. We tried to reach out to her again but her phone was unreachable; then we waited a bit, thinking it was probably (due to a) low battery, only for her parents to contact us on Sunday that Bamise wasn't home yet and since then we have been at the Oshodi BRT Terminal 3. We were told to sit and wait for the driver to come. The driver did not show up," the source added.
In a series of voice notes exchanges between Bamise and a friend, which were shared on social media, she was heard telling the friend in Yoruba that the bus stopped to pick her up but did not pick other passengers.
Sensing danger, she was said to have made a short video showing the silhouette of a driver and what looked like the vehicle number.
The clip, which was obtained by City Round, also showed that the bus was not well-lit.
Her mother was seen in a video trending on social media wailing in front of a bus numbered, 240257, in one of the terminals of LBSL, said to be the bus Bamise had boarded.
"This is the vehicle that Bamise boarded. It has been parked. They say they cannot find the driver. Bamise boarded the vehicle at Ajah and said she was coming to Oshodi. The vehicle got to its destination but the child did get home. We can't find her. They must find Bamise for me. I didn't tell her to go to Lagos to die," she lamented.
The missing lady's elder brother, James, told our correspondent on Friday that Bamise was heard struggling with someone on the bus during last phone conversation with her.
James said the family had been having sleepless nights since the 21-year-old went missing.
He said, "The driver took to his heels. As we speak, he is at large. We learnt that he no longer resides where he claimed he resided. It is a case of kidnapping.
Read Also
Policing dangerous, male cops need prayer warriors as wives – Ex-Lagos CP, Imohimi
Mother of lady 'missing' in BRT seeks help as police hunt for driver
We'll reduce unemployment, says Sanwo-Olu
"If the driver were available, we may have said it was a case of a missing person. Moreover, she boarded the bus and three people were picked up along the road. When she was called, she didn't pick up her call. When she picked, she was heard struggling with a man, so this is not a case of a missing person. I believe this (kidnapping) has been ongoing.
"From my little investigation, I discovered that the company does not have proper documentation of their drivers. We learnt that the driver moved from where he claimed to be living over a year ago and his guarantor doesn't live where he claimed to be living. The company is trying to push us aside and keep it away from the press. Our parents are aware but they aged, so we had to convince them that all is well. But we have been having sleepless nights."
A woman, Caroline Oni, who identified herself as Bamise's former mistress, said the family had been informed that LBSL drivers were not officially allowed to pick passengers in the area from 6pm as they were supposed to return the buses empty to the terminal.
Police launch manhunt for driver, arrest guarantor
However, the police said they were investigating a case of a missing person, adding that the suspect's guarantor had been arrested.
"The case has been transferred to the state CID. We are investigating the case. We have the guarantor of the driver in our custody helping us with our investigation. We are on it. We will continue to update you," the Police Public Relations Officer, DSP Adekunle Ajisebutu, said.
When contacted, the Public Affairs Officer of the Lagos Bus Services Limited, Afolabi Olawale, said the company would await the outcome of the police investigation before making its position known.
"Presently, the police and the Department of States Services are on top of it," Olawale said.
When our correspondent asked him whether he could confirm whether the suspect was an employee of LBSL, he said, "It is only the police that will answer that question."