Season 2 of Love Is Blind: Which Couples Are Still Together?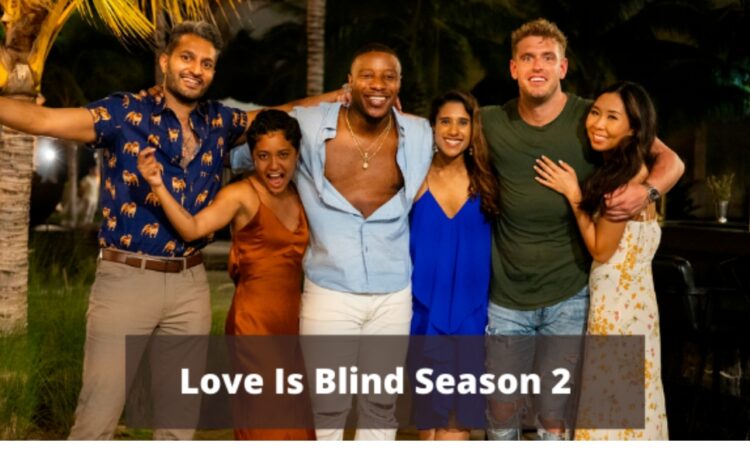 Love is blind season 2-Season 2 of Love Is Blind is here, and the Netflix show has paired up a whole bunch of singles via its blind dating pods once again. Seriously, it's taken a long time for this to happen.
Unfortunately, not all episodes are available at the same time, with the finale airing on February 25th, so we still don't know which couples stay together and which break up.


However, host Vanessa Lachey has indicated that the series would begin filming in April 2021. As a result, couples who met on the show may be approaching their one-year wedding anniversaries. How quickly time goes!.
Here's everything we know about which Love Is Blind season 2 couples are still together so far.
Deepti Vempat and Abhishek "Shake" Chatterjee
Fans have already expressed their displeasure with S2 competitor Abhishek (aka Shakepod )'s approach. Nonetheless, the 33-year-old vet and house DJ hit it off with Deepti, a 31-year-old data analyst, and the two were engaged before meeting in Mexico.
Shake, on the other hand, expressed concerns about commitment and expressed "apprehension" about their first night together. Because the show is still running, we'll find out what occurs towards the end. Shake and Deepti are still following each other on Instagram for the time being, which is a positive indication. Shake also posted a Valentine's Day message for his sausage dog, which we're not sure what to make of.
Natalie Lee and Shayne Jansen
Shayne, a 32-year-old real estate salesperson, and Natalie, a 29-year-old consulting manager, first seemed to click. However, the couple's problems surfaced during the group's retreat to Mexico, with both realising that they're "different people" who behave differently when it comes to discussing their relationship.
Of course, we have yet to see how the rest of the series unfolds. However, neither Shayne nor Natalie appear to follow each other on Instagram, despite the fact that they both follow other Love Is Blind participants. They haven't publicly acknowledged their relationship, and they haven't shared any photos of themselves together, so we may have to wait until the end of the series to find out what happens next.

Danielle Ruhl and Nick Thompson
Danielle, 29, and Nick, 36, got engaged extremely early in season two, at the very end of episode one. Before meeting face to face on the Mexico retreat, they bonded over their families, prior romances, and body image.
Nick and Danielle haven't acknowledged their relationship or made any public appearances together. They do, however, continue to follow each other on Instagram (which is a good sign in 2022, right?). In a teaser image from the series, Danielle can be seen smiling in one of the pods, and she seems to be hinting at Nick. She penned, "What am I giggling about? Find out when LIB premieres on February 11th [sic]." Nick?!

Kyle Abrams and Shaina Hurley
Despite their religious differences, Shaina, 32, a hairstylist, and Kyle, 29, a construction worker, got engaged on Love Is Blind. Kyle was raised Catholic but is an atheist, whereas Shaina is a Christian.

Shaina hinted to a separation during the retreat, saying, "I just get the impression that we're both adamant about what we believe in, and we're not going to change. In my thoughts, I believe I am aware of how I truly feel. I'll be able to leave Mexico as a single woman "before embarking on an early departure.
Kyle, on the other hand, didn't appear to give up hope, assuring producers, "I'll eventually have physical confidence around her. I'll get to know her a little better. By the end of it, Shaina will be madly in love with me. I'm all set to marry."

Shaina and Kyle continue to follow each other on Instagram for the time being. Kyle even uploaded a gif in the pods of one of his and Shaina's religious debates, adding, "I just believe science." Shaina then followed up with a succession of laughing emojis, indicating that the two are still on good terms.

Salvador Perez and Mallory Zapata
Salvador (aka Sal), a 31-year-old executive assistant, and Mallory, a 32-year-old communications manager, bonded early on over their Mexican roots. Jarrette Jones, a fellow contestant, did propose to Mallory, but she declined and went on to marry Sal. Mallory and Jarrette, on the other hand, ended up conversing a lot after meeting IRL on the retreat. Sal approached Mallory about the conversation, and Mallory confirmed that she still desired to marry Sal.
We'll have to wait until the end of Season 2 to find out if Mallory and Sal do wind up getting married. Mallory and Sal are still following each other on Instagram, and they've been seen commenting on one other's postings, as far as we know. Sal posted a photo advertising his participation in Love Is Blind, to which Mallory replied, "Yassss!" In the meantime, Mallory made a similar announcement, to which Sal replied, "Getting it Mal."
In any case, it appears that these two are still supporting each other.
Iyanna McNeely and Jarrette Jones
Jarrette, a 32-year-old project manager, became engaged to Iyanna, a 27-year-old programme coordinator, while they were dating. Iyanna was first sceptical, given Jarrette's prior proposal to Mallory, and she stated, "I need someone who wants to be certain about me." She did, however, accept Jarrette's proposal, albeit the couple ran into another snag when Mallory and Jarrette met in person.
Iyanna said to the producers, "I have faith in him. He's an adult now. What would crush my heart the most is if he told me the truth "We'll have to wait until the end of the series to find out if these two ever married.

Jarrette and Iyanna are still following each other on Instagram as of February 2022, though they don't appear to have liked or commented on one other's pictures recently.


We'll have to wait and see what happens next!

Love Is Blind is currently available to watch on Netflix.