Pitch Perfect 4: Things You Need To Know!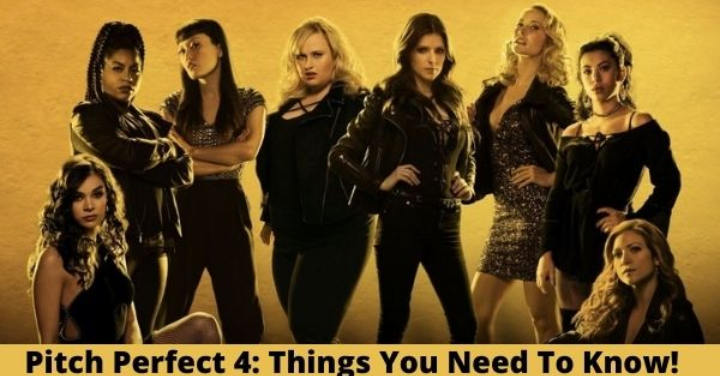 Despite the cast's repeated hints, no official announcement has been made about a fourth Barden Bellas film. All proceeds from the Pitch Perfect band's cover of Beyoncé's "Love On Top" would be donated to UNICEF, but there was no news on whether or not a fourth installment in the series would be released.
It's not shocking that the Bellas "as we know them" will no longer exist as a result of Pitch Perfect 3's negative reviews and a $100 million drop in box office revenue compared to its predecessors.
As long as Universal doesn't say otherwise, Pitch Perfect 4 is still a possibility. If anyone has the potential to make it happen, it's the actors, and here's all you need to know about a hypothetical fourth picture.
When is Pitch Perfect 4 coming out?
Due to the fact that a fourth picture has no set release date as of right now, it is difficult to forecast when we may expect it to be released. After posting a photo of herself and her Pitch Perfect co-stars Brittany Snow, Anna Camp, and Chrissie Fit all putting up four fingers on her social media accounts in October 2018, Rebel Wilson received a lot of attention from Pitch Perfect fans.
Since the photograph was taken in November 2018, despite Wilson's indication that she would be making another "musical image in the next 12 months," nothing has really changed in the world of music. Consequently, it is currently impossible to determine when a fourth picture will be released as a result. Prior to doing that, it will be necessary to confirm the information
The cast of Pitch Perfect 4: Who'll be back for Pitch Perfect 4?
However, while it has been rumored that the fourth film will introduce a new group of Bellas, it is becoming increasingly difficult to imagine that it will not contain the performers who were instrumental in making the franchise so successful in the first place.
In addition to Anna Kendrick as Beca, Rebel Wilson as Fat Amy, Brittany Snow as Chloe, Anna Camp as Aubrey, Hailee Steinfeld as Emily (who joined the Bellas in the first sequel), Hana Mae Lee as Lilly (also known as Esther, which we discovered in the third film), and Ester Dean as Cynthia, to name a few names.

There is a strong possibility that a fourth film will be made because the members of the group want to get back together for another round of a cappella mayhem. As soon as the third installment of Pitch Perfect was out, Wilson indicated an interest in doing "four or five" more films, while Kendrick stated that the cast will continue to work together "forever." Wilson and Kendrick have both expressed interest in doing "four or five" more films.
The actress, who is now promoting her new reality television show Perfect Harmony, told ET Online that she would be "down" for a fourth Pitch Perfect film if it was made. Her words were followed by, "I like those girls," she added, "and I adore playing my part, so if they needed me, I'd be there without a moment's thought."
The return of Elizabeth Banks and John Michael Higgins, who played the superbly caustic commentators Gail and John in the first three films, is hoped to be a part of any fourth film as well.
Pitch Perfect 3 was missing a few key characters, including Skylar Astin and Ben Platt, which raises the question of whether or not the fourth film will bring back the lads. Trish Sie, the director, stated that the cancellation was due to "scheduling conflicts," but she did not rule out the possibility of a future return appearance.
What can we expect from Pitch Perfect 4?
In the third film, the Bellas reunited for an overseas USO (United Service Organizations) tour, three years after the second film. The competition was organized for DJ Khaled's opening slot, and the winner was awarded the opportunity to open for him.
Beca is granted the opportunity to open for DJ Khaled, with the blessing of the Bellas, after an unfortunate brush with some crooks, before the whole gang comes together for a final performance. Singers and actresses, the Bellas are a group of young women.
Even though it was the final film and everyone was aware of that, each character achieved a happy ending, such as Beca getting a job with DJ Khaled, Aubrey reuniting with his dad and getting accepted into vet school, Emily returning to Barden University, and Lilly finding love with DJ Dragon Nutz.
So, if Pitch Perfect 4 were to be a success, it would need to find a way to get the Bellas back together for more than just another competition.
Another idea for future films comes from Anna Camp. When asked if they'd like to catch up with the Bellas every five or ten years, the actress told Collider, "We want to keep doing it until we're old and we're acting in retirement homes."
Has Fat Amy ever been a mother?" Is there a family Fat Amy and Bumper have? It would be so much fun to go back in time and see what happens to the characters you've come to know and love," he says.