Pastor David Ibiyeomie Should send the curse he placed on Yahoo boys to Corrupt Nigerian Politicians- Pastor Kassy Chukwu Says (Video)
After popular clergyman Pastor David Ibiyeomie ordered Internet fraudsters otherwise known as "Yahoo" boys to quit their evil exploits whilst raining curses on them two days ago, another video making rounds on social media has an apostle Kassy Chukwu Oritsejafor countered David Ibiyeomie on his decision to rain curses on Internet fraudsters who, according to him, are not the cause of Nigeria's multifaceted problems.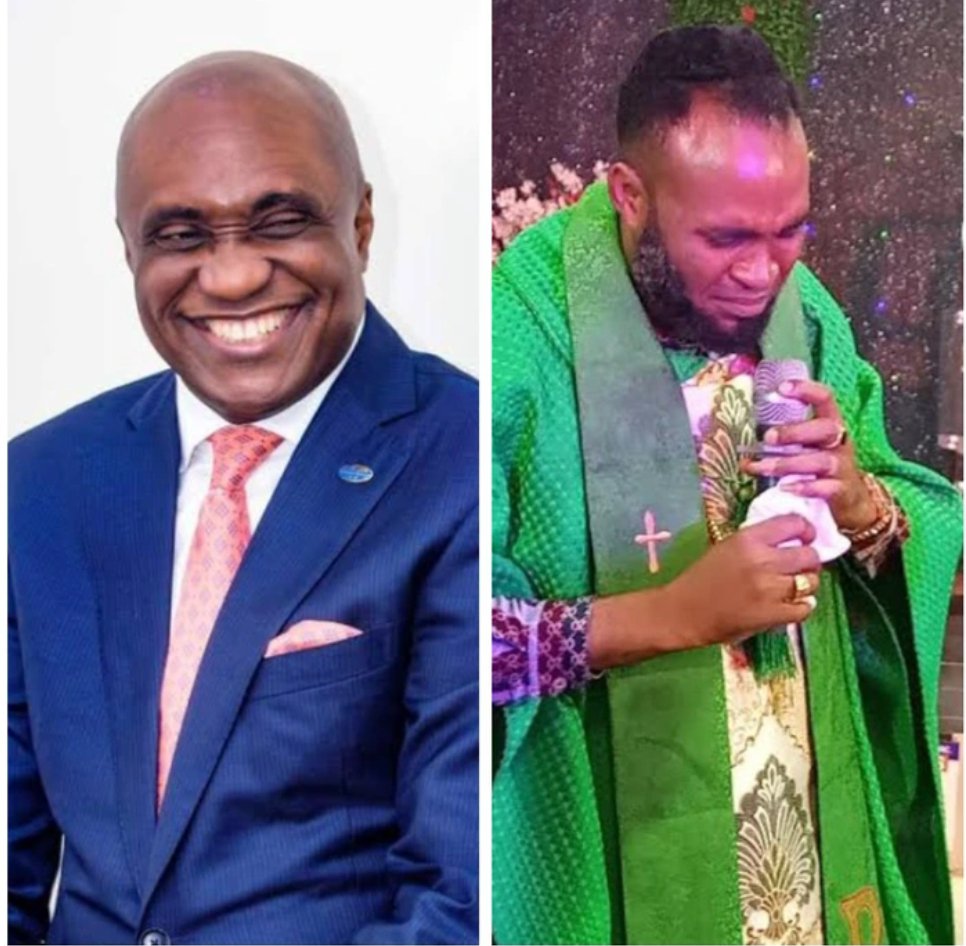 The apostle who took to his Instagram page to air his views on the recent proclamations from Pastor David Ibiyeomie of Salvation Ministries International claimed that cursing Internet fraudsters in the country does not solve the many problems facing Nigeria. He went further to affirm that such prayers/curses would never work.


Recall that Pastor David Ibiyeomie had, on Friday, condemned the activities of Internet fraudsters while delivering a sermon titled, "Prophetic Declaration Against Internet Fraudsters". Visibly irked by this menace, the pastor had called on them to desist from the evil act as it is a demonic way to make money. According to him, they are thieves and by their continuous activities, lots of people are being led to their graves early.
Pastor David Ibiyeomie, General Overseer, Salvation Ministries International (Photo Credit: Google)
But Apostle Kassy Chukwu Oritsejafor, also known as "The Oracle of the Nation" watered down Pastor Ibiyeomie's declarations on the activities of Internet fraudsters as he claimed the Port Harcourt pastor (Ibiyeomie) has refused to address the main issue facing the country.
In his take, Apostle Oritsejafor opines that politicians who are in the habit of looting should be berated and cursed by a reputable clergyman such as Pastor Ibiyeomie. To him, it would go a long way in redeeming the image of the country if corrupt politicians are berated upon in the manner "Yahoo" boys are being berated upon by these pastors.
He (Pastor Ibiyeomie) should stop talking like that. What is his problem? That prayer will not work. You cannot curse"Yahoo" boys. It cannot work. At all. You dey forbid to curse politicians? You no dey curse politicians…."
The video, which has now gone viral on several social media platforms, has continued to draw diverse reactions. While most users commend the apostle for speaking boldly on such a pressing issue, others feel Pastor Iboyeomie was right to have placed curses on those Internet fraudsters.
Apostle Kassy Chukwu Oritsejafor is the General Overseer of God's Power International Ministry Inc. Also known as the "Oracle of the Nation", the apostle is very vocal who tends to lend his voice to pressing national issues in the country and also in the Christian faith.
Watch Video below: