Ozark Season 4 Part 2 Confirmed on Netflix: Release Date, Cast & Everything We Know So Far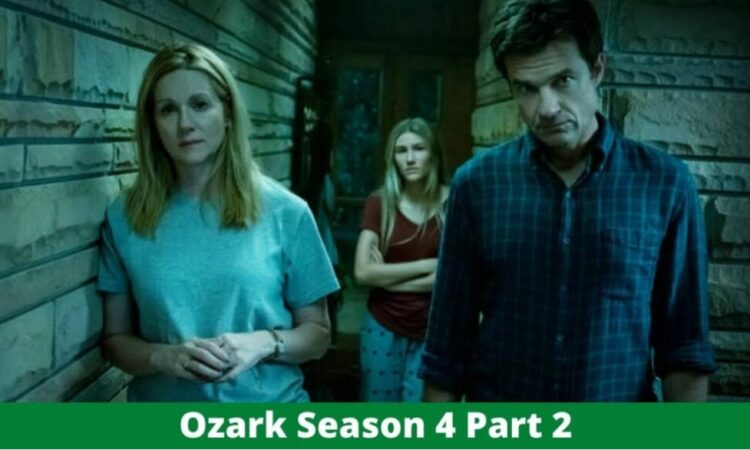 Ozark Season 4 Part 2 Confirmed on Netflix: Release Date, Cast & Everything We Know So Far
Ozark is a Netflix original criminal drama series written by Bill Dubuque and Mark Williams and produced by MRC. Marty and Wendy Byrde, a married couple who relocate their family to the Lake of the Ozarks for money laundering, are portrayed by Jason Bateman and Laura Linney in the series. Bateman also acts as the series director and executive producer. 
The first season debuted on July 21, 2017; the second season debuted on August 31, 2018, and the third season debuted on March 27, 2020. The first three seasons each include ten episodes. The series was renewed for a fourth and final season in June 2020, which would consist of fourteen episodes split into two parts, the first of which was published on January 21, 2022, and the second on April 29, 2022.
Critics have mainly praised Ozark, praising its performances (especially those of Bateman, Linney, and Julia Garner), director, narrative, tone, and production qualities. The series has garnered 32 Primetime Emmy Award nominations, including two for Outstanding Drama Series, with Bateman winning Outstanding Directing for a Drama Series in 2019 and Garner receiving Outstanding Supporting Actress in a Drama Series twice in a row in 2019 and 2020. Bateman has been nominated for two more Golden Globe Awards for Best Actor – Television Series Drama.
Everything you need to know about Ozark season four part two is right here.https://d-3192569154461295690.ampproject.net/2202142035002/frame.html
Date of release for Ozark Season 4 Part 2
Ozark season 4 part 2 will be available on Netflix UK on Friday, April 29th, 2022 at 8 a.m.
Ozark season 4 part 1 premiered on Netflix UK on Friday, January 21, 2022, at 8 a.m. GMT.
After over a year of filming, the cast and crew completed the series in October 2021.
In an interview with IndieWire, the show's star and Emmy-winning director, Jason Bateman, disclosed that filming began in November 2020, with anti-virus precautions in place.
Ozark Season 4:
Part 1 of Ozark's fourth season was published on January 21, 2022. It is the show's final season. Unlike the previous seasons, which each featured ten episodes, the fourth season includes fourteen episodes and is divided into two halves.
Ozark season 4, part 1 picks off where season 3 left off, with the brutal murder of lawyer Helen Pierce (Janet McTeer) in front of Marty (Jason Bateman) and his wife Wendy (Laura Linney).
It's not long until Marty and Wendy are trying to negotiate a deal with the drug kingpin himself Navarro for their liberation, which also entails arranging a harsh deal between Navarro and the FBI.
Synopsis
The last and final season is divided into two sections. The Byrde family is compelled to deal with Omar Navarro and his whims, no matter how absurd they appear. They collaborate with the FBI to reach an agreement.
How many episodes are there in Ozark's fourth season?
Ozark season 4 has been divided into two halves, with 14 episodes scheduled to premiere in 2022.
Ozark season 4 part 1 consists of seven episodes, with the next seven episodes set to air in April.
Chris Mundy, the showrunner, recently addressed the choice to divide up Season 4.
According to The Wrap, he stated: "We always believed five [seasons] was a safe bet. We didn't want to repeat ourselves, and we didn't want the programme to seem like it was going because it was a TV show that had to continue.
"So the true question has always been whether it should be four or five seasons. And then Netflix came up with the brilliant notion of saying, 'We'll do four, but we'll make it lengthy and divide it this way,' and it felt just right."
So now we have to wait.
The cast of Ozark Season 4 Part 2
The main Ozark cast members have all returned for the final season.
Martin "Marty" Byrde is played by Jason Bateman.
Wendy Byrde is played by Laura Linney.
Charlotte Byrde is played by Sofia Hublitz.
Jonah Bryde is played by Skylar Gaertner.
Ruth Langmore is played by Julia Garner.
Maya Miller is played by Jessica Frances Dukes.
Omar Navarro is played by Felix Solis.
Jim Rattelsford is played by Damian Young.
Javier "Javi" Elizonndro is played by Alfonso Herrera.
Mel Sattem is played by Adam Rothberg.
Jason Bateman will return as Martin "Marty" Byrde, with Laura Linney as his wife and collaborator Wendy Byrde.
In addition, Sofia Hublitz and Skylar Gaertner will reprise their roles as Charlotte and Jonah Byrde in forthcoming episodes.
Julia Garner will also return as Ruth Langmore in the upcoming episode, and she will be out for vengeance.
In the meanwhile, Jessica Frances Dukes will reprise her role as FBI forensic accountant Maya Miller, who apprehended cartel lord Omar Navarro at the end of Part 1.
Felix Solis will also return as Navarro, who is planning his own release from jail.
Damian Young will also reprise his role as the Byrdes' ally Jim Rattelsdorf, while Alfonso Herrera will reprise his role as Navarro's brash nephew and subordinate, Javier "Javi" Elizonndro, who has agreed to supply intelligence to the FBI.
Finally, Adam Rothenberg will return as private investigator Mel Sattem, but will he realize that Ben Davis was not responsible for Helen Pierce's death and the Byrdes connection?
Darlene Snell (Lisa Emery) and Wyatt Langmore (Charlie Tahan), who was brutally killed by Javier at the end of Part 1 and prompted Ruth to seek vengeance, will not be returning.
What is the plot of Ozark Season Four, Part Two?
Let's revisit the moderately frightening conclusion (briefly, we swear). After the FBI backs down on its agreement with Omar Navarro, Agent Miller goes rogue and captures him. Wendy and Marty Byrde persuade an understandably irritated Omar to accept the same agreement he did with the FBI, which would result in his extradition back to Mexico. Following this, we watch Javi drive straight to the Langmore-Snell home and murder Wyatt and Darlene. Ruth arrives at their house, witnesses the devastation, and confronts the Byrdes.
Jonah, our favourite rebellious youngster, informs Ruth that Javi most certainly murdered her relative, which sends her storming away—presumably on her way to locate Javi. So! Ruth v. Javi is the key conflict for Ozark's final episodes. We'll watch Ruth struggle to cope with her cousin's loss, care for baby Zeke, and, you know, kill Javi. Every time, we put our money on Ruth.
What about the Byrdes? We'd say they'll be right in the centre of it all, wheeling and dealing as they have for the past four seasons. But first, let's speak about the vehicle catastrophe that ruined whatever predictions you might have made. The entire Byrde family is seen travelling on the highway in the first scene of the season's first episode. Life is wonderful! Apparently. With the Blue Cat and the casino in fine form, it appears that they are on the verge of returning to Chicago. The automobile then crashes. Part One refuses to disclose whether the Byrde family lived or perished, thus we never see what happens to them. Is this the Byrdes' Sopranos moment, and we'll never find out what happens? We certainly hope not. Our best prediction is that the accident will take place about halfway through Part Two, with one of the Byrdes not making it out alive.
In all of this, there remains one more jigsaw piece to be placed. What about the Navarro crime syndicate? Ozark appears to have one more character to introduce: Javi's mother. The Hollywood Reporter reported in June 2021 that Veronica Falcón will join the cast in a significant role.
Camila might be going through one of two things. One possibility is that she will be strongly loyal to her son, finally figuring out (and foiling) Omar's ploy. Or two, she recognises that Javi isn't the ideal choice to run the cartel, prompting her to join forces with Omar when he returns to Mexico. Maybe there's a third option: Camila triumphs against Javi, Omar, and whoever is left standing in the Ozarks by the end of the film, sitting on the throne. After all, this is Ozark.
Season 3 of Ozark ending:
Ozark season 3 manages to cram a lot of action into its 10-episode run, as we've come to expect from the drama.
Marty was kidnapped by criminal lord Omar Navarro (Felix Solis), and Wendy was compelled to carry out a hit on her own brother in order to free the rest of her family from the cartel's fury.
Meanwhile, Ruth grew increasingly dissatisfied with her relationship with the Byrdes during the season, finally joining Darlene and agreeing to a deal with the KC Mob.
Official Trailer of Ozark Season 4 Part 2: