Netflix Crime Series 'Clark' Release Date Confirmed: When 'Clark Season 1' Will Released?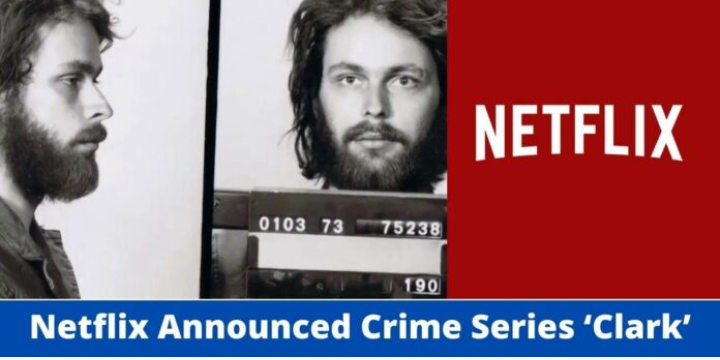 The life of the notorious Swedish gangster Clark Oloffson is going to be told in a new and exciting crime biopic that will be on Netflix soon. As of June 2021, the six-part series was over. We'll be able to watch a biopic on Netflix by the end of the year. Below, we'll keep track of everything you need to know about Clark, from the plot to the cast to the Netflix release date.
A biopic crime-drama series called Clark is coming to Netflix soon. It's based on the life and career of infamous Swedish gangster Clark Oloffson from his autobiography, Vafan var det som hände. There was a lot of talk about "Stockholm Syndrome" before Oloffson came along
In 1947, Clark Oderth Olofsson was born in Sweden. Later, he changed his name to Daniel Demuynck. He has been sentenced for attempted murder, assault, robbery, and drug dealing. He has spent more than half of his life in prison in Sweden. It has been said that Olofsson was the first "celebrity gangster" in Sweden. During the robbery at Norrmalmstorg, Olofsson was there. This led to the creation of the term "Stockholm syndrome" to describe the events of that day.
The following is what director Jonas Kerlund had to say about Clark Oloffson, complimenting Bill Skarsgard on his casting as the iconic Swedish criminal
Clark is the story about the most politically incorrect man, who lived the most politically incorrect life. These are the kinds of stories I always look for. It's an ultra-violent, witty, emotional, real and surreal biography to put a face to the name Stockholm Syndrome, but it isn't just about the Norrmalmstorg Robbery. It's about his whole life and what made him who he is, the truth and lies of his incredible career. Bill Skarsgård is the perfect match for this and he will bring the Stockholm Syndrome to the role. And Netflix is the perfect platform, they are not just the biggest streaming service, they also have the boldness to tell this incredible story."
Who are the showrunners?
The show is made by Hans Engholm, Jonas kerlund, and Bill Skarsgrd. Okerlund is also the show's director, too. The Scandinavian Content Group makes "Clark," which is a TV show.
What is the production status of Clark?
Currently, it's in post-production (last updated on 14/12/2021).
In IMDb Pro, we can see that filming took place between March 31st, 2021 and June 12th, 2021.
Filming took place in Lithuania, Croatia, and Sweden at different times and in different places.
The show has been made by the Scandinavian Content Group, which makes shows.
What is the plot of Clark?
The Swedish language series, which will be based on Clark Olofsson's autobiography, will cover Clark's early years up to the current day and will include both truth and falsehoods. He began his criminal career in the 1960s and rose to become one of the most controversial figures in current Swedish history as a result of his actions. He has spent more than half of his life in prison, where he has been convicted of several drug trafficking offences, attempted murder, assault, theft, and hundreds of bank robberies. He has left a path of anguish, heartache, disappointment, and overall destruction in the wake of his convictions. During a botched bank robbery in Stockholm in the 1970s, Clark gave birth to the concept of "The Stockholm Syndrome," and he has maintained his status as a star criminal ever since, deceiving the whole country of Sweden into falling in love with him. He got exactly what he wanted.
When is the Clark Netflix release date?
As of June 2021, the show has been in post-production. We can expect to see the show on Netflix sometime in late 2022 maybe in December month.
It's not clear when Clark will be on Netflix. At the very least, we would expect the show to be on Netflix by Spring 2022.
What is the episode count?
For Clark, there will be six parts. This means there will only be six episodes. Each episode should run between 40 and 60 minutes. Runtimes aren't yet confirmed, but we'd expect each episode to last between 40 and 60 minutes.
Who are the cast members of Clark?
A big name attached to Clark is Bill Skarsgard from the computer game IT. He'll play lead Clark Olofsson. As it turns out, Skarsgard didn't want to make the movie The Northmen in order to work on the TV show.
Skärgrd said that Clark Oloffson was a "good person."
Clark Olofsson is one of Sweden's most colourful and intriguing people, for better or worse. I take this task with excitement and trepidation, believing that with Jonas and Netflix on board, we can deliver a revolutionary tale with a pace and craziness we haven't seen on television before. Clark's life and background are so fantastic and messed up that they'd make even Scorsese blush.
Alicia Agneson, who is best known for her role on Vikings, has an unnamed role in the show and joins other Swedish actors Vilhelm Blomgren and Malin Levanon.