Kingdom Season 3 Release Date: When we can Expect Season 3 From Netflix!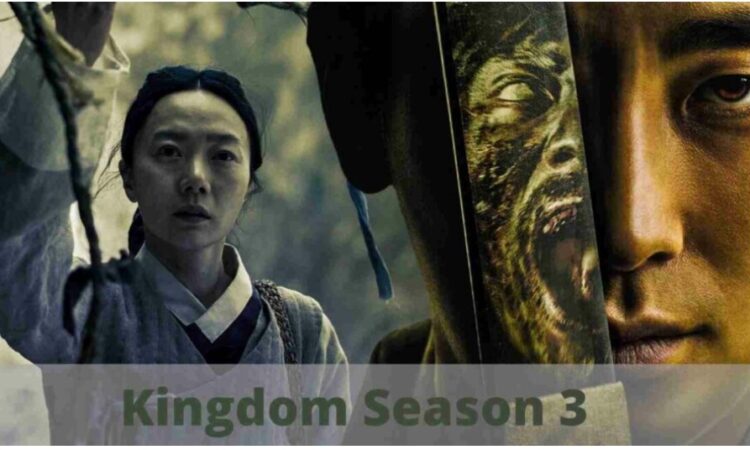 "Kingdom," which premiered on Netflix on January 25, 2019, was widely anticipated as the streaming service's first Korean original series. "The Witcher," another popular Netflix series, was also renewed for a second season before the first episode was even released, indicating that the streaming network had a lot of faith in the action drama. Crown Prince Lee Chang (Ju Ji-hoon) is the protagonist of "Kingdom," a fictional story set during the Joseon Dynasty that follows him as he sets out to avenge his father, the King of Joseon, and discover the source of a mysterious illness that is spreading throughout his kingdom. As a follow-up to the critically acclaimed Korean zombie film "Train to Busan," "Kingdom" is brutal and dark, with intense fighting sequences as the characters battle zombie hordes on a constant basis.


It quickly rose to become one of Netflix's most popular series, captivating both audiences and critics and earning a perfect score of 96 percent on Rotten Tomatoes. The second season premiered on Netflix on March 13, 2020, and a special episode titled "Kingdom: Ashin of the North," focused on the backstory of a new Season 2 character named Ashin, played by Jun Ji-hyun, was released on July 23, 2021. The second season is currently streaming on Netflix. Fans of the show are still enthralled by the story and eager for more, and they are hoping that a third season of the zombie drama "Kingdom" will be released on Netflix in the near future.
Here's everything we know so far about the third season of "Kingdom."


Kingdom Season 3 Release Date: Netflix
Netflix has not yet announced whether "Kingdom" will return for a third season or if it will be canceled. Because of the rapidity with which the first two seasons of "Kingdom" were released, many fans anticipated that the third season would be released in early 2021. It's unclear why Netflix hasn't made a decision either way, though it could be due to the various delays caused by COVID-19, which have occurred in the past. In addition, it's possible that "Kingdom" has already been renewed for an additional season — or even canceled — but that the network has decided to hold off on announcing the news publicly.
Given the nature of the story told in the special episode "Kingdom: Ashin in the North," as well as the fact that it provides a great deal of background information on how the deadly zombie plague began, it is likely that it was intended to serve as a transitional episode between Seasons 2 and 3. According to Philstar, the series' director Kim Seong-hun "Throughout the first and second seasons of 'Kingdom,' topics such as the desire for power, hunger, and bloodlines were discussed. And, in order to make the transition to Season 3, I felt that something fresh was required "Essentially, this is confirming that a third season is on the way, or at the very least that the director has plans for one.
Because the show has become an international sensation and the creators have stated that they intend to produce additional seasons, it is all but certain that "Kingdom" Season 3 will be released. When it comes to when fans will be able to see it, it will most likely premiere sometime in 2022.
Kingdom Season 3 Cast
With Ji-hoon in the role of Prince Chang, the film also features Bae Doona, who has previously appeared in major projects such as "Sense8" and "Sympathy for Mr. Vengeance," as Seo-bi, a physician who is one of the first to witness the plague and immediately begins a mission to find a cure. Some of the prince's allies include Kim Sung-kyu in the role of Yeong-shin, a skilled tiger hunter who understands how to use a rifle, and Jeon Seok-ho in the role of Cho Beom-pal, a selfish man who has feelings for Seo-bi and joins forces with Prince Chang in order to survive.
Season 2 concludes with Ji-first hyun's appearance as Ashin, which serves as a prelude to the upcoming episode "Kingdom: Ashin in the North." As the spinoff episode reveals, Ashin has very close ties to the source of the plague, and she will undoubtedly play a significant role in Season 3 as Prince Chang, Seo-bi, and the rest of the casting search for a way to put an end to the disease once and for all. Season 3 is set to premiere on January 25, 2019. The Young King, who is played by Kim Kang-hoon, is the other character who will most likely play a significant role in the third season of "Kingdom." During Season 2's final time jump forward, he is approximately seven years old and reigns as King of Joseon after Prince Chang relinquishes the throne of Korea.
Kingdom Season 3 Plot
Season three is expected to pick up right where season two left off, seven years and three months after the outbreak of the zombies first appeared on television.
Ashin, the mysterious plant seller, will almost certainly play a significant role in future events, though the specifics of her role are still up in the air. Is it the character of Jun Ji-sole hyun's character's goal to create chaos wherever she goes? Or is she attempting to spread zombieism in order for China to invade and seize control of a weakened country?
Whatever happens, you can expect to see more of the new Prince in season three as well. He was immune to the worms that cause zombieism when he was a baby, but as he's grown older, it appears that one of the parasites has made its way up to his brain, which is concerning.
Even if this is true, it does not necessarily follow that the prince will transform into a monster. His situation is extremely unusual, and given how long the worm has already been in his system, it is possible that the boy will instead develop into some sort of bizarre zombie/human hybrid.
During a recent interview (as reported by Soompi), Kingdom writer Kim Eun-hee teased more plot details, including the following:
"Individuals such as Lee Chang, Seo-bi, and Yeong-shin are all people who are chasing the plague and wishing it had never arisen, as those who have watched will be familiar with. I've always thought it would be interesting to have season three tell the story of the hunt for the plague's origin, so that's something we're considering doing."
"Season one dealt with the theme of hunger, while season two dealt with the theme of blood. If Netflix agrees, I'd like season three to be a story about resentment and revenge. It was in Season Two that the concept of 'temperature' was brought to light, and I believe that if the story were to travel north, the different ecosystem in the North would serve as a hint."
The series' creator, Kim Eun-hee, opened up in an interview with Forbes about what prompted her to create the show.

I thought, 'Maybe I can portray the plague with zombies,'" she said, referring to the Annals of the Joseon Dynasty, which recorded thousands of people in Korea being wiped out by a mysterious disease during the period of the Joseon Dynasty.
According to her, "It'll be a very interesting way to convey the suffering and pain of the people who lived during that time." "It was through this process that I came up with the idea for Kingdom."
Kingdom Season 3 Trailer
Expect a new trailer for Kingdom shuffle to be released in the near future until new episodes of the show are released.
Kingdom seasons 1 and 2 are now available to stream on Netflix in over 100 countries.