He Tasted The My Forbidden Fruit Once And Now It's All He Wants From Me- Lady Narrates
He Tasted The My Forbidden Fruit Once And Now It's All He Wants From Me- Lady Narrates.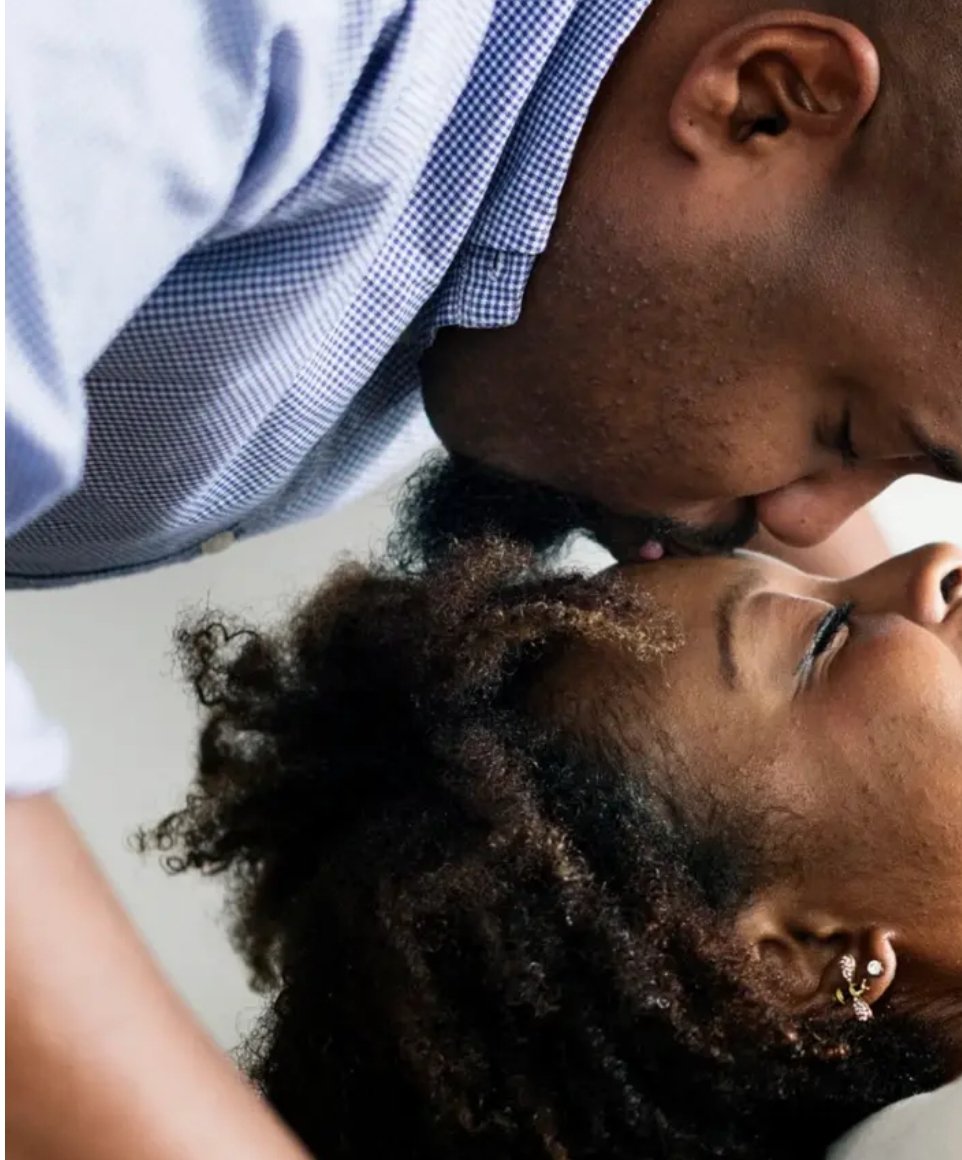 A year ago, I met Alan. I don't know what I was doing in Alliance Francaise but I remember going to the Foreign Affairs Ministries and telling myself, "They say Alliance Francaise is around this place. I haven't been there before so why don't I use this opportunity to go and see how the place looks like?" So that was where I met Alan. At Alliance Francaise. He looked like someone I knew—someone I'd met somewhere in life. But I couldn't put a finger where I'd met him. He looked at me intensely, like he was thinking the same thought I was thinking. That we had met. When our eyes met, I smiled at him and he smiled back. "Have we met? I mean met somewhere before now? You look very familiar."
So the conversation started. For the next several minutes, we stood next to each other trying to figure out where we had met. "Or it's Tech we met. I was in Tech between 2015 and 2019." He said. I answered, "No, I've never been to Tech. I've never been to Kumasi to even know where Tech is. Or ICGC, Holy ghost Temple? I used to go to church there." He shook his head. "I'm a Catholic.
Born and bred Catholic. I eat communion every Sunday and I go down on my knees a thousand times before church closes because that's how Catholics worship. I don't know about ICGC. We tried to figure it out. Where we had met. I looked at him and he looked back at me intensively. I swore I'd met him before. We spent minutes of our lives trying to figure things out.
In the end, I said, "Maybe I saw you in my dreams. Or you resemble someone I know because this is very strange." When I was leaving, he asked for my number and I gave it out. He was mentioning his number to me when I said, "Please call me." He tried to call but didn't have credit. "Oh, let me call you on Whatsapp," he said. He did call there and I saw his number and his profile picture. Again, his face looked familiar but I didn't know where I knew him from so I started walking away. I looked back and he was standing there looking at my back. I said in my head, "Sorry to disappoint you. What you're trying to see behind me isn't there. It's not my fault. Ask my mama."
That evening he called. We talked. We continued guessing where we had met. By the time the call ended, we both knew almost everything about each other's life. We continued talking, night and day. We chatted when we had the time. I liked him so I kept engaging him. Even when he had nothing to say, I made sure our conversations dragged on until late. One day he asked me out. He lives in Dansoman and I live in Madina. The two places looked like worlds apart so we agreed to meet in the middle. The middle point should have been somewhere La Paz but we couldn't get any place at La Paz so we instead met at Legon Botanical gardens.
Everything he did that day showed he liked me but he couldn't find the word to say it. He acted it out. He threw words around that looked like bait but I didn't pick them up. I like my men to act like men. Own up to their feelings and be vocal about them. He wasn't doing any of that and I wasn't going to make the work easy for him. Two months. Three months. Four months of constantly talking and laughing on the phone and meeting every now and then but this guy didn't have the courage to say what he had been acting out since we met.
One evening, I told him a guy proposed to me. He screamed, "And what did you say?" I answered, "I told him I was going to think about it." He started ranting, "No you didn't have to tell him that. You should have told him that you have a boyfriend. What am I to you? What do you think is the reason for my being closer to you, talking to you every day and night? Huh? Tell him you have a boyfriend." I said, "I don't have a boyfriend. If you are thinking of yourself as a boyfriend then you're getting it all wrong. I don't date men who haven't proposed."
It took him another week to finally propose. I liked him too but I wasn't going to make it easier for him. I told him to work for it and for the next week or two, he went out of his shell to prove his intentions to be with me. I said yes and we started dating. I'm 27 and he's 30. When I said yes to him, I was 26 and he was 29.
He was a virgin. Even at thirty, he was yet to taste Eve's Apple and that has been the fire beneath our smoke. We had our hundred and tenth fight not too long ago. We had our seventieth breakup on his 30th birthday. He has broken my phone twice. I've ceased his phones on several occasions. The last one I ceased is still with me as I write this. No man has ever stressed my life like Alan but we go our separate ways for days, we begin to miss each other and then we come back.
Because he hadn't done it before, I was uncomfortable starting it with him. I didn't know where to start from and I didn't know how to get him to do the right things. For several months he made the move and asked for it but I wasn't sure. I kept saying no to him until one day, I said yes with a caveat; "I'm not going to say or do anything. When you lose your way, don't ask me where. I'm not going to be your mother. You better know where to enter or else, it's the end of the road for you." He bragged, "You think I'm a small boy. I've watched films. I've seen how it's done. Just keep calm and watch me." He did something. He looked fulfilled. I was happy for him. Then he turned the question on me, "How did I do? Did I do it well? Did you enjoy it?"
I answered, "You did enjoy it and that's all that matters. This is your first time. I didn't expect anything from you. You'll get better as we go along." What I said became the reason for our first fight. He said I had demeaned his effort and had belittled him. It means I'm comparing him to all the men I've ever had and scoring him zero. "Alan, are you ok? What did you expect me to say? That you took me to the moon and back? Great, you did. I even saw Moses at the pearl gate. That's that make you happy?" For a whole week, we didn't talk. When he finally came to apologize and we started talking, he asked me, "So how many men have you ever had?" When I didn't answer, we fought again.
We were talking one day and I mentioned an ex's name to him. The next question was, "If you compare me to that guy, who is better?" So I had to admit that I'd made a mistake with him. I shouldn't have allowed him to do it because everything started going south after that. I vowed not to repeat it no matter how many times he asks for it. But that also brought its own problems. According to him, there are two reasons I'm avoiding shuperu. It's either he performed poorly the first time or there's someone out there who is doing it better than him. I've explained things to him, "It was a mistake we did the first time. We don't have to do it again and I'm going to ensure that."
When he sees me talking on the phone or typing on the phone, he would get angry. One night, I was on WhatsApp when he called my phone: "Who are you chatting with at this late night?" I answered, "Friends." He cut the line. It was around 9 pm. Around 10:30 or so, someone knocked on my door. The next thing I heard was, "Open the door!" The voice belonged to Alan. It was him. When I opened the door, he snatched my phone and the next thing I heard was bam! He flung my phone to the wall and it split open. He said, "Now chat with him on the TV" He turned and walked away. Three days later, he came with a new phone and apologized. He had done that twice. I also ceased his phones.
All because I've resolved not to do it again.
He knows everyone at my workplace. So he could get someone to talk to and ask questions about me and the things I've been doing at work. If I've been talking to men or seeing some other men. Our last fight was a week ago. It was about the same thing. He said he wanted it and I said I wouldn't do it. He said he would cheat and I said I don't care but when I catch him it's over. Then he said the words that continue to hurt my soul, "How could you whore with those men and come play hard to get with me? Who doesn't know that you've done it with hundred men?"
He has apologized but I don't intend to go back to the relationship. Anytime I think about it, it hurts me. I don't know if genuinely that's how he sees me or it's just something he says just to make me feel bad and give in to him. When he's not angry, he's a perfect man. Very considerate and future-oriented. What confuses me more is that he doesn't get angry over anything except shuperu. I've done silly things to get him angry but he would laugh over it and make it look like it doesn't matter. But when it comes to denial, he'll act excessively angry as if his life depends on it. I'm confused and don't know what to do with him now. I also take half of the blame. Maybe I shouldn't have allowed it the first time. If I didn't and waited until marriage, all of these won't happen.
I'm in a fixed now, whether to go back to him or break it off and start afresh from somewhere else.