Don't Miss This: Check Out Most Dangerous Cities in South Africa You Must Not Live In
South Africa has ranked as the third most dangerous country in the world, according to Numbeo's 2021 crime index – with six local cities among the 20 most dangerous globally.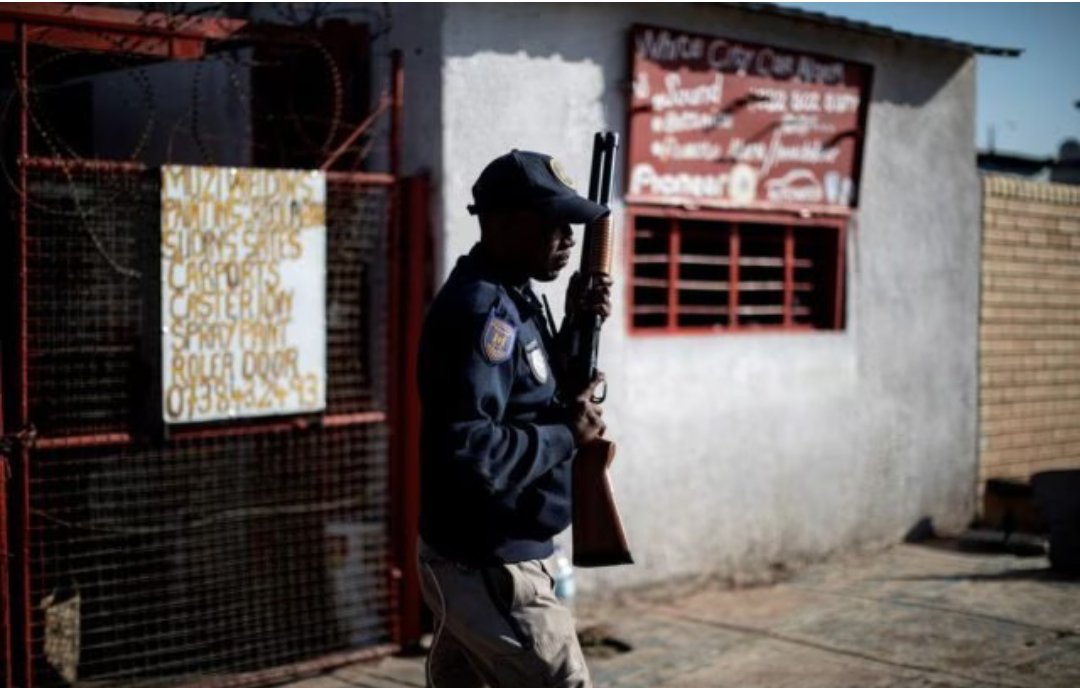 The Numbeo Crime Index is a perceptions index based on survey responses, where users were asked to score the level of crime in their country and city from bad (-2) to good (+2), where 0 is average.The survey of in excess of 94,000 people, deals with citizens' levels of fear around violent crimes, property being stolen, hate crimes based on ethnicity or religion, and even corruption and bribery.As a perceptions index, it does not deal with actual crime stats, but rather how safe and secure citizens feel in their cities, with the safety index asking how safe they feel walking alone.
Crime levels with a score lower than 20 is considered 'very low'; crime levels between 20 and 40 are low; between 40 and 60, moderate; between 60 and 80, high; and levels higher than 80, very high.
For the safety index, if a region has a high safety score, it is considered very safe.
Globally, South Africa ranks third – the same level as 2020 – and below only Venezuela and Papua New Guinea. With a crime score of 77.07, and safety score of 22.03, it is considered a high-crime, low-safety country.
South Africa is one of five African nations ranked in the top 20 most dangerous countries – ahead of Namibia, Angola, Nigeria and Libya – and ranks ahead of war-torn nations including Afghanistan (4th) and Syria (9th), as well as the world's murder capital, Honduras (5th).
Overall, the highest scoring crime category for South Africa is corruption and bribery.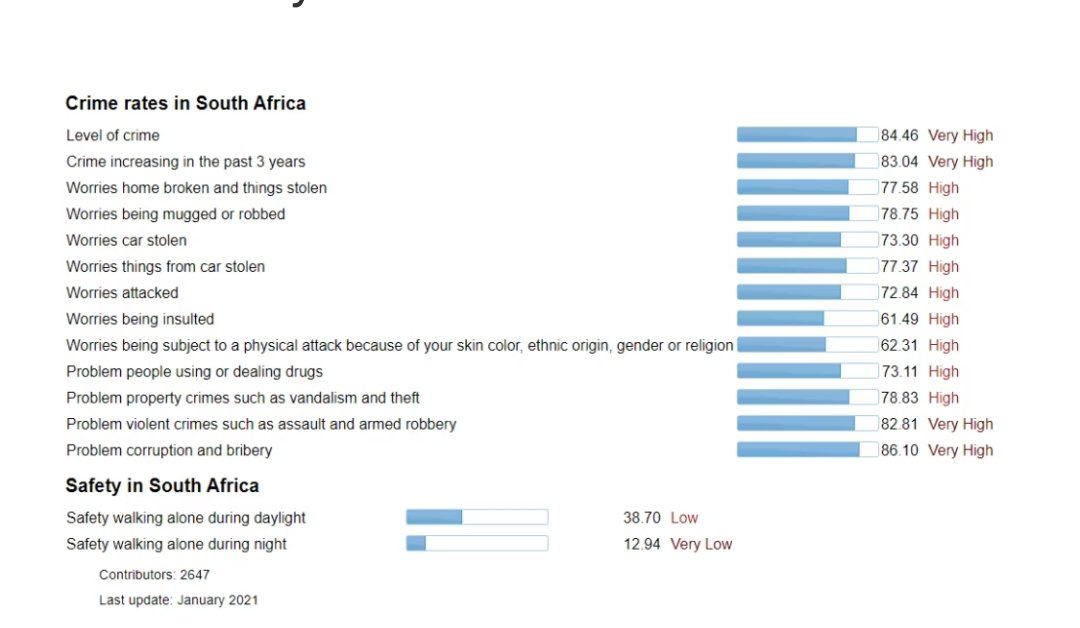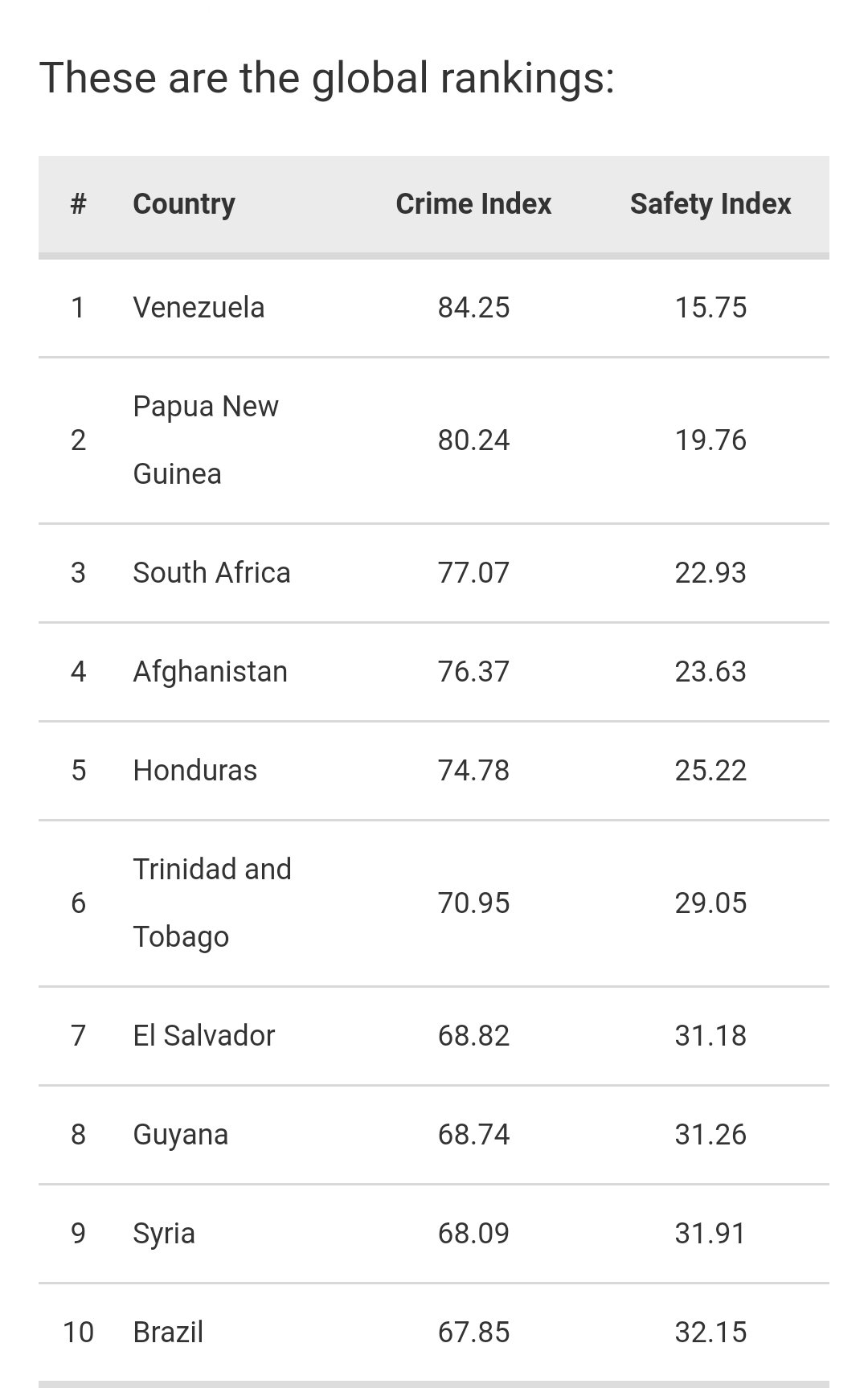 The survey attracted around 2,650 South African respondents, with six cities meeting the response requirements to be included in the index as statistically relevant.Pretoria was ranked as the most dangerous city in the country in 2020/21, with the highest crime score and lowest safety score.Pietermaritzburg, which topped the local ranking in 2019/20, dropped to fourth overall, with both Johannesburg and Durban now perceived to be more dangerous.
While Joburg ranks third, overall, it is still the major metro where people feel the least safe walking alone at night.Despite Cape Town having the highest murder rate in the country as a result of high gang related activity, it is still perceived to be the safest city on the list in almost every category.When looking at specific types of crime people are most cautious of, instances of all types of crime are categorised between 'moderate' and 'very high' – attaining 'very high' in most of them.
However, it's problems with bribery and corruption which tend to permeate throughout life in the big cities, and have emerged as the worst rated criminal activity across all local cities covered in the index.This is followed by assault and robbery, and property crimes like theft and motor vehicle theft.
The overall perception is that crime has been increasing over the last three years, which aligns with views expressed in local studies, such as the Victims of Crime survey conducted by Stats SA.This is how South Africa's major cities rank in the index: