America The Great Satan, Muslim Man Says After Screaming Allahu akbar- (Video)
You would expect such a protest to be in Tehran, not Toronto.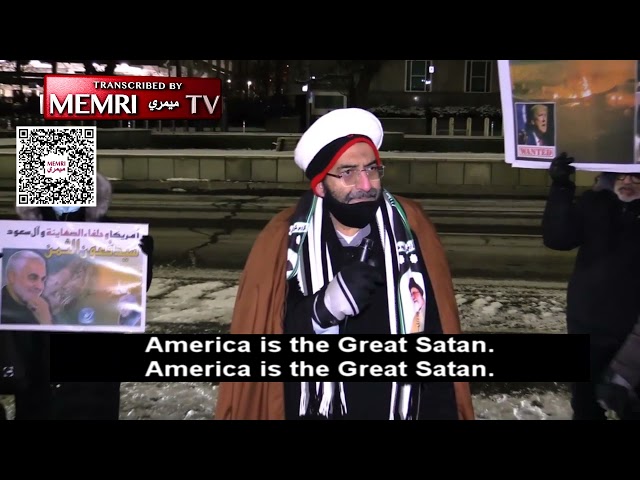 What more might Shafiq Huda be preaching to his followers about the ummah in a country that is under siege by the "Islamophobia" subterfuge? Canada is fully infiltrated by Islamic supremacists and supporters of the jihad against Western interests, including against Israel. In 2018, a police complaint centered around Huda, who called "for the eradication of Israelis and Zionists" at an al-Quds Day march.

Another Islamic scholar in Canada, Sauber Mojtahedi, preached:



I send my condolences to the Hidden Imam, to the honorable grand Ayatollah Imam Khamenei, and to the Islamic sources of authority for the great catastrophe of the martyrdom of the Hidden Imam's best soldiers, IRGC General Hajj Qasem Soleimani, General Abu Mahdi Al-Muhandis, and their dear friends.



"At Vigil Held In Memory Of Qasem Soleimani Outside U.S. Consulate In Toronto, Crowd Chants 'America Is Satan,' Islamic Scholars Say: Trump, Pompeo Will Be Tried In An Islamic Court," MEMRI, January 2, 2021:

On January 2, 2022, a vigil was held outside the U.S. Consulate in Toronto in memory of IRGC Qods Force Commander Qasem Soleimani. The vigil marked two years since the U.S. assassination of Soleimani. Canadian Shi'ite Sheikh Shafiq Huda, the Director of the Islamic Humanitarian Service in Kitchener, Ontario, said in English that leaders in the West are trying to "rule the Islamic nation" from the White House, and that they are too cowardly to come to the battlefield. He said that both Biden and Trump will end up in the dustbin and led the audience in a chant: "Allah Akbar! Khamenei is the Leader! America is the Great Satan!"

Later, Canadian Islamic Scholar Sauber Mojtahedi said in Farsi that Soleimani and Abu Mahdi Al-Muhandis, an Iraqi militia leader who was killed in the same air strike as Soleimani, had been the greatest soldiers of the Hidden Imam, and he said that the day will come when former President Donald Trump and former State Secretary Mike Pompeo will be tried in an Islamic court, just like Imam Khomeini had wanted to try the Shah in an Islamic court. Mojtahedi compared Trump to Saddam Hussein and Anwar Sadat, and he asked for Allah to curse him and Pompeo. For more information about Sheikh Shafiq Huda, see MEMRI TV Clips Nos. 8586 and 6614. The address was posted on the DARS TV YouTube channel.



Shafiq Huda: "You know, one of the things that these cowards will never understand… They will sit in their White Houses and 'black houses' and these houses and those houses and in these palaces and those palaces, and they will run their shows from those places. Why don't they come to the battlefield and see what it is like to be on the battlefield.


[…]

"They are cowards… You notice I will not call them chickens because I still have respect for the chickens. You see, these are cowards. They will sit in their palaces and try to shape and rule the Islamic nation. Come on to the battlefield. Come in front of us. Come face us.

[…]

"One of the reasons that it took so many years to try… to kill… The martyr Soleimani was on their radar for many years… The reason they couldn't do it was because he was always on the battlefield, and they themselves couldn't go to the battlefield to kill him.

[…]

"Allah Akbar! Allah Akbar! May Allah bless your souls. Allah Akbar! Khamenei is the Leader! America is the Great Satan. America is the Great Satan.

"Every Pharaoh has a Moses. Every Pharaoh will have their throne. Don't think… Mr. Biden, Mr. Trump, don't think you will be able to rule forever. Many before you were stronger than you are. Many before you were mightier than you are — today they are in the dustbins of history, and inshallah very soon, you will also be in the dustbin. And not even the dustbin of history — just the dustbin."


[…]

Sauber Mojtahedi: "I send my condolences to the Hidden Imam, to the honorable grand Ayatollah Imam Khamenei, and to the Islamic sources of authority for the great catastrophe of the martyrdom of the Hidden Imam's best soldiers, IRGC General Hajj Qasem Soleimani, General Abu Mahdi Al-Muhandis, and their dear friends.

"Inshallah, the day will come when we can conduct an Islamic trial of the damned [individuals] who perpetrated this crime, so they may receive their punishment.'…
Watch Video Below: